After the social networking disaster that was Google Wave, the online search giant is giving it another shot with Google+. This time around things are more manageable, since it seems Google's latest attempt is built around sharing information only amongst a selected group of friends, instead of, like Facebook and Twitter, with everyone that connects to you.
In a Google Blog post, the company says it is trying to "fix" online sharing, categorising the current way of doing things as "sloppy", "scary" and "intensive". The new social sharing site created by Google revolves around four key areas namely, +Circles, + Sparks, +Hangouts and +Mobile.
+Circles
+Circles seems to be the core on which Google+ is based, as it consists of circles, or groups of different friends, for example work colleagues, your best friends, family or mates from your weekend sports team. You can then share information with just certain of your different groups.
+Sparks
+Sparks allows you to add your interests, such as drag-racing, MMORPG gaming, paint-balling and knitting, and then exploring these with your different +Circles. This seems to be like "status updates" in Facebook, since users can post links, comments, videos and pictures. The social status of "nerds" has also risen in the age of the internet, with Google's tag line for +Sparks being, "For nerding out. Together."
+Hangouts
+Hangouts is to be based primarily on video communication, allowing you to "Hangout" whenever you have free time to spare. This allows anyone of your friends to join your "Hangout" and then just, well, hang out and have a laugh. Skype, recently purchased by Microsoft, need to take note of this since Google+ live multi-person video seems to be direct competition.
+Mobile
In this day and age where smartphones rules the roost, who can choose to ignore mobile communication? Certainly not Google, which recently announced that 500 000 of its Android OS phones gets activated per day. That's why +Mobile is an important leg of the Google+ social sharing network.
Although part of the experience is visiting the site via your phone and easily uploading just taken pictures, Google is also intent on using your smartphone's GPS, allowing you to add your location to your posts. Underneath mobile is also a feature dubbed +Huddle, using group messaging to help you and your +Circles plan events. A +Huddle can for example be formed around a night out, to be used to help everyone get a lift and meet at the right place. These are done via quick instant messaging updates to friends instead of texts, playing in the same field as Skype, Windows Live Messenger and more locally, MXit.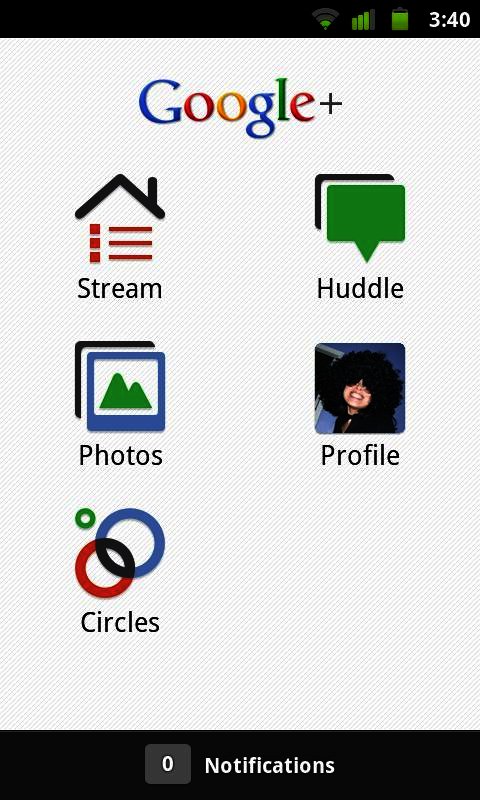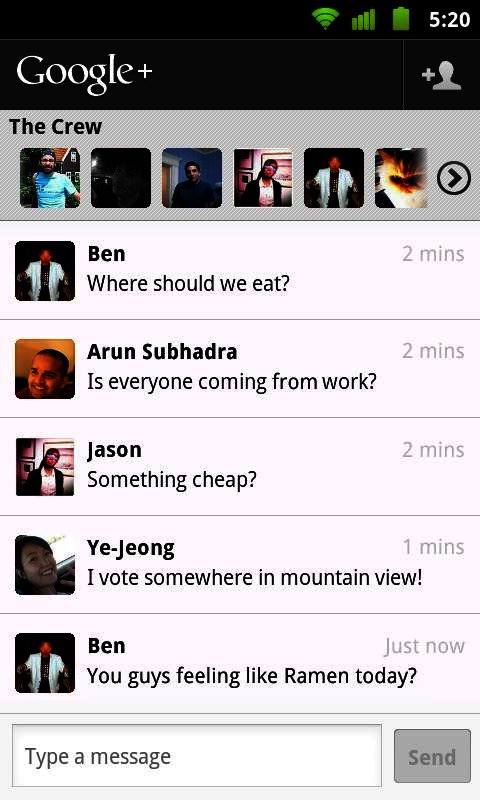 Two screenshots from the Google+ smartphone app.
Not for everyone
At this stage Google+ is not opening the velvet rope for just anyone, with VIP treatment only afforded to a lucky few. You can go and check out the project here, while Google will keep you posted on when the doors officially open by signing up here.
A Google+ app is also available from Android Market, although you still need an invitation to log in.
The Google+ social network experiment seems a lot more thought out than Wave, but whether Google will get the numbers behind them is another story. Not only are most people heavily invested in Facebook, but it's also doubtful if they have the time or energy to manage two social networks, while also trying to keep up with Twitter and LinkedIn. It also remains to be seen if Google+ users would have to have a Gmail account, as is the case with all of Google's services, to log into the site – yet another potential barrier to entry.
Check out the video paste below to learn more about Google+.