Touch-enabled screens have been with us for quite some time now and are almost inseparable from the modern smartphone experience. They aren't for everyone though, as some people still prefer the familiar touch of a keypad or QWERTY keyboard. How does one then go about creating a modern phone that utilises old school keypad-based input? Nokia thinks it has the answer with its X3 Touch and Type, which doesn't only join touch- and type input, but also offers considerable bang for your buck.
Design
A lot of functionality is crammed into this ultra compact, pocket-friendly design. The phone measures a mere 106.2 x 48.4 x 9.6 mm and weighs in at 78 g. Despite its affordable pricetag this phone possesses a quality feel and a solidly construction. It boasts a 2.4" QVGA (240 x 320 pixels) TFT resistive touch-screen that is responsive to use, especially while navigating the phone's user-friendly (if somewhat dated) Series 40 operating system (OS).
This screen might not be the biggest in the business, but despite possessing a rather entry-level resolution quality, it displays multimedia content and webpages really well. One issue though, is that you can't really make use of it outside while in direct sunlight as the glare on the screen is quite severe.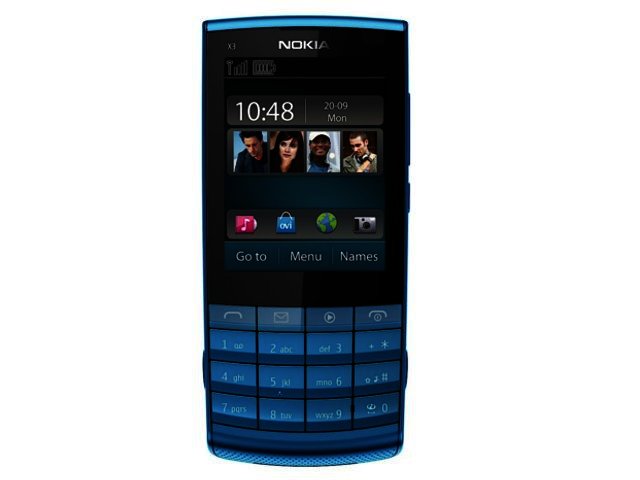 User interface
Series 40 is no match for more modern OS offerings such as Android or iOS (one reason for the recent Nokia/Microsoft marriage), but is easy to use none-the-less. As is the case on the
Nokia N97
and
N97 mini
, you are able to customise the home-screen by adding one-touch access to your favourite contacts and email.
Most of the phone's functionality is accessed via the touch-screen with the keypad handling text input and message composition. This tag team combination works well and ensures that the touch-and-type marriage is actually quite functional as opposed to merely being an added gimmick.
Also very practical is the phone's handy shortcut keys, offering one-touch access to key functions. These consists of a music button that launches the music player (or FM radio if the headset is connected) and messaging shortcut key that provides quicker access to either your message inbox or message composition screen (that appear on a sub-menu onscreen).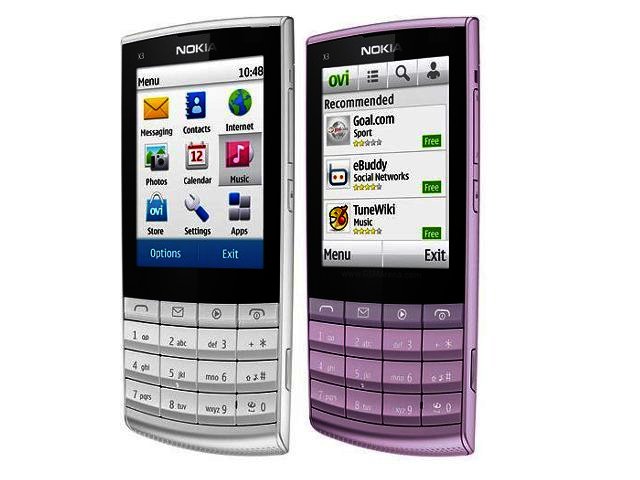 Camera
The sensibility of the shortcut keys extends to the Finnish manufacturer's choice of camera for this phone. For under R1500 you get a phone boasting a five megapixel camera. It takes photos of a good quality (very good for a phone within this price range) and also sports some purposeful added functionality. You are able to view your photos on a timeline for instance, enabling you to see all the photos you took on each specific day.
There are a few niggles with the camera though, firstly there is no flash (or autofocus) so the quality of photos taken in bad light conditions aren't the best. Secondly there's no mirror underneath nor next to the lens, making the task of capturing self-portraits very difficult.
More importantly is the fact that, although the phone takes very good quality pics of things far in the distance, the photo quality isn't very good when snapping pics of anything up close. Photos can even become somewhat blurry with detail being difficult to make out.
As expected the X3's video recording ability is also not up to par with other modern offerings from Nokia such as the
E5
or
C6
, as videos offers old-school 640 x 480 resolution, suffers from lag and are also grainy.
Other functions
More impressive than the video recording capability of the phone is its speaker, which can play music really loudly and at a good quality (though the quality does sound a little hollow at the highest volume). FM radio is also on-board, as is 50 MB of storage space that can be boosted to 16 GB with the addition of a hotswappable microSD memory card.
It also features 3G with HSDPA, easy to setup Wi-Fi 802.11 n, as well as a good battery life of around two days with moderate usage.
Final word
Nokia's X3 Touch and Type offers plenty of functionality and bang for your buck. It succeeds in its attempt to merge the touch- and button-based interfaces, but is not perfect by any means, as the camera and glare protection for the display could have been better.
For a recommended retail price of R1499, fans of key-based input will get a very compact, modern offering packing a lot of functionality.
Pro
Unusual but user-friendly interface, practical shortcuts, good sound levels and -quality from the phone's speaker, good functionality for its pricepoint.
Con
Camera isn't the best despite possessing a good resolution, glare in direct sunlight on screen.
A video of the Nokia X3 Touch and Type follows after the break: