Creative Cloud customers are as diverse as the work they produce, but their desire to work without constraint, whenever and wherever an idea strikes them, is universally shared. Creative Cloud 2015 sees more convergence across desktop and mobile, with Adobe adopting the term "CreativeSync" to describe the synchronisation that occurs in the workflow. The company is also introducing Stock, a photo library of four million stock images available for purchase on a once-off basis or as part of a subscription plan.
Last October saw the company start a journey to connect subscribers to all of their work and assets. The introduction of mobile apps, that are seamless extensions of the desktop apps, has truly enabled connected workflows.
"Creative Cloud was designed with the purpose to sync content, assets and tools between devices. CreativeSync technology deepens the connections between desktop apps and mobile apps, on both Android and iOS," says CEO of local Adobe distributor - Dax Data, Jeremy Matthews. "Adobe focuses on convenience and ease of use, incorporating a stock imagery service into its Creative Cloud offering delivers additional power to the creative process", continues Matthews.
CreativeSync's signature technology, intelligently syncs creative assets: files, photos, fonts, vector graphics, brushes, colours, settings, metadata and more. With this feature, assets are instantly available, in the right format, wherever designers need them – across desktop, web and mobile. Work can be kicked off in any connected Creative Cloud mobile app or desktop tool; picked up again later in another and finished in the designer's favourite desktop software. This feature is however exclusive to Creative Cloud Subscribers.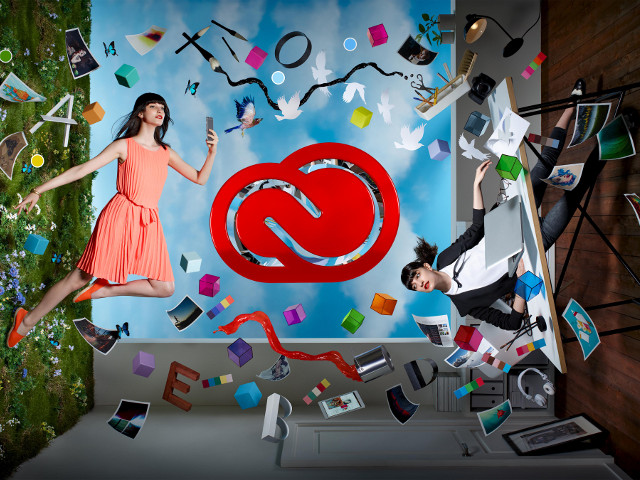 The 2015 release also sees new innovation in the desktop apps, including Adobe magic, productivity and performance breakthroughs across 15 CC desktop applications.
Popular updates to the desktop apps are as follows:
Photoshop CC - introduces Artboards, the best way to design cross-device user experiences in a single Photoshop document and quickly preview them on a device.
Lightroom CC - gains the new Dehaze feature. Dehaze, eliminates fog and haze from photos, including underwater shots, for startlingly clear images. Haze can also be added to a photo for artistic effect.
Premiere Pro CC - furthers its lead in the market with the addition of the Lumetri Colour panel for powerful colour corrections using intuitive sliders and other simple controls; and Morph Cut, which makes it easier to deliver polished interview content by smoothing out jump cuts in talking-head shots to create a cohesive, polished sequence.
After Effects CC - now has Uninterrupted Preview to allow artists to adjust a composition's properties and even resize panels without impacting playback. Also, the ground-breaking Adobe Character Animator brings 2D figures to life using a webcam to track facial movements, record dialog and apply movements in real time onto a pre-configured character.
Illustrator CC - is now 10 times faster and 10 times more precise than CS6. Powered by dramatic boosts to its Mercury Performance Engine, users can now pan and zoom smoothly without delays. With the new Chart tool, designers can also create beautiful custom charts and share them with others via CC Libraries.
InDesign CC - gets its own Mercury performance surge with zooming, scrolling, and paging through complex documents now twice as fast. InDesign now also allows users to publish and distribute documents with a single click.
Dreamweaver CC - has new responsive web design capabilities that let designers quickly lay out and build production-ready sites that adapt to any screen size.
Adobe Muse CC - now includes instant access to premium fonts from Typekit.
Adobe is bringing more of its mobile apps, introduced in iOS, to Android. Following Lightroom Mobile, Android users can now download Photoshop Mix, Shape, Brush, and Color. The apps are available on the Google Play store and while they're free to download, some features require an Adobe CC subscription. Adobe has also updated many of its popular Creative Cloud mobile apps for iPhone and iPad, including Adobe Comp CC, Photoshop Mix, Photoshop Sketch, Illustrator Draw, Brush CC, Shape CC and Color CC. In addition to these updates, Adobe debuted Adobe Hue CC. This app provides an easy way to capture and share production-quality lighting and colour schemes – for video, film and broadcast. It is compatible with Premiere Pro CC or After Effects CC and integrates the colour schemes into these desktop apps.
These updates to CC desktop and mobile apps are immediately available for download by Creative Cloud subscribers as part of their membership and is one of the largest releases in a couple of years.
For more information on availability and pricing contact sales@daxdata.co.za or visit http://www.daxdata.co.za/ to put you in touch with your nearest reseller.