By Charles Pittaway, managing director, Sage Pay
The cashless economy is almost here. Just a couple months ago, the European Central Bank suggested that the 500 Euro note will be eliminated.
While the humble card is still the most favoured method of payment, digital wallet services, new mobile point-of-sale technologies and front-end consumer technologies such as mobile apps are increasing in popularity.
For the time being, these payment channels claim a smaller share of the market than traditional card payment options. In such a dynamic landscape, it's critical to stay abreast of major developments in mobile and digital payments as well as changes that may have a significant impact in the near future.
As cash bows out of the payments scene, there are plenty of alternatives – above and beyond cards – that are competing for the vacant crown. Players include the Internet giants, who are keen on leveraging social networks to facilitate payments as well as digital currencies. These alternative ecosystems are far from mature, but they are growing up fast.
While consumers are embracing new ways to pay, many incumbent businesses are limiting these options. By placing emphasis on new payment options, it limits a business's ability to retain its customer base and attract new clientele.
According to the Sage 2015 Payments Landscape Report, there is an increase in mobile spending, growing at 36% per annum. Despite this, some businesses are still hesitant to embrace new payment technologies.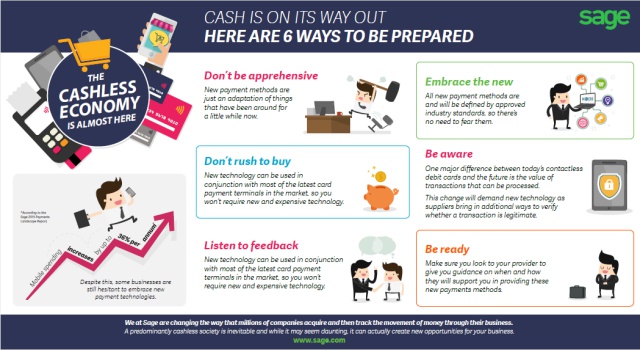 Here are six ways to be prepared to handle innovations within the payments industry:
1. Don't be apprehensive – Many new payment methods are just an adaptation of things that have been around for a little while now and won't be brand new to you.
2. Embrace the new - All new payment methods are and will be defined by approved industry standards, so there's no need to fear them.
3. Don't rush to buy - NFC, the technology behind both Contactless and ApplePay, can be used in conjunction with most of the latest card payment terminals in the market, so you won't require new and expensive technology. Check with your payments provider on whether your technology needs updating or not.
4. Listen to feedback - If you've been getting lots of requests for a certain payment type that you don't offer, then act.
5. Be aware – One major difference between today's contactless debit cards and the future is the value of transactions that can be processed. This change will demand new technology as suppliers bring in additional ways to verify whether a transaction is legitimate; for example, with biometrics.
6. Be ready – Make sure you look to your provider to give you guidance on when and how they will support you in providing these new payments methods.
Closing words:
We at Sage are changing the way that millions of companies acquire and then track the movement of money through their business. A predominantly cashless society is inevitable and while it may seem daunting, it can actually create new opportunities for your business.