HP's Elite Slice, the company's smallest desktop built for communication and collaboration, is now available to the South African channel from official distributor, Drive Control Corporation (DCC).
The HP Elite Slice features a striking matte black design with copper accents is optimised to adapt to the changing workforce and workstyles with exceptional collaboration and customisable capabilities.
It is the first modular desktop with cable-less connectivity that enables users to build the desktop of their choice. For example, it ships standard with the factory cover which can be customised (pre-ordered only) with stackable options such as the Collaboration Cover or Wireless Charging Cover or even stackable modules such as the Audio Module or ODD (Optical Disk Drive).
Plus, with its small print footprint (6.5" x 1.38" x 6.5", weighing 1.04kg) it can stand almost anywhere whilst looking very good doing so.
The HP Elite portfolio also includes the new HP Elite Slice for meeting rooms solution, the first conferencing room PC with one-touch meeting start. This solution provides immersive conferencing and collaboration experiences with integrated audio and full desktop functionality.
"The HP Elite Slice is ideal solution for customers that require a truly customisable solution. There is no doubt that the desktop has set the trend for the future, enabling users to add and remove functionality that will change with their dynamic working environments," says Francois van Wijk, HP business unit manager at Drive Control Corporation (DCC).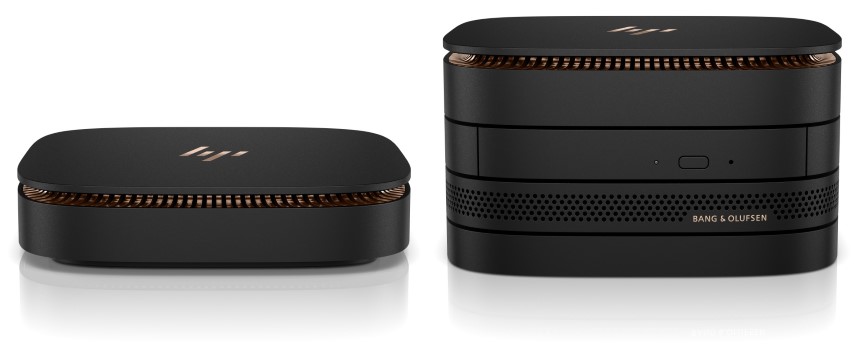 Designed for Business Productivity and Collaboration
HP Elite Slice versatility is provided by cover and base expansion options. Customers can choose from different covers when configuring the PC and expand the solution at any time with additional modules to create the desktop that best fits their needs:
HP Collaboration Cover - turns the desktop into a Microsoft Skype for Business phone for easy call management with capacitive touch keys;

HP Wireless Charging Cover - wireless charging starts automatically upon contact to eliminate charging cables and ensure mobile phones and devices are powered, ready for use.

HP Audio Module: spoken word tuning makes virtual meetings and call experiences crisp and clear with audio tuned by Bang & Olufsen, 360-degree speaker design, dual-microphone array with range of five metres and HP Noise Cancellation software; and

HP ODD Module: for quick and easy back up or to archive files and access legacy content on CDs or DVDs.
Other features include:
An optional touch fingerprint sensor for improved security and easy authentication.

HP Sure Start with Dynamic Protection, the industry's first self-healing BIOS-level protection;

Up to 6th Generation Intel Core i7 35-watt processors for the performance to easily handle productivity and collaboration needs;

360-degree dual fan pipe ring keeps the powerful device running cool; and

Peripheral support for enhanced productivity including one Ethernet port, built-in Wi-Fi module11 and antennas, one HDMI and one DisplayPort to power multiple displays.
HP Elite Slice for meeting rooms combines HP Elite Slice, the HP Collaboration Cover, HP Audio Module and Intel Unite software to create a Microsoft Skype for Business conferencing solution making meeting rooms more intuitive and efficient with crisp, clear sound.