With approximately 120 million people worldwide experiencing low vision due to uncorrected eye problems, it's vital to prioritise eye health. Vision affects nearly everything you do each day and according to the Vision Council of America, untreated eye problems and vision loss reduce worker productivity by 20%.
Secondly, good eyesight is vital when driving. Not many people know that at night you can be blinded for approximately four seconds by the glare of oncoming vehicles' headlights. New Zeiss DriveSafe lenses reduce the harsh effects of glare and sharpen vision in low-light conditions for a safer, more comfortable journey on the road.
There is no better time to put vision first and learn about the daily risks that can affect good vision during everyday tasks at home, work and when travelling on the road.
To promote eye health for a safe lifestyle, Andre Horn, a senior optometrist and managing director of Mellins i-Style (www.mellins.co.za) shares the following useful eye care advice.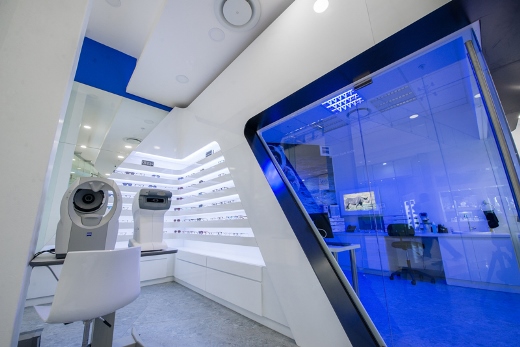 Do you spend long hours in front of a digital screen?
More than half of employees spend most of their working day in front of a computer screen. The good news is that research by the Health and Safety Executive (HSE) in the UK, shows that there is no evidence that digital displays cause eye diseases or permanent damage. However, working in front of a digital monitor for hours on end can lead to eye fatigue, mostly due to your eyes constantly adapting to different contrasts and brightness levels up to 30 000 times a day.
"Looking at automated screens for too long can lead to eye strain and headaches", says Horn. "Regular eye examinations is therefore a must when working long hours in front of a digital device".
Having a Zeiss Experience eye examination at a Mellins-Zeiss Vision Centres, is a great health check. During the assessment, cutting-edge automated eye technology equipment, namely the Zeiss i.Profiler, reads approximately 2500 points to create a unique 'fingerprint' of the eye. This 'fingerprint' produces arguably the most individualised lens in the world, called Zeiss i.Scription. It offers up to 30% improvement of vision at night and in low light and a dramatic improvement in colour & contrast discernment. i.Scription lenses are the most advanced lenses ever made by Zeiss. During the diagnoses, Centration Technology is also incorporated using the Zeiss i.Terminal to position your optical frame and lenses to be calculated to the nearest 1\10 of a millimetre, ensuring the lenses' best visual performance.
Minimise screen-induced eye strain with these easy steps:
· Check if your lens prescription is up-to-date.
· Sometimes changing your contact lenses to spectacles when working in front of a computer may help to reduce eye strain. If your eyes, with or without contact lenses, become dry, blink more or use eye drops as advised by your optometrist.
· Choose a comfortable and supportive chair that supports an ergonomic sitting posture. This also means adjusting your computer monitor and all other equipment at your work station to reduce strain.
· Take every 20 minutes to rest your eyes and allow them to wander around the room or look out a window. Do this by looking six to seven metres away for approximately 20 seconds. Taking a break with a brisk 10 to 15 minute walk at least every two hours also helps to refresh your eyes.
How to ensure a safe journey on the road?
Did you know that 59% of road accidents can be attributed to poor eyesight? According to an international study by the Vision Impact Institute, a furthermore, 23% of drivers worldwide have untreated eye conditions and are a potential danger to themselves and other road users. As many South Africans usually drive long distances to and from work, often in heavy volumes of traffic, dynamic vision becomes vital for safe road travel.
Mellins i-Style, a leading optometry group, has brought customised precision to the country with advanced Zeiss eye technology. The new Zeiss DriveSafe lenses, recently launched at Mellins-Zeiss Vision Centres countrywide, are everyday lenses specifically designed to improve drivers' vision, focus and comfort on the road. The lenses provide up to a 43% larger mid-distance viewing zone to quickly refocus between the road, dashboard and mirrors. They also improve vision in low-light conditions, making driving to work and home in the dark in winter, a safer experience. According to
Zeiss, it can take up to four seconds to completely recover from looking directly into bright flashes. DriveSafe lenses minimise this effect to increase accurate vision.
Horn reiterates that frequent eye examinations are important to ensure your vision is in top 'driving condition', regardless of one's age or overall health. "An optometrist doesn't just examine the quality of your vision, but an eye test also includes a general health check for injury, abnormalities and early signs of eye conditions and diseases before you're aware of any symptoms".
Additionally, try these tips to maintain excellent vision for your next road trip:
· Ensure your prescription lenses are up-to-date. According to the SA road safety awareness organisation, Arrive Alive (AA), it is a legal requirement for motorists to be able to read a number plate from at least 20.5 m and have a 120 degree wide field of vision. Today, more than 10% of South Africans fail their driver's license test because their eyesight does not measure up to the requirements. Vision screenings at driving tests however, cannot substitute a professional eye examination performed by a medical professional.
· It is a good idea to keep a second pair of glasses in your vehicle. Drivers in France and other European countries must, by law, keep a spare pair in their vehicles if they are prescription lens wearers.
· If you have separate pairs of spectacles glasses with tinted and non-tinted lenses, keep both within easy reach. In winter, it gets dark much earlier at night and the mornings remain dark for longer, so driving with tinted lenses at these times can put your safety at risk.
· Keep your vehicle's windshield clean inside and out.
...and night time driving?
· Again, make sure your vehicle's windshield is streak-free on both surfaces.
· Lenses worn at night should be clean. An anti-reflective coating can help lessen glare and the strenuous effects of lights from oncoming vehicles.
· Before a long evening or early morning trip, check that your headlights are clean and aligned. This is important for reducing glare in front of the vehicle.
For more eye care tips and advice visit www.mellins.co.za.