There has been lots of talk of software-defined infrastructures and their potential to bring greater efficacy to an organisation's ability to simplify IT and free data from traditional hardware and location constraints. To that end, Hitachi Data Systems unveiled its new software-defined Virtualised Storage Platform (VSP) for its South African customers, with a view to extend the offering further north into the rest of Africa.
Overseeing much of HDS' operations in the EMEA region, Tony Reid, COO of Emerging Markets, has been in contact with many of the company's key customers that have been beta testing the functionality of Hitachi's new VSP lineup of products before they've gone to market. "We're a very conservative company. When we announce something, we have to know that it works. HDS goes through a process of distributing early products for our customers to test it out in their environments," Reid noted.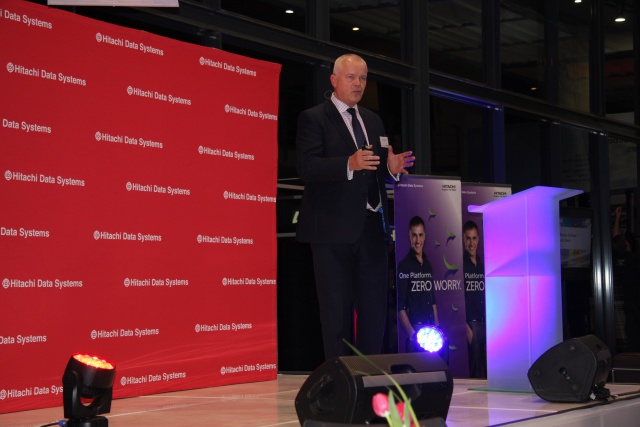 Welcome To The Family
The products in question are four new virtual storage platforms that have been integrated into the Hitachi VSP family – the G200, G400, G600 and the upcoming G800. According to HDS, they are the only IT vendor capable of addressing customer's workload requirements from entry to the mainframe with a single software stack. As such, these new offerings extend the reach of the software capabilities that are built into Hitachi's Storage Virtualisation Operating System (SVOS), allowing the entire VSP family to offer native heterogeneous storage virtualisation and multi-site active-active storage. Furthermore, the new additions to the VSP lineup are fully compatible with customers' data migration, replication and management requirements.
Along with the aforementioned heterogeneous storage virtualisation and active-active multi site storage, HDS believes scalability according to customer size and need remains the new VSPs greatest asset. "We're providing high-end, enterprise class functionality to businesses at the lower end of the market, ranging from small businesses right up to medium to large sized SMEs, " noted Reid. He adds, "I think it's perfect for East and West Africa, especially as we broaden those hubs."
Freeing Up The Data Centre
Reid was quick to stress what software-defined exactly is. "Think of it as a journey, not a product," he explained. Reid adds, "Companies need to get automation embedded in everything we do, and get that automation as close to the application as possible, so that it is application-aware and does the right things for different applications."
In doing so, Reid believes this can greatly empower businesses, regardless of workforce size. "With a software-defined infrastructure, we can free up the data centre people and resources to go and do more interesting things. Smart people in data centres should not be worrying about infrastructure," says Reid.
To that end, Reid highlighted several aspects of HDS' new VSP lineup that will empower their customers to a larger degree. First is the Hitachi Unified Compute Platform (UCP), which has been expanded with new hyper-converged and converged infrastructure models. These now cover customers' needs to rapidly and more easily support core to edge IT workloads.
Next is the new Hitachi Hyper Scale-Out Platform (HSP) that provides cost-effective compute performance and on-demand capacity. Capable of ingesting massive amounts of mixed data types across a distributed, clustered architecture, the automated management of HSP allows elastic data growth by using Hitachi file system technology with open source management and virtualisation software.
Another new application that works with the Hitachi Command Suite management infrastructure is Hitachi Automation Director. It can provide configurable best-practice-based service templates for application-specific provisioning of storage resources to databases, applications and VDI environments.
Tapping Into Software-Defined
HDS are not the only ones excited by the prospect of these new VSP offerings. Darius Harris, senior IT manager at Nedbank also weighed in. "For us to truly unlock the value of software-defined storage, the chosen technology must simplify operations through automation, drive insight for more flexible and robust access to data and create agility through abstraction by making fixed resources flexible. Hitachi offers a portfolio to make our goal of a software-defined infrastructure a reality," said Harris.
"In a big move toward this goal, Hitachi is extending its Storage Virtualisation Operating System (SVOS) to an expanded Virtual Storage Platform (VSP) family, essentially bringing the power and potential of storage virtualisation within reach to organisations like ours," Harris concludes.