Canon South Africa takes to heart its obligation to support environmental sustainability; committing itself to operating in a way that minimizes the impact of its business on the environment as well as encouraging a culture of environmental consciousness and accountability amongst its staff.
On Friday, 23 September 2016, in acknowledgement of Arbor Month, the Canon South Africa team took some time to celebrate Mother Nature with a host of inspiring activities, a fun filled quiz and a visit from Miss Earth SA, Nozipho Magagula. Representatives from South African National Parks, the Department of Agriculture and Department of Environmental Affairs staged insightful presentations on biosecurity, the impact of invasive plants species, biodiversity in the country's national reserves, the importance of water conservation and the highly successful Working for Water (WfW) programme.
The WfW programme is at the forefront of eradicating invasive alien plants that pose a direct threat not only to South Africa's biological diversity, but also to water security, the ecological functioning of natural systems and the productive use of land. Since its inception in 1995, the programme has cleared more than one million hectares of invasive alien plants providing jobs and training to approximately 20 000 people from among the most marginalized sectors of society per annum. Of these, 52% are women. The WfW programme currently runs over 300 projects in all nine of South Africa's provinces. The programme is globally recognised as one of the most outstanding environmental conservation initiatives on the continent.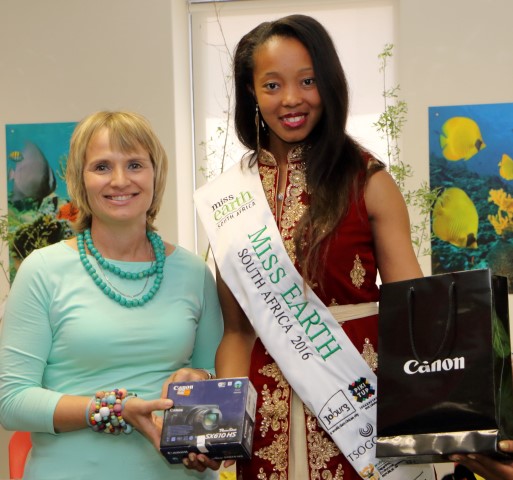 Michelle Janse van Vuuren, Marketing Director: Canon SA and Miss Earth South Africa, Nozipho Magagula, get ready to hand out some great prizes
Department of Environmental Affairs' Lufuno Netshiendeulu, impacts of invasive species in South Africa, and Philani Buhlungu raised some questions about how much people really know about invasive species. Abongile Ntsangani, from the Department of Environmental Affairs travelled from Cape Town to be at the event and assist with a quiz session in which Canon employees could test their knowledge on environmental topics. Dhiraj Nariandas spoke about the Biodiversity Social Projects division within SANParks. The Department of Agriculture kindly donated 24 Searsia Pendulina (White Karee) trees as prizes in the quiz session. Miss Earth was one of the winners and chose to donate her tree to an underprivileged school in Atteridgeville.
"It was a tremendously successful and highly motivating event in which we acknowledged nature and the importance of conserving South Africa's scare and precious resources.
We are enormously appreciative of the role players who helped make our event such a success, with a special thank you to SANParks, the Department of Environmental Affairs and the department of Agriculture," says at Iza Daly, Sustainability Manager at Canon South Africa.
Canon SA subscribes to the corporate philosophy of Kyosei which is to achieve corporate growth and development while contributing to global prosperity and the wellbeing of mankind. In line with this, the company strives to maximize resource efficiency and contribute to the creation of a society that practices sustainable development.