New data from Juniper Research has found that the digital games industry will generate software revenues of just over $80 billion this year, rising to $104 billion by the end of 2018. The majority of this growth will stem from the contributions made by the PC market, with this industry alone accounting for 42% of games revenues this year.
However mobile platforms will account for ever increasing contributions, with a market share approaching 35% by 2020. Meanwhile, driven by consumer uptake and software purchases from the latest generation of games consoles, software revenue generated by this segment will reach $27 billion by 2018, up from an estimated $21 billion this year.

Virtual reality to drive growth

Juniper's new research, Worldwide Digital Games Market 2015-2020, is the most comprehensive industry report to date, covering the Mobile, Tablet, PC, Console, Handheld, VR (virtual reality) and Cloud platforms.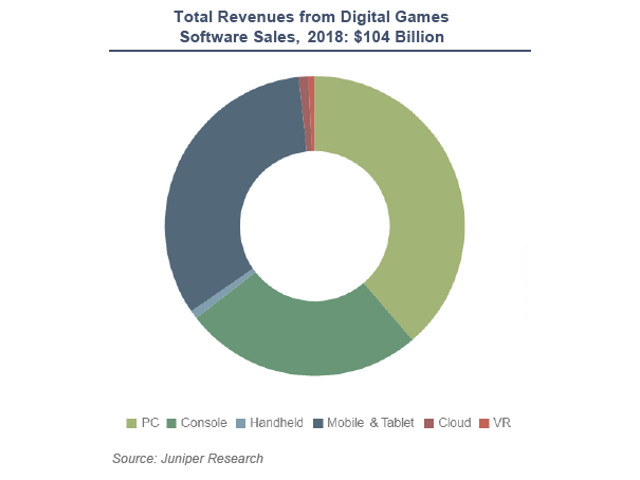 Contrary to the rumours of its impending demise, Juniper believes that the console industry will continue to evolve to take advantage of new technological opportunities, despite the platform already reaching its 8th generation.

According to research author Lauren Foye: "As digital purchases gain favour with consumers, we will see a drive in sales during the lifecycle of the current generation of consoles. Newly emerging technologies such as Virtual Reality will aid in consumer adoption, as the console continues to evolve to become the core home entertainment centre."

Juniper also expect cross-platform integration to prove a crucial addition to console games, with Microsoft's planned addition of Windows 10 to the Xbox One in November enabling play between PC and Console in the upcoming title, Fable Legends.

Continued growth for mobile games

Additionally, the mobile games industry has seen impressive uplift over the past few years, largely due to the popularity of 'freemium games', whereby users make in-app purchases in games such as Clash of Clans, Candy Crush and Game of War. Juniper has forecasts that this trend will continue, with mobile and tablet revenues approaching almost 35% of total game revenues by 2020.
The whitepaper, Omnichannel ~ A Game Changer for Consoles?, is available to download from the Juniper website, together with further details of the new research.

Juniper Research provides research and analytical services to the global hi-tech communications sector, providing consultancy, analyst reports and industry commentary.