Canon's EOS M5 is widely touted as the mirrorless alternative to the larger, heavier EOS 80D. There's certainly a number of parallels, including a 24.2 MP APS-C sized sensor, Full HD video recording, built-in wireless and almost the same number of focus points (49 vs 45 in favour of the M5).
A step up
The differences pretty much stop there, with the M5 packing all of this in a much smaller, some would say cooler body. Helped along by the fact that it's mirrorless, the M5 weighs 427 g compared to the 730 g of the 80D. Although not weather-sealed nor quite as aggressively styled as the Olympus E-M1 II, the M5 is easy on the eye. It leans more towards the design aesthetic of the PowerShot G5 X than Canon's DSLR offerings, and the gunmetal grey colour is certainly appealing, almost appearing slightly green.
Canon is unfortunately still not willing to go the retro route even though they have a number of highly regarded film cameras to base their designs on, including the AE-1, A1, S7 and Canonet QL 17 GIII. Their yellow competition Nikon is also lax on this front, although having walked the retro route with the full frame Nikon Df.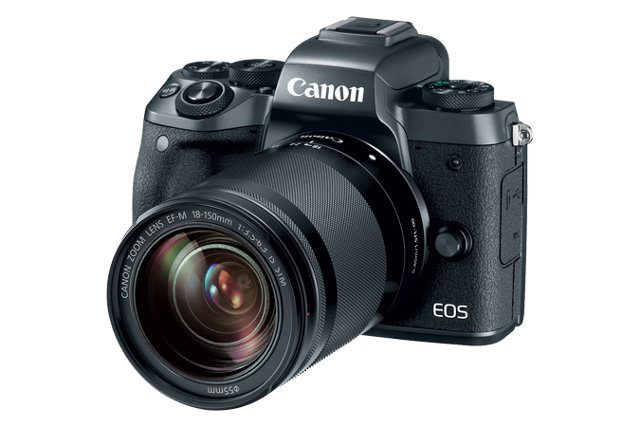 EVF at long last
What Canon has done this time around is to provide an EVF on a mirrorless offering, and thank heavens for that. The EVF comes with a 2.3 million dot resolution and is generally smooth, although a bit of lag is noticeable when scanning through a room for example. The viewfinder is far smaller in size than what you would find on most DSLRs, which is more noticeable when shooting both types of cameras. Much like Fujifilm's offerings, the EVF also tilts the on-screen information displayed once you turn the camera to portrait.
One of the big benefits of an EVF is that you don't have to constantly remove your eye to check the LCD display to see if your images are correct – these can be viewed directly through the EVF if you want to. Unfortunately, Canon uses a minimum playback time of two seconds, with nothing shorter available. Under most shooting circumstances it's frustrating to wait this long and I simply turned playback off.
The 3.2" LCD monitor is smart, tilting to accommodate above or below the head shooting, rather than making use of the clumsier vari-angle option. It can even be tilted all the way down to be used to frame selfies, although pressing the shutter release needs some nimble fingers.
Touch and Drag AF a boon
One of the coolest new features, and one that I can only hope takes off in Canon's other models too, is the ability to drag your finger on the 3.2" display to find your focus point when looking through the electronic viewfinder (EVF). Touch and Drag works much quicker than using the d-pad at the back to run through the 49 focus points on offer. While far less frustrating, it's not hassle-free, coming with the caveat of operating with your thumb manoeuvring past your nose the whole time. I would have liked to see the EV move to the left to allow a bit of play for your thumb on the screen.
The M5's 24.2 MP APS-C sized sensor contains a dual pixel setup that carries out on-sensor phase detection, helping with focussing in single focus-point mode, as well as when tracking faces. In general, autofocusing was speedy, and in combination with the Touch and Drag system works wonders for portrait shots as well as landscape photography.
Customisable options
As one would have hoped, the EOS M5's dials and d-pad are customisable, although the menu structure to do so is perhaps not the clearest. One touch I liked is the button on the dial function, allowing you to quickly switch between adjusting options such ISO or white balance for example. There are also two custom setting options available on the mode dial, complete with button locking so that you don't accidentally bump it to another setting.
I couldn't manage to flick the ISO adjustment and speed/aperture dials around, which should be easy enough to do, leaving me to believe that perhaps it can't be done. The dials, though, all felt very sturdy and decently crafted, once again making one believe that Canon put a lot of effort into the camera.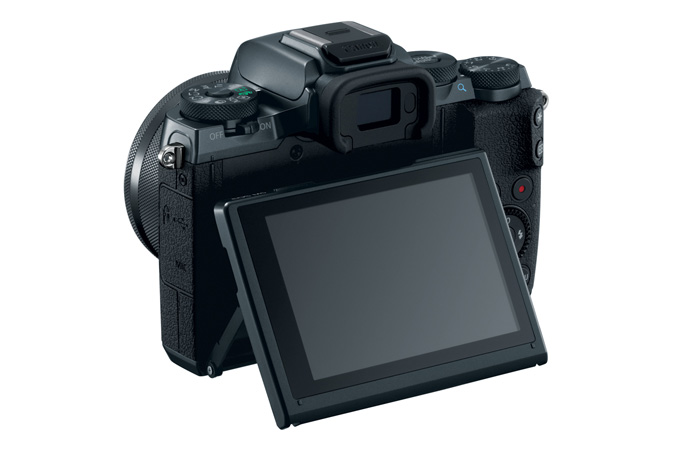 Still not quite there
One aspect where it feels that DSLRs are still on top, is when it comes to shutter lag on the M5. After taking a shot there is a brief period of time where the screen blacks out. In Canon's DSLRs this period is far less M5. One way to bridge this is to set the M5 to low/high speed continuous shooting if you are looking to get the shot.
As with all mirrorless cameras, battery life remains a concern, in some cases making me wonder if a second battery shouldn't be an immediate purchase. Canon pegs shots available at about 420, while the 80D DSLR stands at 960 in comparison.
The best one yet
Canon's EOS M5 is certainly the company's best effort to date when it comes to mirrorless. Solid specs, including great shooting speed, fast auto-focus, and a smart Touch and Drag system at the back, makes this a tempting offer.
In many ways, however, the M5's comparison to the similar specced 80D is not quite correct - I think mirrorless poses more of a threat to Canon's smart G-series advance compact range, rather than its DSLRs. In my mind the question isn't: "Should I rather buy the D80 or the M5?", but rather, "Should I go for the M5 or the G5 X?
At the current price point the M5 body retails in South Africa for around R15 000 (the 80D demands R16 495, the G5 X R10 995). As such, it goes up against some strong competition from the likes of the new Fujifilm X-T20 (R15 000) and the Olympus E-M10 Mark II (R14 00 with lens) - both players that, to a large extent, have figured out mirrorless down to a tee.
The M5 does have one big final card up its sleeve, since when it's purchased with a lens ships with a mount adaptor for Canon's regular EF lenses. This allows you to tap into a large second hand lens market locally, an option not available for the other brands mentioned. Granted, these regular lenses do add to the cutback in bulk mirrorless affords.

Touch and drag, EVF at long last, comes with lens adapter when purchased with bundle

Shutter lag, EVF flickers a bit, strong competition in its price range