For such a small little body Nikon's 12 megapixel P300 hides a large number of features, not the least being an impressive f1.8 lens. This is the fastest lens Nikon has ever built into its Coolpix compact range and allows for a very shallow depth of field and some impressive low-light capabilities.
That said, it is only available at the widest angle (in this case an impressive 24 mm), gradually decreasing the aperture as you zoom in. This makes a shallow depth of field more difficult on portrait studies where a bit of zoom is sometimes needed.
The P300 is not unique on the compact fast lens front, since Samsung's EX1 and Olympus' new XZ-1 also comes equipped with f1.8 lenses, but the P300's body is a lot smaller than these, making it an extremely pocketable camera (shirt pocket as apposed to jacket pocket).
Apart from the fast lens, low-light shooting is further enhanced by Nikon's four-way VR (vibration reduction) Image Stabilisation as well as a high ISO of up to 3200, while two "night" modes - Advanced Night Landscape and the Advanced Night Portrait – are also present.
Full HD video
The HD video recording capabilities on the P300 does a lot to impress, since it records at full HD (1080p) meaning its videos will display crystal clear on HDTVs. Our videos were crisp, even in low-light, with the ability to zoom (albeit very slowly) and stereo sound. There is also a video record button at the back so you don't need to switch via the mode dial at the top – a handy feature present on a number of other compacts. An HDMI port also makes an appearance to hook it up to your HDTV, but like all the compacts we've tested Nikon doesn't include the HDMI to Mini HDMI cable needed to do this.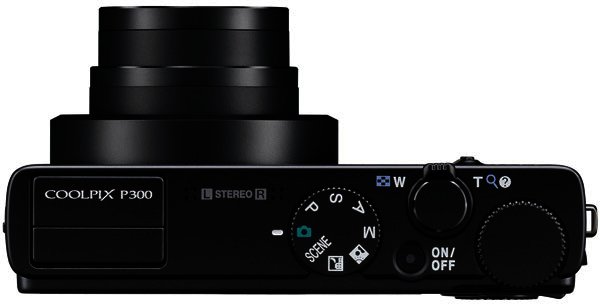 More features
If this camera was a Facebook status update, two more things would make us click "Like".
Firstly, on such a compact snapper you'll find two ring dials - one on the back and an unmarked one on top of the camera. This makes it possible for example in manual mode, to quickly change your speed on the one dial, and the aperture on the other. Anything that makes adjusting key setting less of a chore we love, so this is a very welcome addition.
Secondly, the 3" screen on the Nikon adds to the P300's quality feel. It's not often that we're presented with a massive 921 000 dots on a compact camera, so we treasured every second of it – both when shooting and when playing back images.
The easy-to-use Pananora mode in action
And more
Due to its small size, the Nikon P300 is not much of a zoomer. You'll find an average 4.2x zoom which is enough we believe to get you out of most composition problems, but won't for example bring you close to the on-field action when at a game of rugby.
We didn't struggle with the controls at all, with just the right amount of buttons decorating the back of the camera to make it easy to get to key functionality, without becoming obtrusive. You won't find an optical viewfinder on this camera but luckily a flash is present which is tucked away in the body itself, which sometimes leads to a finger covering it when it's suppose to pop up.
Conclusion
We really enjoyed our time spent with this little black beauty from Nikon, and the more we used the P300 the more impressed we were, since there's a number of delicious features to discover. Some of this include speedy 7 fps shooting (at full resolution), impressive panorama functionality (180° or 360°) and a very cool high-contrast monochrome mode (see pic below) that can also be used with video recording (amongst other onboard editing functionality).
Overall the Nikon P300 felt like it was designed with the more discerning photographer in mind, one that has a big dSLR in the closet, but use the P300 out at family functions. A cheeky omission might come as a surprise – the lack of RAW recording, which you will either cry about, or not mind in the least. The Nikon Coolpix P300 retails for R4000.
The Nikon P300's high contrast monochrome function

Fast f1.8 lens, nice resolution on back screen, full 1080p video recording.

No RAW, zoom not that great, finger gets in way of pop-up flash