The fate of South Park gaming titles has been hit-and-miss over the years, but with the release of The Stick of Truth, developers Obsidian may have been able to get the right mix of strong gameplay and wickedly smart character dialogue to keep players well entertained. The Stick of Truth is essentially a roleplay gaming title with turn-based in-game fighting as well as side scrolling navigation which offers users a variety of elements to explore and get stuck into.
RPG and insanity collide
At first users will be prompted to design their own South Park-styled character, assuming the role of the new kid on the block who has just moved to the fictitious Colorado-based town. For the most part a mute, who Cartman affectionately christens "douchebag", your character is sent outside to make some friends and immediately become immersed a town-wide Dungeon and Dragons/ Lord of the Rings type war involving all the kids in the neighbourhood.
This war revolves around Cartman, as most South Park tales seem to do, and his role as a self-created all powerful wizard, who controls an army of kids armoured in odds and ends from their parents discarded junk. Cartman's army has the one sole purpose - protecting The Stick of Truth from the Elven group. At the beginning of the game, the Stick of Truth is stolen by the Elves, it is up to you and bunch of South Park mainstays to claim it back for the beautiful Princess Kenny and restore order to the land.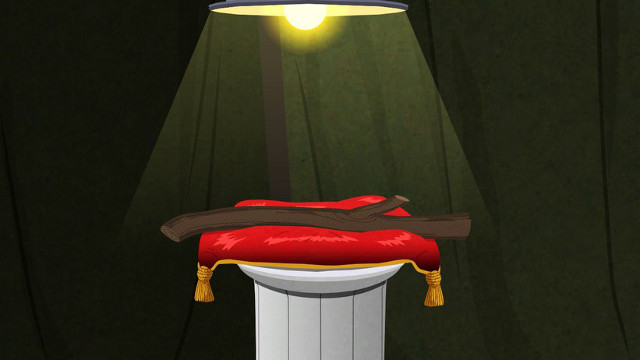 The fabled 'stick' of truth... awe-inspiring
Once recruited into Cartman's army, gamers must choose from four different warrior classes, Mage, Fighter, Thief and Jew… yes Jew. Each class has its own range of attacks and specific weapons for gamers to use. Fighters are given large wooden swords and hammers that cause enemies to poop themselves to death, making them better suited to gamers who enjoy button-smashing. Mages use fireworks and roman candles to deal heavy damage and farts to incapacitate their foe, with the added ability to summon an assault rifle wielding Jesus to attack several enemies. The Thief class utilise smaller melee weapons to inflict multiple strikes during fights as well as a special 'backstab' attack. Now for the Jews, who throw stones at enemies and use a dreidel to attack multiple targets.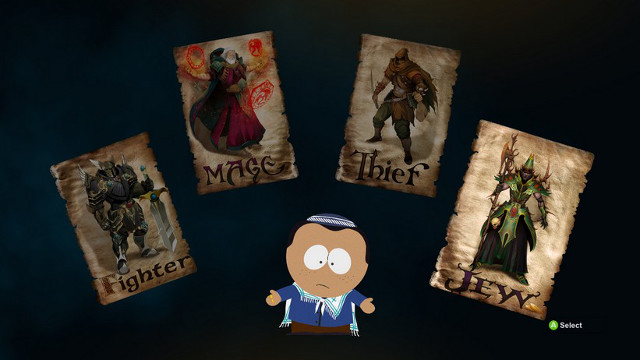 Choose your class wisely
Duct-taped glory
These powers are not only restricted to fights, but also have application to the different mini challenges throughout the game. The attacks are uniquely insane as only South Park can provide, but the actual mechanics themselves are not always intuitive as you may wish, with the trigger enabled prompts not responding as desired at critical times. The animations for special attacks also take some time to complete, and after a while make you want to use them less instead opting for quicker attacks that inflict smaller amounts of damage.
Another important element integrated into the game is the ability to upgrade armour and weapons which can either be purchased or found in numerous hidden locations, serving as a bit of incentive for players to explore every inch of the game. Both of these elements can be used in a creative way by gamers with items located in-game being combined to make more complex weapons capable of inflicting greater damage. For example, a Mage can combine a bottle of water and toaster to electrocute enemies in a fight. This makes gamers want to stockpile their inventories with a host of different items and ultimately ensure their advantage during fights.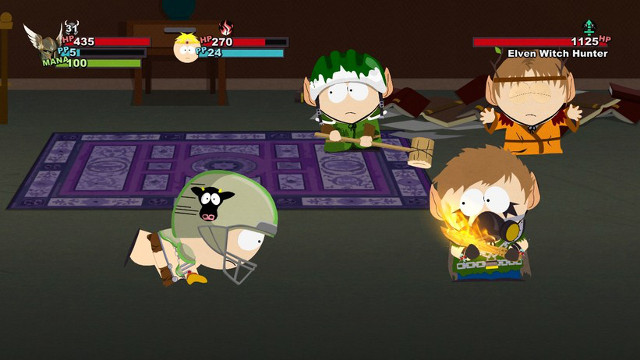 Fart-based fighting has never looked so good
Put the kids to bed
One thing is certain, although The Stick of Truth revolves around the overactive imagination of a group of kids, it is by no means designed for them to play. This is done to the truly mature content and language enlisted by developers, a true staple that made the tv series so wildly addictive. The Stick of Truth is not for the faint of heart. With references throughout to homosexuality, abortion, paedophilia and sodomy (performed by aliens), it more than deserves its R18 rating. So much so that certain aspects of the game had to be omitted for its Australian release, with no such measure luckily taken for South African audiences to the best of our knowledge.
This brings us to main aspect that makes this game so brilliant, its storyline, penned and overseen by the show's creators Trey Parker and Matt Stone. Translating into an unbridled and undiluted South Park experience with many of the characters that die-hard fans have grown to know and love making memorable appearances. Our personal favourite was former United States vice president Al Gore and his ridiculous obsession with finding the ManBearPig (fans of the show will know what we're talking about), who you later have to fight in an equally weird costume. Other notable characters include Mr. Slave, Stan Marsh and Mr. Hankey (the Christmas Poo).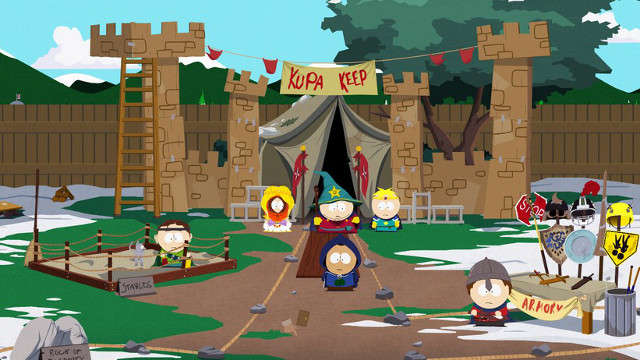 Cartman's cardboard-built base of operations
Final Verdict
The key to The Stick of Truth is its ability to perfectly merge a fantastically absurd storyline, solid gameplay and innovative add-ons without ever compromising the true essence of what makes South Park so brilliant. It allows the South Park universe to shine and supports it with great roleplay features. The Stick of Truth has set a new bar for follow-up titles to live up to and should provide plenty of laughs for fans and newcomers alike. At roughly R700 on PS3, Xbox 360 and R450 for PC, The Stick of Truth has enough crazy humour and anarchy to keep gamers entertained for hours.

Fantastic storyline; Crazy South Park character cameos; Innovatively designed attacks

Button-prompted attacks lack responsiveness; Town of South Park a little difficult to navigate