Namco Bandai Games has brought its popular Time Crisis series to the PlayStation 3, with the company loading the game's six shooter with the same "on-rails" as well as time-based gameplay that made the arcade versions so popular. But does Time Crisis: Razing Storm have the firepower necessary for Sony's premium console or is it merely shooting blanks?
This title offers fans of shoot 'em ups three games for the price of one as the main game Time Crisis: Razing Storm comes bundled with two arcade games, Time Crisis 4 and Deadstorm Pirates. All of these offer cheesy and rather uninspired storylines, but also good looking graphics and a fast and frantic amount of shooting action.
Main attraction
First to enter the shooting range is Time Crisis: Razing Storm, which employs true to the franchise time-based and on-rails gameplay within its arcade mode. On-rails gameplay sees your character's movements and vantage point being handled by the game. Destructible environments are also the order of the day, enabling you to blast through barriers or glass railings that the enemy was hiding behind to expose them before taking them out.
You get to choose between arcade mode and story mode and within the latter you get to ditch the on-rails gameplay to control your character's movements as you would during any other first-person shooter, giving this mode a much more involved feel while also making it more challenging to play. The story takes place in South America and you start off as a prison guard that must stop a terrorist organisation after its ruthless leader stages a daring escape from the prison.
There is also a third mode on offer, which is the sentry mode in which you're again a prison guard, this time preventing prisoners from escaping with your trusty sniper rifle. You have to distinguish between guards and escaping prisoners, while trying to land a headshot that will gain you accuracy bonus, making for a nice break from the "shoot everything in sight" gameplay.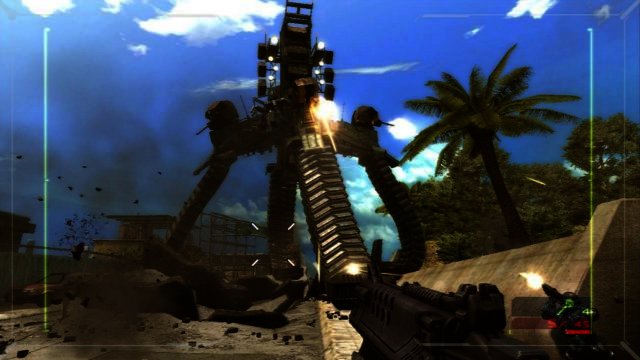 Ahoy there matey!
"Blasting everything in sight", however, is the order of the day within Deadstorm Pirates, which feels like a
Pirates of the Caribbean
knock off, but with Japanese anime characters. There isn't a real storyline to speak of (being an arcade port) as you immediately start off in search of legendary treasure (Poseidon's Breath). En route to the treasure you encounter a good variety of creatures ranging from ghost pirates and Harry Potter-inspired
Dementor
-like spirits attacking you from above as well as the legendary Kraken rising from the depths of the ocean.
Gameplay is made really easy since this is a classic on-rails shooter, which leaves you only having to contend with simple aiming and shooting. Although the gameplay and controls are easy to master with the sheer number and variety of beasts ensure that this title does remain challenging throughout, especially when the bad guys start tossing Molotov cocktails your way.
You'll also get the chance to employ weapons other than your standard issue Golden Gun, including one of the ship's canons, while occasionally also steering the giant ship, which makes for a nice break from all the shooting action.
Although it is relatively easy to spot all the movie and literary influences in the design of the game, it is nonetheless rewarding to blast away all manner of enemies and steering the ship as well as your canoe down a fast flowing river whilst dodging falling boulders. The game is relatively short though, having only five stages to shoot your way through.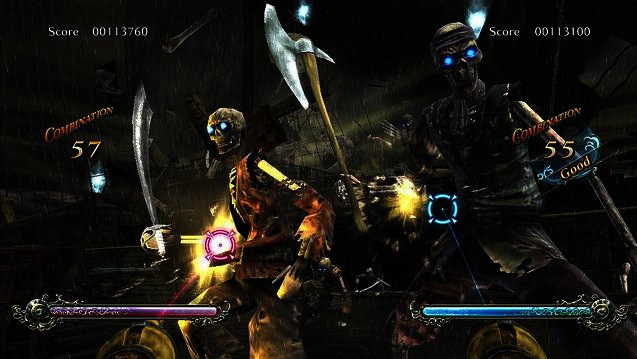 Arcade Fun
Following the pirate themed entertainment of Deadstorm Pirates, is Time Crisis 4 Arcade Version. Also thin on plot as it is merely PS3 port of the last title in the Time Crisis franchise. It sees you going up against terrorists (who else?), who want to unleash a ridiculous new militarily developed biological weapon (Terror Bites) upon the unsuspecting US population. As in Time Crisis: Razing Storm there are destructible environmental elements, which rubbed our destructive psyche the right way.
As in the arcade mode of Time Crisis: Razing Storm, you are up against the clock and if you do not take out all the bad guys within a particular area within the allotted time, then you lose a life.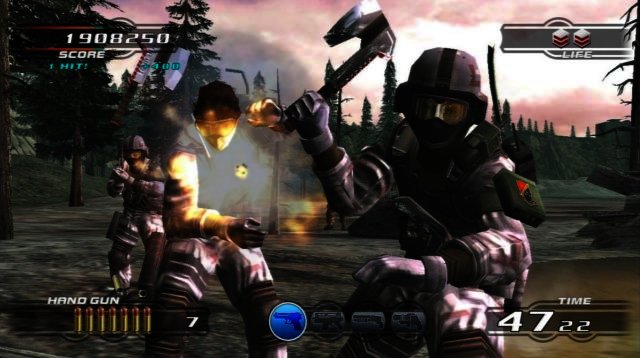 Final Word
Time Crisis: Razing Storm offers gamers three different titles, each with its own distinctive theme as well as environments. Although they might not push the PS3 anywhere near its limits, these all offer good looking graphics with two out of the three also sporting great destructible environments.
There is also the added incentive for
PlayStation Move
owners, which is its full compatibility with the motion-based system, enabling gamers to employ the Move controller instead of the standard PS3 controller. It will however not keep you hooked for very long, since you can pretty much blast your way through all the games in a matter of hours.
You can get it for a recommended retail price of R449, which is worth the investment if you are looking for an enjoyable arcade shooter, especially when you have friends who can join in for some co-op action.
Pro
Great looking graphics, destructible environments in two of the titles and the frenetically paced action.
Con
No real originality from its array of enemies or storylines. Very short amount of gameplay offered across all three titles.

Great looking graphics, destructible environments in two of the titles and the frenetically paced action.

No real originality from its array of enemies or storylines. Very short amount of gameplay offered across all three titles.