One of the very few problems with the tablets in general is that invariably even the maximum space (64 GB) can all too quickly fill up with one's photos, games, music and movies.
This is even further exacerbated by the fact that certain tablets do not feature a built-in microSD card slot
It has certainly left us wishing that the hard drive space on offer was a choice between 320 GB and 640 GB.Thankfully though, Seagate's mobile wireless GoFlex Satellite portable hard drive successfully addresses this glaring shortcoming.
Unwired for sound (and video)
The smart looking, glossy black and silver 500 GB hard drive enables one to wirelessly and we found, quite easily, connect one's device to it and then stream content stored on the hard drive.
The device functions as a wireless (802.11 b/g/n) hotspot, needing only to be chosen under settings on one's iPad or Android tablet. Then, the freely available FlexMedia app provides a straightforward interface from which to access the stored media. Additionally, one can, and is advised, to set a password for the device to secure it from others' access when within its 150 ft range.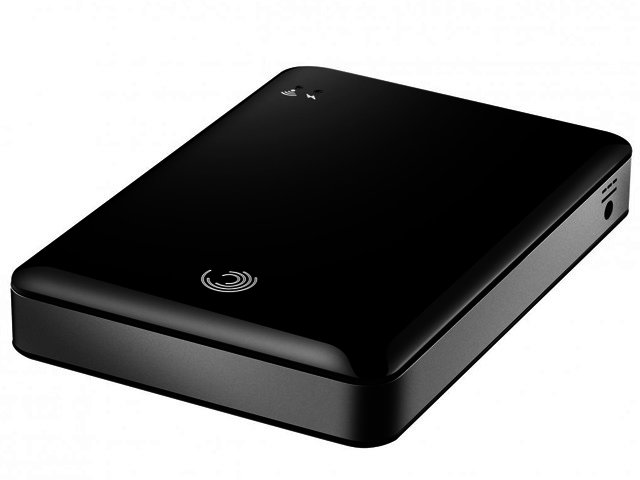 The GoFlex Satellite portable hard drive is compact, and discretely hosts LED lights
which show when the device is connected to a wireless network and recharging.
We found this to work very well on our iPad 2, at least after ensuring that we had installed the latest firmware on the GoFlex Satellite. Although standard wireless rules apply, with the strongest signal being received nearby, we found we could comfortably leave the device on our table and stream a movie to our tablet with no problem.
Using it on our Android Galaxy Tab 10.1 was a little less intuitive than its iOS counterpart, as movies first defaulted to our browser of choice before being redirected to our media player. Nonetheless, the result was the same: seamless media playback without worrying about filling our 64 GB and 32 GB hard drives respectively.
It is worth noting that when connected to the GoFlex, you lose your other wireless connectivity to the internet.
On my count, charge!
Two blue LED lights inform when the device is on and wirelessly broadcasting, while battery life when using it in this fashion is a decent five hours. This of course can be recharged with the included power cable, or if you have almost nine hours to spare, via a free USB port on one's PC.
The device natively supports H.264 and MPEG 4 video formats, along with AAC and MP3 audio files, as well as PDFs, Microsoft Office and iWork docs. If you are seeking support for AVI video though, a third party media player is needed on the iPad.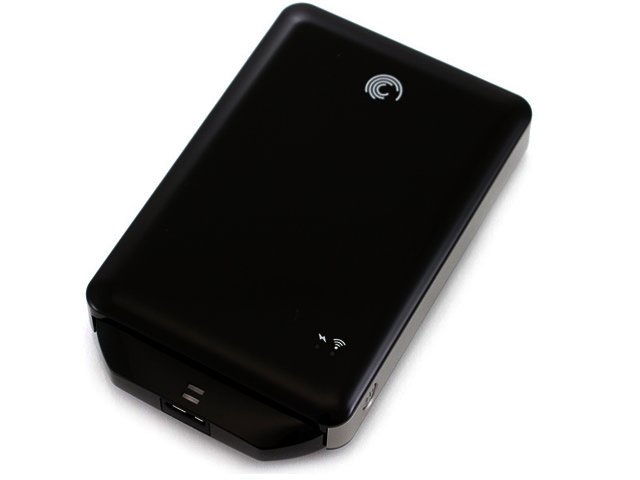 The included dongle adds a USB port to the device, for transfering media from one's PC to the hard drive.
We do strongly recommend ensuring that the firmware and the FlexMedia apps are up to date for the best experience though. A small but welcome touch is the inclusion of a car charger, enabling one to charge up the wireless hard drive when on the move.
The device can also be connected to a PC or notebook computer as any other portable hard drive, via a speedy USB 3.0 connection through removing a cover and attaching a dongle.
To the point
The fact that the GoFlex Satellite can seamlessly and wirelessly cater to our media consumption needs on our tablets as well as function as a portable backup for our notebook, makes this portable hard drive a winner in our mind. It has a RRP of R2500.
Pros
Viable option for extending one's tablets' capacity
Doubles as portable storage device
Easy to enable and stream from
Cons
Only five hours battery life for wireless streaming
Can't access email, internet while streaming
Expensive

Viable option for extending ones tablets capacity, Doubles as portable storage device, Easy to enable and stream from

Only five hours battery life for wireless streaming, Cant access email, internet while streaming, Expensive