Acer is continuing to move forward in the compact projector segment with the release of the Acer C20 LED Projector, one of the smallest pico projectors we've seen yet.
Size matters
This tiny C20 is about the same size as your more bulkier smartphones and can easily be carried in a pocket with a form factor similar to that of the
3M MPro 150
. The ultra-portable projector measures in at only 118 x 60.8 x 18.6 mm and weighs a mere 166 g. It even comes with its own protective carry case for added convenience.
While it might be small, don't let that fool you, since the device is packed with a ton of features. The first time we examined the edges of the C20 we were amazed at the amount of ports we found on the device. Featuring a micro USB port (with connector included to connect it to USB flash disks), a mini HDMI port (with HDMI connector), A/V in, audio out and Universal I/O port, the device is suitable to be paired with a multitude of gadgets.
The C20 combines Digital Light Processing (DLP) technology and LED lamp technology to deliver improved colour saturation and contrast performance. And since it makes use of an LED lamp it means it has an operational lifetime of up to 20 000 hours as well as improved durability. The LED lamp also makes it possible to display images from 5" to 66" in diameter.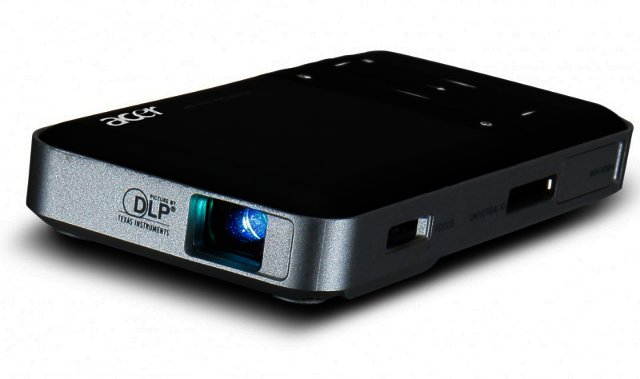 Image quality
Whilst testing the device we were suitably impressed with its image quality, displaying in near perfection - as long as you're in a dark enough room. Don't expect to see much from too far away though, as the C20 only sports a brightness of 20 ANSI Lumens. But it's not like you need to be drifting through the void of space to get a clear image, even in rooms with a fair amount of ambient light we could make out images on the C20 just fine.
This is thanks to the device's 2000:1 contrast ratio supplying the projector with vibrant, colourful images. WVGA resolution as well as a native 16:9 aspect ratio also helps the device procure highly impressive picture quality. The C20 sports a native resolution of 1280 x 800 (720p HD ready), which although not full HD, still makes for high quality playback.
An easy-to-use menu system makes displaying photos, videos and presentations a breeze, and the device automatically recognises inserted USB flash drives and storage cards.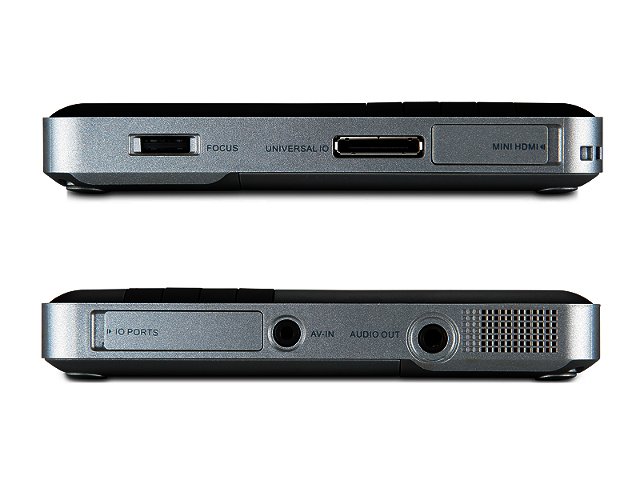 Battery and additional features
The device is powered by a Lithium-ion battery which will supply about an hour's worth of video in standard mode or two hours in EcoMode. This is a power saving mode which can be used when there is little ambient light in the room and you don't require such a strong light source. The battery life may not sound too impressive, but if it was the device wouldn't be able to attain its compact features. A battery charger with multiple connectors are included.
The device does heat up by a bit but nothing out of the ordinary, while as can be expected it runs very quietly. A built-in 0.5W speaker is also present on the device and we were pleasantly surprised at both its volume and audio quality. Users can of course opt to connect any other audio solution as well thanks to the C20's audio out port (3.5 mm audio jack). A screw-in tripod stand is also included if you need some added elevation.
A welcome additional feature on the C20 is Acer's ColorSafe II, DLP and Acer's unique colour compensation technology which ensures picture integrity even after long use. This prevents the projector from showing sings of colour decay over time.
Conclusion
The Acer C20 LED projector is a wonderfully compact pico projector, it features a plethora of useful connections, an intuitive menu system and displays images and video in good quality, displaying colours with particular clarity. The device is selling for a recommended R3499 and is available from Incredible Connection.

Compact form factor, vibrant colours and a large array of connection options.

Very short battery life