Acer has a slew of highly specced Aspire notebooks in its product library. The Aspire R 11, however, does not fall into that category. Instead, it's the type of device for users that are particularly cost savvy, like your first time university student, for example. It's built for one purpose in mind: deliver a solid array of basic features without denting your wallet. Let's find out if it delivers.
Budget inside and out
Starting with the outside, Acer has opted for plastic to cover almost every inch of the R 11, display being the obvious exception of course. At R9 000 (recommended RRP), plastic is the go-to material. As such, there's a bit of give and take here. While all this plastic ensures the R 11 does not surpass the entry-level price threshold, it does cheapen the overall feel of the notebook. Nowhere is this more evident than in the notebook's cover. The review model is swatched in a rather handsome azure blue, which is very much needed to distract from the notebook's low-cost DNA.
The rest of the R 11's is not much better, as the plastic used to house the keyboard, trackpad and 11.6" HD screen (1366x768) feels flimsy at times. That said, you're not likely to find a better quality of plastic on another notebook priced in the same bracket.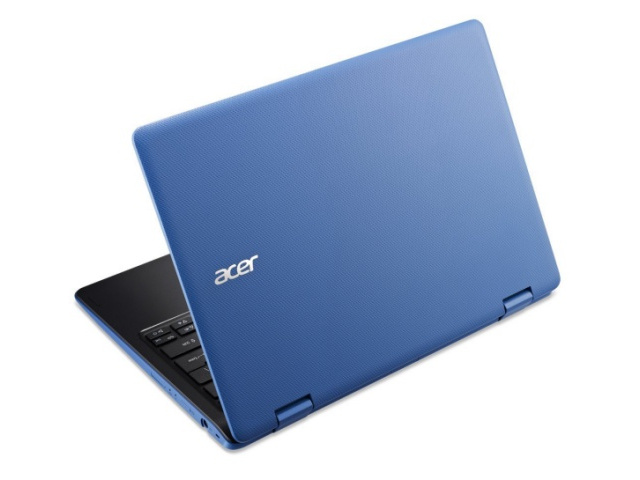 Solid tools
There is one saving grace in all this, the chiclet keyboard. While the responsiveness of the key press is not up there with the likes of a MacBook Air, you can happily type away at speed. As such, putting together essays or other similarly long documents is a pleasure instead of a chore. My only wish is that the directional buttons, located in the lower right quadrant, were a little larger, as you often find yourself struggling to find either the up or down button on the first try. Ultimately though, it is a small price to pay for an altogether solid typing experience.
The trackpad too, was pleasantly surprising to use, proving to be speedy, with good feedback when pressed, as well as feeling well constructed. While the rest of the R11's body feels a tad flimsy, this trackpad is as solid as can be hoped for.
If there is one flaw in terms of design and button layout, it would have to be the power button, which is located on the right-hand side of the notebook, as opposed to above the keyboard as I'm often accustomed to. While this is in no way a deal breaker, I often found myself having to lift up the R 11 in order to locate the power button.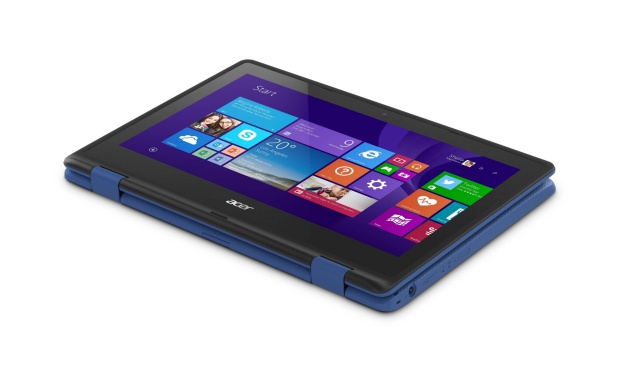 As far as the rest of the button layout goes, next to the power button, you'll find a volume button to either decrease or increase audio output as needed. This comes in pretty handy when the screen has been rotated (up to 360-degrees vertically) to place the notebook in display, tent or tablet mode.
On the opposite side (left-hand), are a few ports and inputs. You've got a 3.5 mm headphone jack, as well as two USB ports to call upon, with the latter split between a single USB 3.0 and 2.0 option. Added to this is an HDMI port and ethernet cable. As such, when hooking up to a media device is required, the R 11 is fairly well catered for.
Highly posable
One of the hallmarks of an Aspire device is its touch-enabled display and rotating screen. The R 11 is no different, featuring both. The former facilitates multi-touch, which makes it particularly useful when it's used in display or tent mode. I'd personally shy away from tent mode, as there is some slight play in the screen hinges of the R 11. As such, any over zealous touches of the screen, might cause it fall over. There is no worry of that happening in display mode however, as the R 11 is fairly weighty at 1.57 kg.
While that affords users a sturdy base of operations when placed on a table, it does make the R 11 quite difficult to lug around for long times while in tablet mode. Perhaps more screen real estate might have made this feel like less of an issue, but sadly there is a significant black border that runs along the edge of the R 11's screen. It therefore feels like Acer has not taken full advantage of the 29.7 cm worth of width that the R 11 has at its disposal.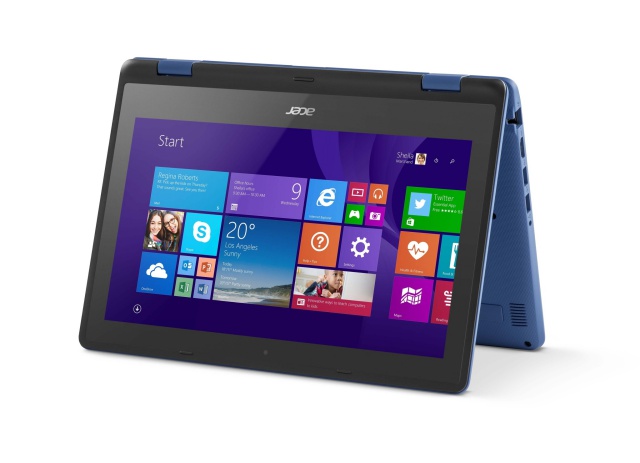 Pedestrian pace
As we delve deeper inside the R 11, we are greeted by some middling specifications. Running the entire operation is a quad-core Intel Celeron processor, which clocks at a very modest 1.6 GHz. Added to this is 2 GB of RAM, 1.83 GB of which is in fact useable. As expected, this yielded an erratic experience once the notebook booted up. Processor intensive apps took a long time to load, and multitasking became hard to do at times, with no more than two applications at a time being able to function at an optimum level.
Therefore, for any users who have designs on doing plenty of multitasking, or using this notebook for strictly typing up documents and browsing the web, the R 11 is sadly underpowered. Instead, it's better suited for use for many of the basic functions one requires of a notebook. If you place any greater demand on it, you'll likely come out the other side more frustrated than anything else.
Final verdict
Perhaps then, the R 11 is not designed to compete on the same level as Acer's other entry-level Aspire notebooks, or indeed other competitor offerings. Instead, it seems like the kind of device for users not fully enamoured with the lure of tablet-hybrids or convertibles, but who still want a notebook that can take care of the basics, while keeping their penny pinching habits when buying tech well intact.
If this describes what you're looking for, then the R 11's R9K price tag should be very appealing. Keep in mind though, that this notebook's slightly sub-par processor could soon become a painpoint within the next six to 12 months.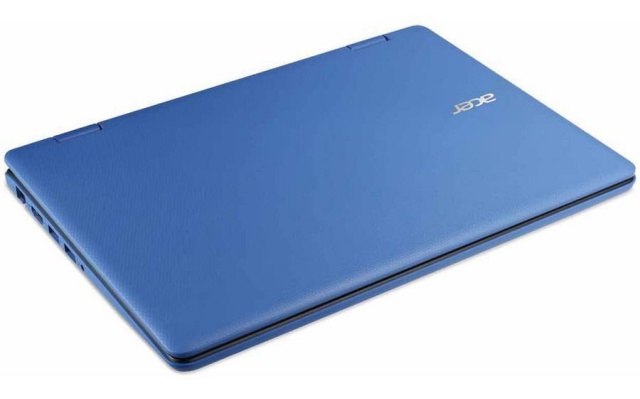 Solid typing experience and trackpad feedback; Good battery life

Heavy plastic construction; Processor underpowered for serious multitasking