In recent years, gaming notebooks have been steadily leaning towards becoming as thin and light as possible. Acer's Predator 17 doesn't just buck this trend, it clearly decloaks, practically sneers and growls at it, defiantly going in the complete opposite direction.
The Predator 17 is a beast of a machine, large, thick, heavy and unapologetically devouring as much space on your desk as it pleases. Weight wise (4.2 kg), your question shouldn't be what size backpack you would need to tote it around, but rather whether you have a monster truck on hand that can bear its weight.
And yet, none of these are necessarily negatives – it is clearly not intended to be a mobile gaming machine but rather a desktop gaming machine in a notebook form.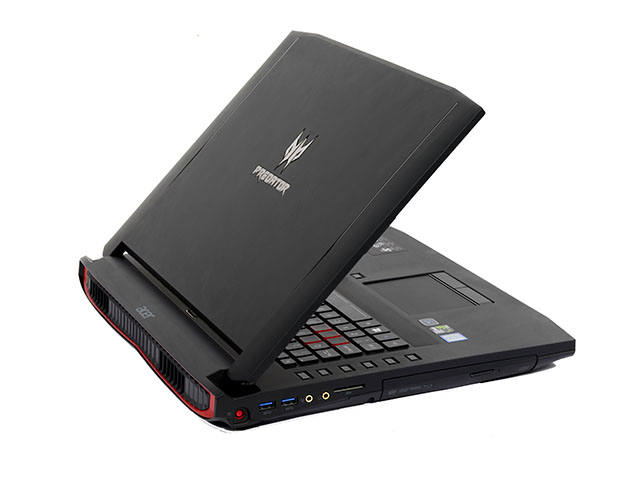 Dressed to kill
Appearance wise, the Predator 17 certainly looks the part of high end gaming rig, robed all in black, with sharp angles and only the hint of a subtle curve on the base.
A large triangle of a power button below the screen is immediately noticeable, and mitigates against having to hunt for the switch to turn your notebook on in a darkened room, while fairly wide bezels adores the large 17.3" Full HD (1920x1080) display. The latter did feel like it made for a somewhat more immersive experience, particularly when compared to notebooks that have, in the past, tried to eradicate bezel width as much as possible.
If this hasn't given the game away, there are other hints that this is a gaming machine first and foremost. On the left hand side of the keyboard are five small, backlit dedicated programmable keys for macros, or for default functions such as opening a game bar. The latter enables players to record their gameplay on the fly or capture screenshots, switch between its Intel HD graphics 530 or its included Nvidia GeForce GTX 980M, or launch the Xbox app.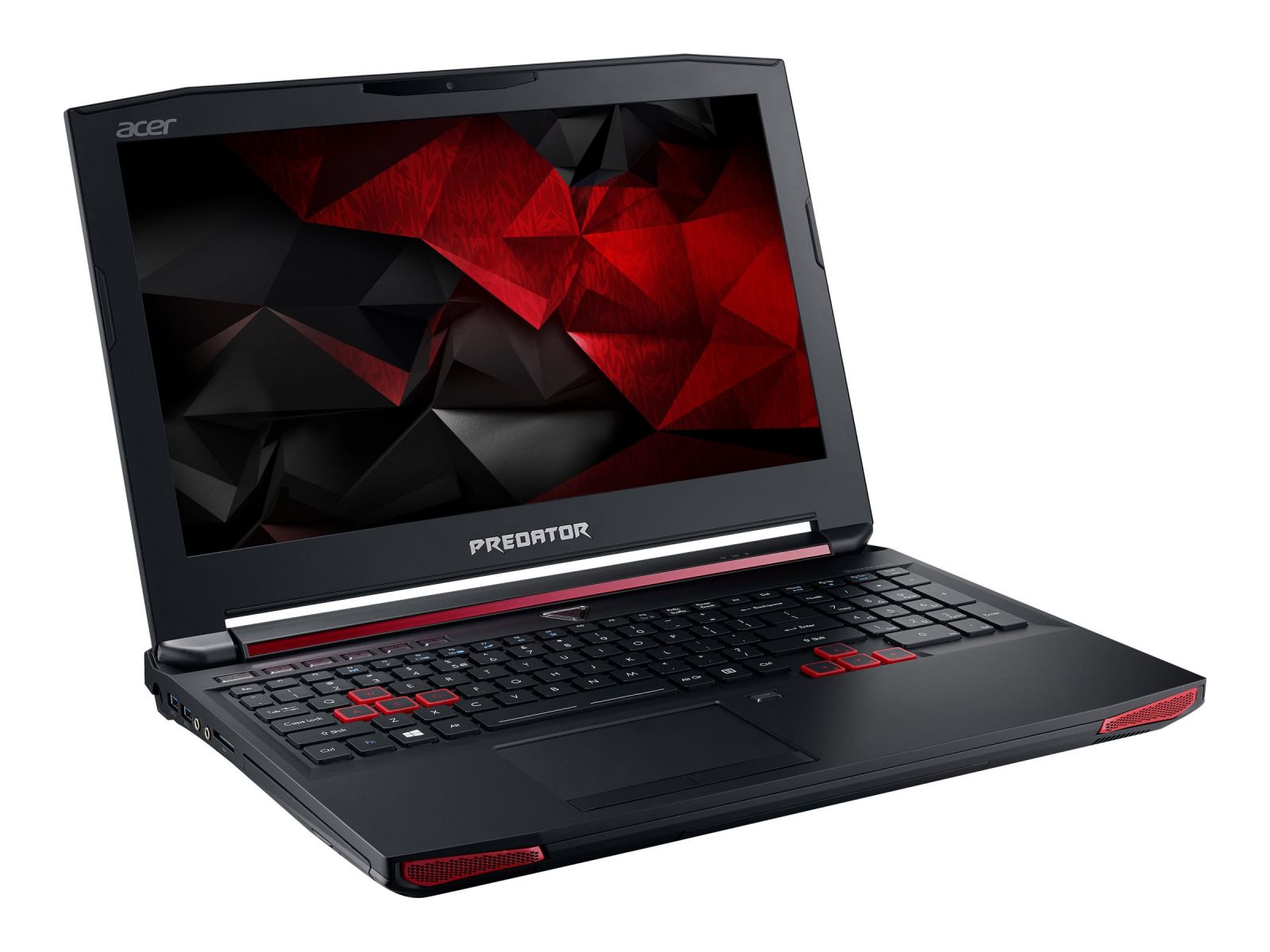 Looking good
Its benchmark results in Heaven bore out its performance – delivering a score of 1906 and 75/6 FPS. Much like its formidable appearance, so too are its specs, with a sixth generation Core i7 (6700HQ) clocked at 2.60 GHz answering the call to duty, aided by a sidekick of 8 GB of memory, at least in this review unit.
Thus performance across the board was pretty much what you would expect from high end internals – fast, and without hitch, and certainly up to more demanding, graphics intensive workloads.
Storage wise, at least on my review unit, the Predator packed two harddrives, a 128 GB SSD for fast booting and then a 1 TB hard drive for everything else.
Admittedly, the screen on our review unit did not offer 4K resolution, but its 1920x1080 was plenty adequate to provide a visual feast for the eyes, while the matte finish staves off unwanted reflection. Even though it isn't gloss, I had no complaints with how it looks – colours are deep and rich, contrast is excellent and viewing angles are superb. Much like Acer has managed to on many of its other notebooks, it offers terrific maximum brightness, and when dialed up to maximum, particularly bordered by the wide bezels, whatever is on the display really stands out.
This in on the Game multimedia setting, while movie and album modes darkened the screen a bit more, and standard mode offered a happy balance between the two. My clear preference for the screen, for general usage as well as watching movies, though was its Game mode.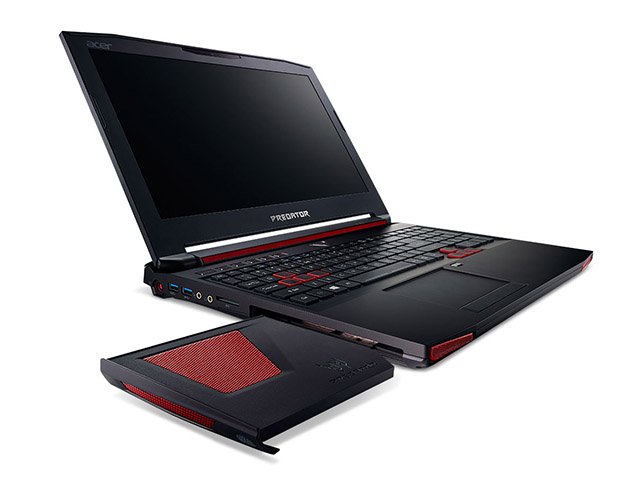 You can't touch this
While the notebook packs Windows 10, it doesn't sport a touchscreen, a feature that is not really a surprise to see missing from what is primarily a gaming notebook. However, if you have become used to navigating the OS using a combination of the mouse and swipe, it may be a little disconcerting.
Speaking of which, the trackpad is fairly large; it's not massive but it gives enough room to maneuver, and fairly deeply inset as well. Responsiveness from edge to edge was notably great, and while it wasn't dead centre, it was positioned such that I could comfortably rest my left and right hands on the palmrest without feeling like my left hand was on the verge of falling off.
Moving on, the chiclet keyboard itself hit all the right notes, offering satisfying and more than adequate depth, a fair bit more than you usually find on a notebook, while also bringing a numpad along for the ride. Backlighting is tastefully presented, by default a red across the main keyboard and blue on the numpad, but naturally, both these can be customised to your liking.
An unfamiliar addition
Something I haven't seen in a while is a hot swappable bay, where you can insert different components. In the box, you can either slide in an optical drive, or instead add an included additional fan – or, as Acer calls it, a Predator FrostCore.
This is not without good cause - you would expect a Core i7 processor to generate a fair amount of heat under load, especially in a gaming notebook. Even so, I didn't find that the notebook became too hot to handle at all even without the additional fan.
To its credit, and another example of the amount of thought that has gone into the machine – air is blown out the back vents of the Predator 17, rather than exiting from the sides and straight onto your mouse bearing hand, which has become a pet peeve in gaming notebooks in particular. Instead, both sides are reserved for a very decent smattering of ports, with four USB 3.0, two HDMI, an SD card reader, Thunderbolt and Ethernet port being judicially spread across the left and right hand sides.
Final analysis
Great performance, comfortable keyboard, beautiful display, but how well does this Predator make its growl heard? Extremely well, in fact, as the sound on offer is fantastic, with strong and solid bass emerging from the notebook's frame, thanks in no small part to the integrated 4.2 sound, consisting of two subwoofers. Watching Overwatch's frenetic combat, and terrific animated short, was a pleasure, and whether watching movies or playing games, you can feel slight, but not overly distracting, vibrations through the keyboard.
In short, the Acer Predator 17 is a mobile powerhouse, whether playing games, watching movies or if video/sound editing is more to your liking. The only real issue I could imagine being a con for some, is that sturdy build notwithstanding, is the Predator 17's hefty 4.2 kg weight. As mentioned in the beginning, it's not a mobile notebook, and certainly not the kind of machine you would want to slip into a backpack and tote around with you throughout a day.
Rather, it is just a bit more portable alternative to packing up your gaming rig and screen and intimidating your mates at your next LAN. Be warned though, this Predator may not come with shoulder mounted laser cannons, but it's definitely armed with a steep price, starting from the R30 000 mark.
If a gaming notebook/ gaming desktop replacement your main aim though, or just to have a beast of a gaming machine on your desk, then the Predator 17 considers serious consideration. As a dedicated gaming rig in notebook form, it is pretty much out of this world.

Powerful, Beautiful screen, Lovely backlit keyboard, Excellent sound

Heavy, expensive