There is one type of device we fully expect to be writing about very often during the course of this year, and that is the fledgling category of computers called ultrabooks.
Once a source of some confusion as to what set it apart from notebooks, ultrabooks are in vogue and a sign of an industry that is near obsessed with delivering thin and light computing devices that are still powerful and (mostly) affordable.
The first of what will no doubt be many ultrabooks to land on our desk for review this year is Acer's Aspire S3.
First impressions
The first positive that stood out for us in the S3's favour is how feather light and easily transportable the 13.3" offering actually is. This may be a feature common to ultrabooks, but it is still no less pleasing nonetheless; perching the 1.38 kg S3 on our lap for long periods was no more burdensome than resting a medium weight magazine in its place.
On the appearance front, the S3 has pleasingly curved corners, with an all silver cover that is only interrupted by the Acer logo. Upon opening the ultrabook however, we were met by a somewhat understated combination of chrome and light grey.
While this is attractive enough, it wasn't so remarkable as to leave us gaping at its design aesthetics, as Asus' Zenbook managed to do, and instead lent the S3 a more inconspicuous, even vanilla appearance. This is not necessarily a bad thing; but rather an issue of preference.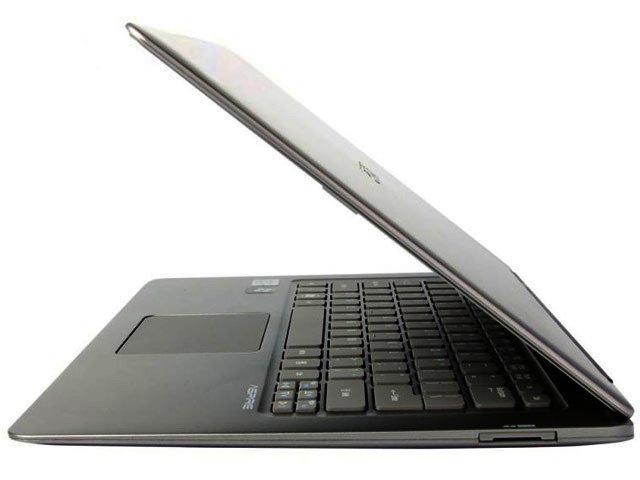 At 1.38 kg's, the S3 is as light as it looks, but still reassuringly solid in its build quality.
Screen
More importantly though, the S3's overall build quality was solid, showing no noticeable flex. Even more impressive was the 13.3" screen – while it's maximum resolution was 1366 x 768, it was nonetheless very bright, crisp and offered up particularly good viewing angles.
In addition, we loved the balance Acer managed to strike between offering up a sharp glossy display without an over-abundance of distracting reflections. Moreover, the screen boasted some excellent contrast, which only enforced its clarity.
This is not the first time that a screen on one of Acer's offerings has won us over; nonetheless, it was still a welcome sight.
Performance priority
Under the hood, the Aspire S3 sports a Core i7 2637M CPU, clocked at 1.7 GHz, along with 4 GB of memory. While the notebook specifications point to a 240 GB solid state drive (SSD), effectively only 200 GB of this was usable space.
As was expected from the Core i7, the general performance was very good, with programmes opening and running speedily, and the processor appearing to cope more than ably with more intensive tasks, such as benchmarking and graphics applications.
However, with the latter, some heat was noticeable, particularly on the underside of the ultrabook and on the left palm rest. Thankfully though, this did not become so hot as to make working on it uncomfortable when under load.
In its benchmarking, the S3 scored 3433 3D marks in our 3D Marks 6 test, narrowly beating the i7 (first generation) Asus U43J Bamboo's score of 3400, and the i5 Samsung 9 series' score of 2955, but it was still bested by Asus' Zenbook ultrabook, which scored a more impressive 3681.
While the integrated Intel graphics are not much to write home about if compared to a discrete solution, it nonetheless managed to get the job done for general work.
However, the sound produced by this thin and light ultrabook was superb – crisp, clear, surprisingly loud – all of which made watching YouTube videos and listening to music an absolute pleasure. We were very pleasantly surprised by how well the speakers performed – and would go as far as to attribute it to being one of this ultrabook's highlights.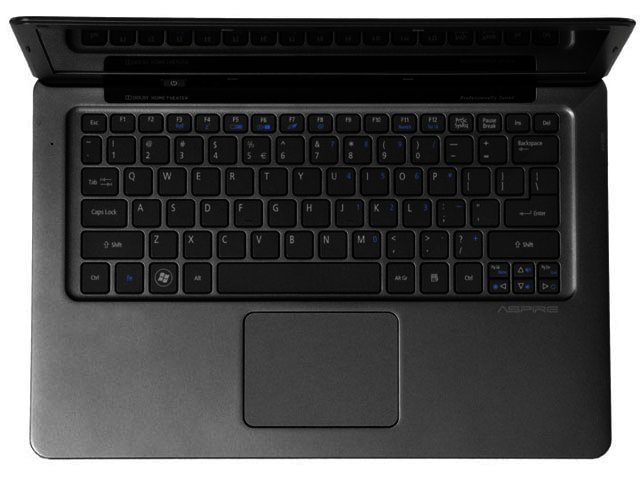 Admittedly, its somewhat vanila appearance internally didn't dazzle us.
Waking up and staying on
Another feature worth mentioning was that the Aspire S3 woke and was ready for action in 5 seconds from sleep, and was similarly ready from a powered off state in 17 seconds.
Battery life was similarly very good, offering six hours on a single charge. Once again, this is the second offering from Acer where the battery life won us over (the previous notebook which accomplished this was the 15" Acer Timeline X).
In fact, as the Timeline X is one of our working notebooks in our offices, we cannot stress enough how important above average battery life has become, and thus were very pleased with how the S3 performed in this regard.
Key components
The next area in which the S3 impressed was in its chiclet keyboard. The keys in particular offered up just enough depth; this easily offset the fact that the enter, backspace and shift keys were smaller than usual, while the slight sink in which the keyboard rested made for a comfortable typing experience.
As much as we would love to report that the keyboard is backlit, unfortunately this is not the case. Once again, it is a pity, because we tend towards regarding the lack of backlighting on a keyboard as a missed opportunity, especially on highly portable ultrabooks which so readily lend themselves to typing or working anywhere and in a variety of lighting conditions.
Nonetheless, other than that we actually enjoyed working on the S3 – the keyboard was comfortable, the button presses were just deep enough for our liking and the generously sized centralised trackpad was responsive from edge to edge.
Additionally, left and right mouse button presses are accomplished by clicking the bottom left and right hand of the trackpad respectively – there are no dedicated mouse button keys, much like the Samsung Series 9 and the Lenovo X1.
Luckily the mouse buttons struck the right balance between being firm and definitive enough to register without being overly resistant.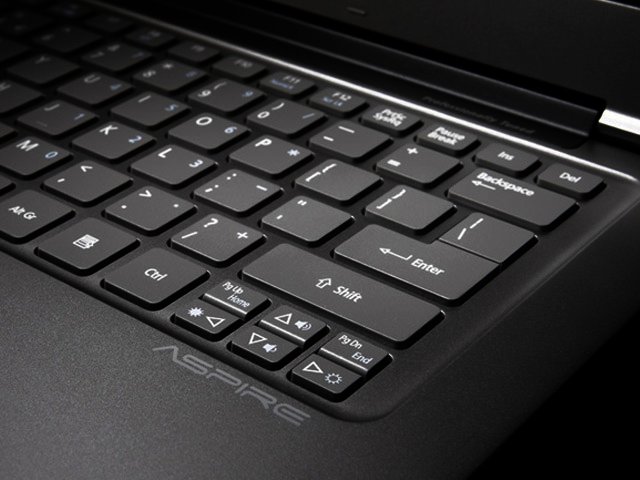 The keyboard was a pleasure to use, offering keys that were firm and just deep enough.
Ports
Ports on the S3 have certainly been kept to a minimum; an HDMI port rests next to the power port for the medium sized charger, while two USB 2.0 are located on the other side of the HDMI connection.
All of these are found on the back of the S3; while the left and right sides play host to an audio jack and an SD card reader respectively.
Minor problems
The one notable fault we did find with the S3 though is that the screen wavered quite a bit when we were vigorously typing on it. We have to chock this up to the lightness of the overall ultrabook though, rather than poor hinges.
That unfortunately appears to be the price paid for the ongoing quest to become ever thinner and ever lighter. While it wasn't a deal-breaker issue, we would like to see Acer address this in the near future.
To the point
Overall, while the Aspire S3 didn't wow us quite as much as the Asus Zenbook, it still proved to be an all round above average ultrabook in a variety of aspects, most notably its performance, screen, keyboard and sound.
Even its largest failings (vanilla design, lack of keyboard backlighting, a not quite stable enough screen) are well compensated for by the ultrabook's many pro's though, which makes it a very good starting off point for Acer (watch out for their upcoming 15 mm Aspire S5 which had tongues wagging at CES this year) in what we are sure will become an increasingly crowded ultrabook segment. Prices for the Acer Aspire S3 starts at R9999.
Pros
Superb screen
Responsive keyboard
Loud, clean sound
Cons
Screen wavers under heavy typing

Superb screen, Responsive keyboard, Loud, clean sound

Screen wavers under heavy typing