Everyone knows that high powered SLI 17.3" gaming notebooks are somewhat expected to be on the chunky side, or at least terrifically heavy and cumbersome to the point of requiring an ongoing gym membership. The Aorus X7 flips convention the finger, rebelling against all these assumptions. Instead, it retains all the grunt of a hardcore, where-the-rubber-meets-the-road gaming notebook without any of these particular downsides.
Granted, it is large, as both the screen and the keyboard boast generous bezels and palm space respectively. However, it is also sleek, thin (particularly for a notebook packing two Nvidia GTX 970 M graphics cards in SLI, backed up by Intel HD Graphics 4600 for when power saving is a priority) and attractive.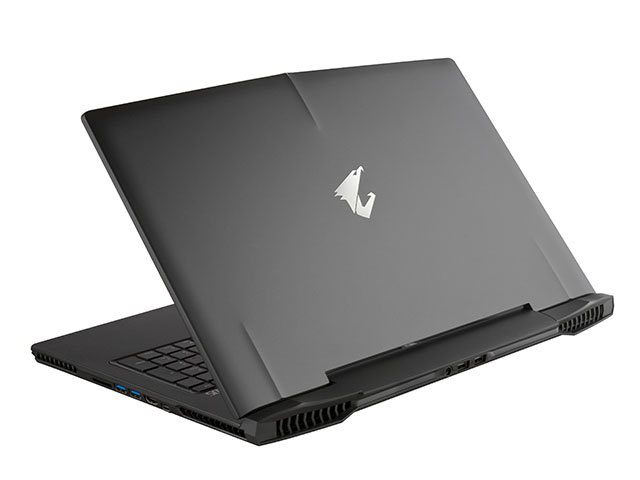 Built to last
Much as expected from Aorus, build quality on this notebook is top notch, with its chassis feeling reassuringly solid and well put together. Its waiflike thinness does come with a bit of a compromise though; much like human supermodels presumably cut their local Patisserie's tempting treats from their food repertoire, the X7 has foregone an optical drive, with our review model relying solely on its 500 GB hard drive and internet connection instead.
Worth noting is that the retail version includes two 128 GB solid state drives and a more capacious 1 TB hard drive.
With all the spaciousness of the design, the screen could have felt a little too distant from one; however, Aorus has obviated this with a hinge design that brings the large display closer to one's view. This is a choice that makes it more of a pleasurable experience when gaming on one's bed, for example, or if you are bold enough to balance the notebook on your lap while sitting on a comfy sofa amid a power cut. And yes, load shedding and gaming on this bad boy go together as well as mint ice-cream and chocolate chips.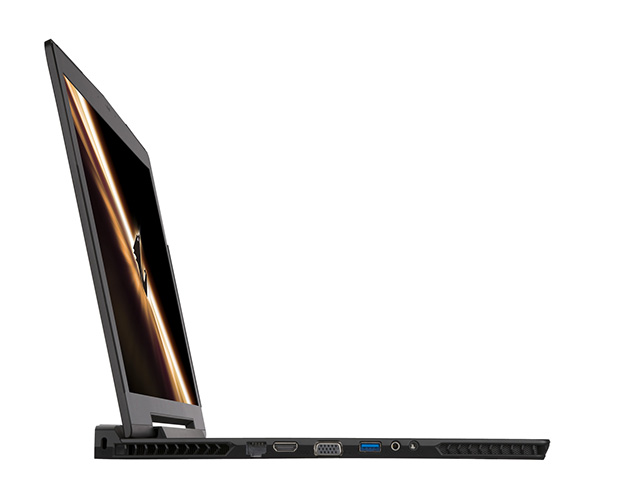 Smooth touch
Unlike some other gaming notebooks, the Aorus X7 has gone with a less-is-more aesthetic, opting for an all black chassis and understated backlighting. Indeed, the only giveaway that this is a gaming machine is the row of five G macro keys along the left hand side and the accents on the ever-important WASD keys.
Speaking of the chiclet keys, these are a pleasure to type on and use, with just the right amount of depth to be comfortable and springiness to ensure that typing, or controlling games, is quick and responsive. It's also worth mentioning that onboard is a full numpad, for those for whom this matters. However, the most noticeable aspect of the keyboard is the shiny and generously sized glass trackpad. In case you are wondering what using one is like, it is both very different tactilely to a conventional trackpad, and very familiar if you are used to gliding your finger over a smartphone or tablet's touchscreen.
Suffice to say, I quickly became accustomed to it, and its responsiveness was faultless. However, much like on a tablet, smartphone or touch-enabled notebook screen, the touchpad was a fingerprint magnet of note. Depending on how much you may be inclined to rely on the touchpad rather than an external mouse, you likely will want to keep a soft cloth handy. It goes without saying that if you intend to commit a crime and plan to keep your fingerprints secret, I strongly recommend you hide the notebook before the CSI team arrive; I've never spent time in jail and don't intend to, but I'm almost certain that PC gaming is not one of the hobbies you can pursue while in the slammer, and Grand Theft Auto V, when it arrives on PC, definitely wouldn't be in your local jail's library anyway.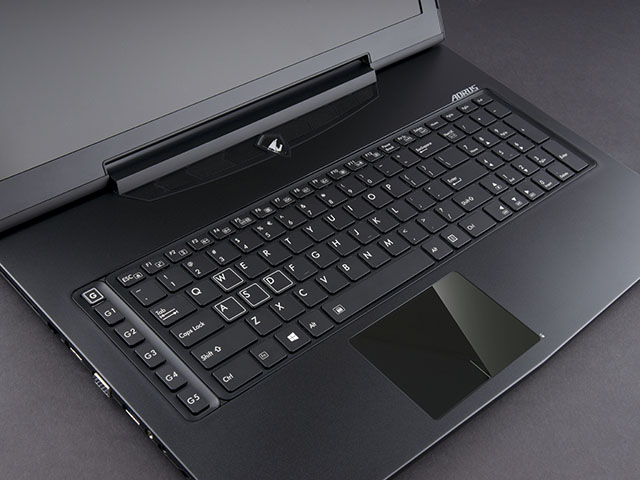 Bring down the house
Gaming on it was a particular pleasure; I found Ryse: Son of Rome looked beautiful while Sniper Ghost Warrior 2 played as well as I could have hoped for. Disclaimer though - naturally I did connect an external mouse rather than rely on the trackpad alone, I suspect any PC gamer worth his/her salt would be inclined to do the same.
As for its matte screen, I was both impressed and a little surprised – impressed because the clarity and colour reproduction is outstanding, surprised because the top resolution is *only* 1920x1080. Granted, this resolution is nothing to sniff at, and in general use (watching movies, playing games, internet browsing) I had absolutely no complaints from the matte screen. However, judging by how premium the notebook's innards are, I largely expected the resolution to rival Apple's Retina display or at least exceed the 1920x1080 frontier.
Additionally, worth mentioning that viewing angles from the sides are pretty good, although from the top, the screen has far less latitude.
Speaking of innards (or more accurately, tech specs) I definitely wasn't disappointed. Beneath the sleek and elegant chassis beats a mighty heart, with a Core i7 (4870 HQ), clocked at 2.5 GHz and a healthy dollop of 16 GB of memory answering the call of duty. The aforementioned duo of Nvidia GTX 970 M graphics cards are no slouch either, bringing 3 GB of memory in their own right. Thus, it came as little surprise that in general use, the notebook performed very well indeed, well aided by loud, clear audio.
This was also borne out by its benchmarking scores – 13 742 in 3D Mark 11 and a silky smooth 708 in Heaven.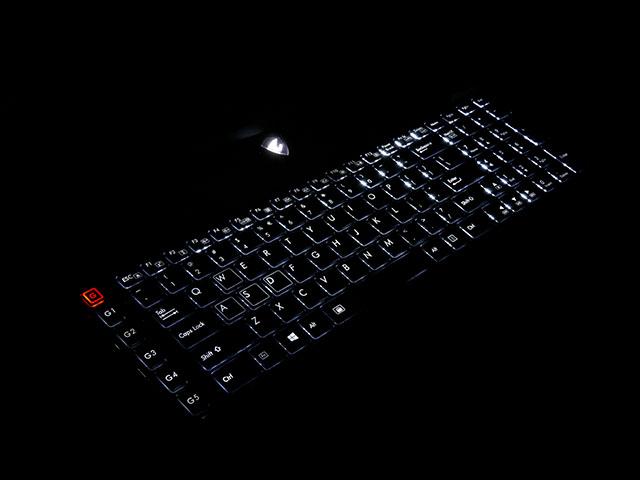 Demons and downfalls
However, all this power comes with a price - this notebook's demon has a name and it is fan noise. No, not the kind of fan noise you find at a particularly loud Soweto football derby, but the more mundane kind: under load, the system's fan's can get noticeably noisy. Granted, to extend the metaphor, this is not loud enough to be comparative to a 250 strong party at a nightclub, but definitely reminds of the intoxicated neighbor on random Saturday nights making his poor skills at the electric guitar known to the neighbourhood. Does it mitigate against what else the X7 has to offer? No, but it definitely needs to be considered upfront.
Secondly, with this much power under the hood, you expect heat, and granted, the notebook does get warm at times, but heat management is well managed, evidenced by it being evenly distributed across the frame, with the base remaining at most warm rather than scalding.
Generous bezels, generous screen, generous keyboard – if you are seeing a pattern here then you probably won't be too surprised by the fact that the notebook similarly has a generous number of ports, splayed across its back, left and right hand sides. These include five USB ports (two USB 2.0 and three USB 3.0), two HDMI ports, an SD card reader, and of course an Ethernet port.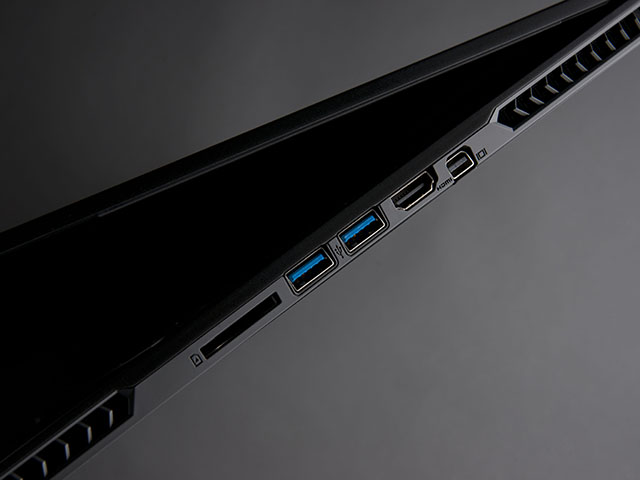 Final thoughts
In the final analysis, the X7 is a beast of a machine in all the right respects. Granted, it's not absolutely perfect, as its battery life at highest settings is not the road warrior's best friend. But, for the gaming crowd seeking a powerful means to carry their favourite pastime with them between LANs or from one powerpoint to the next, a player with enough cash can do far, far worse than the X7. Its RRP is approximately R33 000.

Excellent performance, Plenty RAM, Roomy keyboard, Slender and sleek appearance

Noticeable fan noise