If you have been searching for a gaming and desktop replacement notebook that regards compromise as a foreign concept, then your quest is at an end - consider the Aorus X7 your now found holy grail.
We were mightily impressed by the build quality of the Auros X7 v2 both times we saw it at Computex, Taiwan, earlier this year, and are no more so with it on our review desk. Suffice to say, the X7 is clearly made of quality components, and it shows, both on the base, which was free of creak and on the screen, which showed zero signs of flex.
This comes as no surprise as the Aorus X7 v2 originates from the same manufacturers as the equally as well built Gigabyte notebooks, while pushing the envelope on performance and boasting even higher specifications.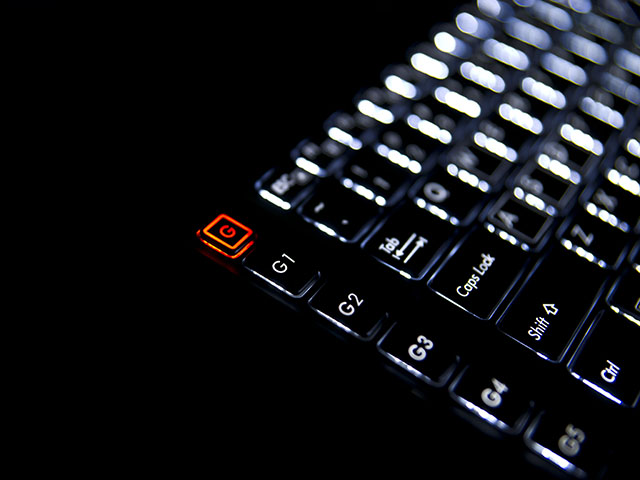 One of our favourite keyboard features - backlighting - makes a bright and welcome addition to the gaming notebook's appeal.
With this, the Aorus X7 v2 has been the beneficiary of a no holds barred approach. Powering this beast is the latest generation quad core Core i7 (4710HQ), clocked at 2.5 GHz; 16 GB of DDR3L 1866 MHz memory and accompanied by two Nvidia's Geforce GTX 860M with 4 GB of GDDR5 memory each (total 8 GB of video memory). With all this onboard, you may fear that it's clunky – far from it, in fact. Considering the machine boasts two graphics cards in SLI, it is remarkably thin at 22.9 mm.
Also, we were pleasantly surprised to note another marker of well designed build, that when under load, the slight heat is evenly distributed across the base of the notebook. This is pleasantly warming rather than overwhelming scorching, and actually, quite welcoming considering the chilly winter.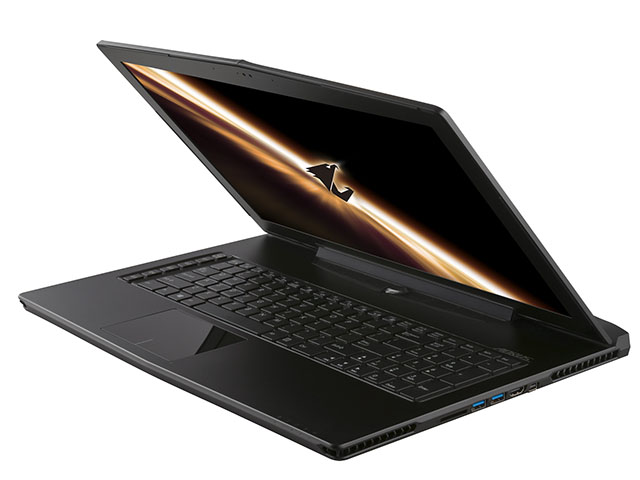 The Aorus X7's excellent build quality and a generous 17.3" screen by some no-holds barred internal components.
Screen dreams
Beyond the build quality, the next arena to impress mightily is the matte 17.3" screen. With a maximum resolution of 1920x1080 (on our review model), we found colours popped, blacks are beautifully rich and deep and the contrast and clarity was outstanding. Gone forever are the days when matte screens looked muddy as compared with their reflection-happy, glossy counterparts. Indeed, our first thought was that we would quite happy forego our TV if need be and just watch movies on the beautiful display, because yes, they look that good.
Also helping matters is the fact that onboard speakers are actually very loud, with a good balance of bass and treble. Just playing off the notebook alone, the sound is loud and clear enough to comfortably forgo having to hook up external speakers but still be able to appreciate a movie or game's soundtrack.
Stressed for success
Most importantly, the Aorus X7 v2 certainly has enough enough grunt to handle demanding games, and we found that it has enough power to keep the likes of Call Of Duty: Ghosts and Crysis 2 (old, classic but still demanding) more than happy; it also though, reduced our now very aging PC to the equivalent of a starstruck spectator at a Hollywood premier.
Generally speaking, PC gamers are all about performance, and boy, does the X7 v2 deliver. The notebook treats benchmarks like fingerfood, quick little bites to devour before the main event of demanding gameplay.
For example, in Heaven 4.0, with SLI disabled, it delivered a score of 654, with its maximum frames per second mark comfortably delivering 66.9 fps. Even when under load, the machine remains very quiet. It was only when we kicked things up a notch, enabling SLI, that the fans came into effect. However, these were hardly overly distracting. Furthermore, the scores returned when we enabled SLI were fantastic, or more specifically, 1233, with a maximum frames per second coming in at 126.8 fps.
After that performance, we threw 3D Mark at it to see if that would slow it down. The X7 responded by laughing and thanking us for its little 'treat' and returning outstanding scores - a FireStrike score of 4272, a CloudGate score of 18 909 and a blistering IceStorm score of 126 015. Suffice to say, performance across the board, whether gaming, watching content or browsing the internet, is what you would expect from a notebook of this caliber – performing beautifully across the board, and shows how enjoyable computing can be, indeed, should be, when its components are without compromise.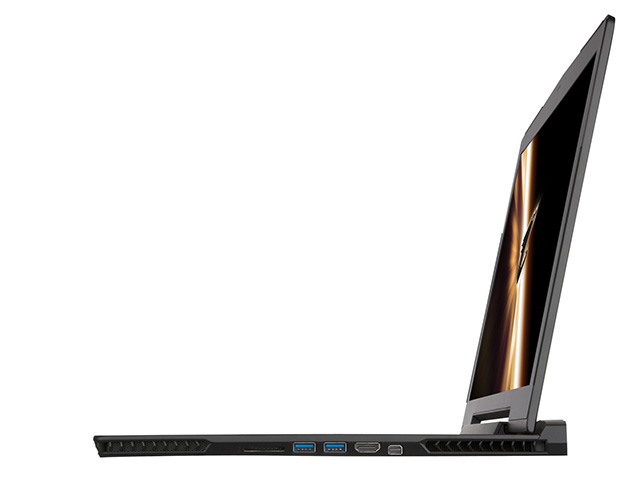 The Aorus is somewhat deceptive; just looking at its profile you would not suspect that it actually boasts four hard drives.
As for storage, onboard our review model we have four hard drives (3 mSATA 128 GB SSDs supporting RAID 0 and one 2.5" 1 TB 7200 rpm drive), with a combined 1.3 TB worth of space; while the notebook also offers an equally generous plethora of ports.
Evenly spread across the back and sides are three USB 3.0, two USB 2.0, SD card reader, a mini display port and an ethernet cable connection. Additionally, onboard is an HDMI port, D-Sub and a surround port. Worth noting is that the mini display port, together with the HDMI and surround ports enables gamers to output their game screen across three external monitors.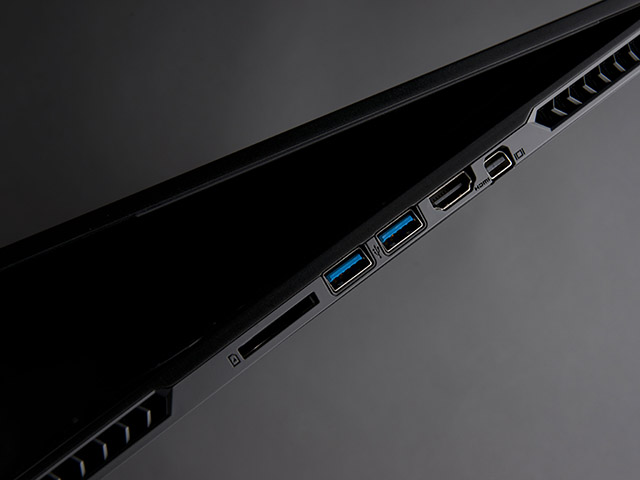 To its credit, the notebook boasts ample USB slots - three USB 3.0 and two USB 2.0.
Key ingredients
The next arena to win us over came from the keyboard. The keys themselves are bold, clear, and augmented by bright, but classy use of backlighting. Additionally, the all-important WASD keys receive a bit of extra highlighting, making them stand out from the rest of the full sized chiclet keys. These all boast slightly greater degree of springiness than found on most other notebooks, making it feel as though one's presses are lighter and more responsive, while the depths of the presses themselves are certainly deep enough to satisfy.
Furthermore, macro-lovers have not been entirely forgotten, as the left hand side of the keyboard gives you five 'G' keys to customise to your heart's content, while on the right hand side, there is a full numpad as well.
Another aspect of the notebook that we were keen to try out a little more when the Aorus X7 was unveiled was its glossy glass touchpad. It didn't take us long to decide that we like its (unfamiliar) texture quite a bit, as we found it be smooth and responsive when controlling our cursor for general use. However, when it came to gaming, naturally we, like most other PC gamers, would plug in a dedicated mouse for the purpose.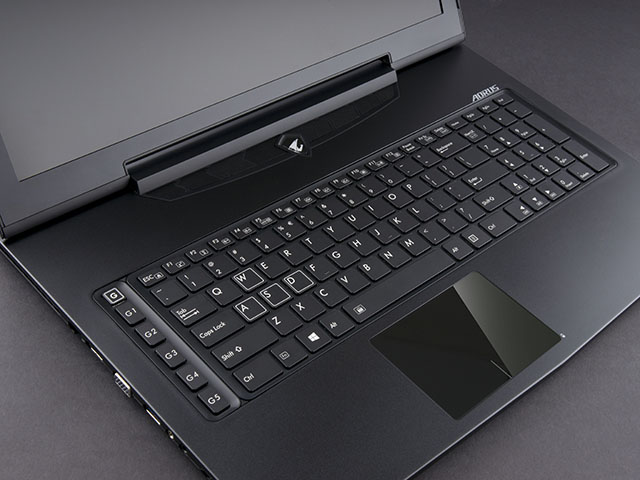 We found the notebook's keyboard equally a pleasure to use, with nice, springy keys with decent depth.
The other shoe…
By now, if you are hoping we have a good reason to spare your wallet and abate that all too familiar 'gotta have one' feeling, we've got bad news for you – there isn't a significant flaw on the machine that could curb your enthusiasm. Yes, it has a large power brick, and no, you are not going to want to carry that around with you everywhere you go, but that is a minor concern, especially for a notebook that is aimed at being a desktop replacement/gaming machine.
Additionally, it keeps that slim frame by excluding the optical drive; which might seem like a curious decision given that it is mainly aimed at PC gamers. However, it's also understandable, especially when you take into account download speeds in Asia and the US, where gamers are more than likely downloading their titles off Steam. For local players, those willing to spend this kind of money on a gaming machine likely have a 4 GB/s uncapped broadband already anyway.
As for our overall impression of the Aorus X7 since Computex, we find ourselves only the more awed. It has been quite some time since we saw a notebook of this caliber that just nails every single key component and then goes beyond that to earn a badge of honour for being exceptional.
If you're a dedicated PC gamer who wants the best in a notebook, good luck explaining to yourself why you haven't bought one (yet) when it arrives on our shores in the month ahead. It is expected to have a rather weighty RRP of R33 000.

Superb build, Fantastic screen, Comfortable keyboard, Blisteringly great performance across the board

Large power brick, No optical drive, Expensive