When we first viewed the XPS 13 in March at its launch, we were impressed.
It was high time for Dell to show off their answer to the growing popularity of the ultrabook category; typically characterised by devices that boast a light weight, long battery life, SSD, fast boot times while being powerful and supposedly affordable.
While Dell introduced the ultrabook as being targeted at enterprise customers, or better said, ideal for enterprise customers, it quickly become apparent that it would be just as ideal for general users who have a yen for portable and attractive devices.
When Dell's sleek and attractive ultrabook landed on our desks for review recently, we managed to spend more time with it beyond our cursory first look, and it quickly became apparent that this is no shrinking violet.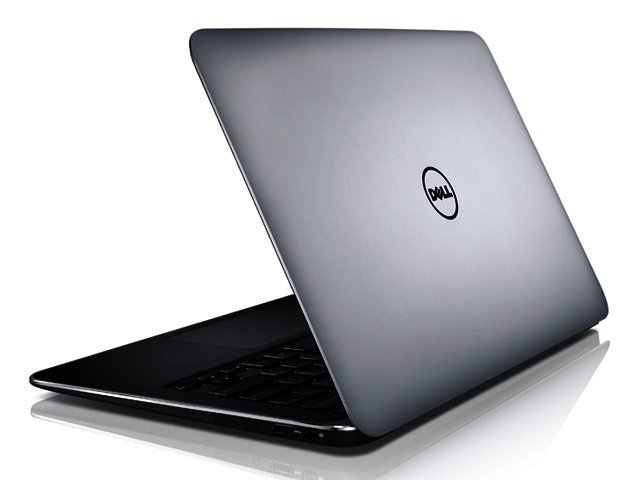 With a sleek design, the XPS 13 can certainly stand on its own.
Dreamy Design
Firstly, the XPS 13 has an extremely attractive and polished appearance, and in the design stakes at least, certainly rivals another ultrabook that won us over, namely
Asus' Zenbook
.
It is no less stylish and futuristic than we remembered it being, with the interior robed in black and neatly complemented by a silver accent around the noticeably curved edges, to the extent that you will have a hard time finding a sharp edge anywhere on the machine.
More importantly, no creak or flex could be coaxed from either the notebook base or the screen respectively, a sure sign of a good build.
Despite being a svelte 6 mm thin at its front and 18 mm at its back, the combination of its aluminium and carbon fibre used in its construction made the XPS 13 feel solid and strong, which was quite surprising (in a good way) considering how petite and lightweight the machine feels in one's hands or on one's lap.
Additionally, we were particularly pleased to see the XPS 13 successfully address one of the potential stumbling blocks on small and light ultrabooks, providing hinges that are firm enough to keep the screen rigid in bouts of rapid typing. Indeed, in our tests we never encountered that annoying screen wobbling that some light and even medium weight notebooks suffer from, the notebook equivalent of a limp wristed floppy handshake.
This overall elegance of the design, and faultless build quality is only enhanced by the fact that the chassis is a portable 12," which complements its equally as portable 1.3 kg weight.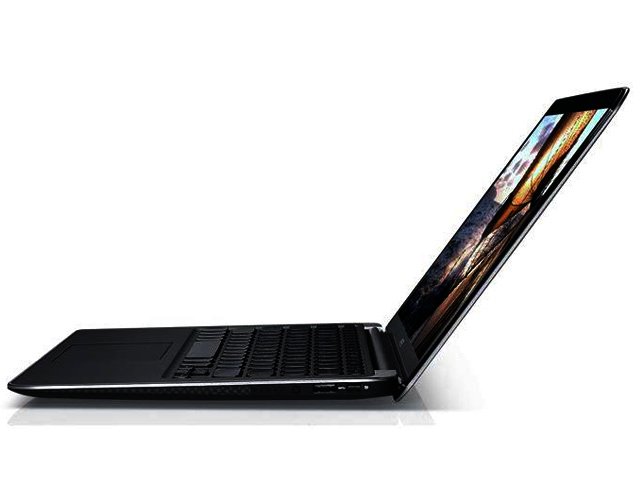 Despite being very thin and light, deceptively fragile looking, the XPS 13 still feels solid and well constructed.
So-so screen resolution
However, neither the screen, nor the keyboard overly suffer for the smaller size. The former is a workable and welcome 13.3". Dell has managed to cram that size screen into the smaller 12" body here, which, follows a trend we particularly like, of manufacturers managing to fit larger screens into smaller sized chassis.
The screen is coated in second generation Gorilla Glass (much like the
Lenovo X1
) and offers up a brightness of 300-nit and a 720p resolution of 1366 x 768. Nonetheless, we found the screen to be as clear and sharp as we could have hoped for, even if it didn't knock our socks off, as a higher resolution screen may have.
That being said, when playing video in particular we found colours to be well saturated and vivid and contrast generally to be very good, even though we did notice a loss of detail in the darkest portions of the picture. However, the clarity of the picture was faultless; and made for an excellent viewing experience.
What did strike us though, was the screen's decent viewing angles, making it wholly possible to view content on the screen from either the left or right hand side. Additionally, there's a stock standard integrated Intel HD Graphics 3000 video card onboard.
Make no mistake, this ultrabook is definitely not a high powered gaming machine, like its bigger brothers in the XPS family. What it is though, is a superlative companion for every other type of computing experience, most particularly typing and writing.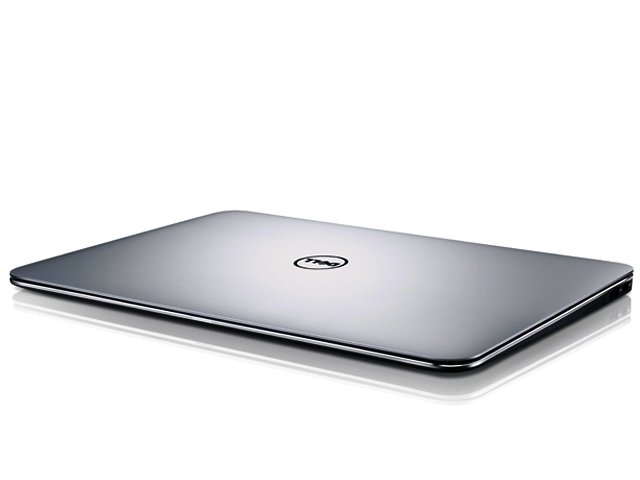 When closed, the XPS 13's 12" frame and 6mm -18 mm width makes it very portable.
Quite a Keyboard
This is in no small part due to the comfortable keyboard. While it is certainly compact due to being tasked with fitting into a smaller chassis, it stops well short of feeling cramped when typing. The only noticeable sacrifices we could suspect accounting for this include a slightly smaller than usual backspace and enter keys, which have been trimmed subtly enough that you aren't likely to even notice in practical use.
As for the chiclet keys themselves, they required a light press while providing us with sufficient depth, and sprung back to their original position with alacrity. Yet another point in the XPS 13's favour is the presence of backlighting (hurray!), which makes it wholly possible to write in bed late at night, without reaching for the lamp, on a darkened flight without disturbing fellow passengers or in a dim lecture hall.
Like on the HP Folio 13, the keyboard backlighting affects only the key's letters, and is turned on and off using a function key.
The trackpad is also a decent size; and we were glad to see there was no fall off of responsiveness at its edges. Like the Folio 13, the left and right mouse buttons are seamlessly incorporated into the bottom of the trackpad.
Impressive performance
Our test model sported an Intel Core i5 2467M processor, clocked at 1.6 GHz, along with 4 GB of memory, and a 128 GB solid state drive (SSD). The latter accounted for the ultrabooks fast boot up times, which were in line with what the company asserted they would be, namely a very good five seconds from powered off, and a mere two seconds from sleep.
The only annoyance that slowed this down somewhat, at least initially, was the amount of the usual Windows 7 bloatware, and some annoying, although we suppose necessary, configuration of Dell's own software that periodically popped up.
Hopefully, Windows 8 will offer that much desired, dedicated "go away and let me work in peace" button we've been longing for.
Nonetheless, the performance offered by the ultrabook itself was faultless. General web browsing, typing, watching videos, and navigating Dell's own spiffy Stage were all fast and responsive. The latter contains quick, attractive links to one's photos, music, video, games, books and weather information just above the taskbar, and can be customised (made smaller or larger or set to include commonly used programmes) or dismissed as desired.
Indeed, the XPS 13 once again showed what we have experienced with the an Intel Core i5 2467M processor on other devices to date; namely, that in practise, it offers very good performance while balancing the overall cost of the machine in which it is employed.
Even more surprising is that it appears to give more expensive processors some competition. A prime example of this was the excellent score rendered by the XPS 13 in our 3D Mark 6 tests, of 3503 marks. This is not too far off of the 3681 marks offered by the Core i7 Asus Zenbook, and even beats the Core i7 packed Lenovo U300s' score of 3392.
We did notice though, that the ultrabook becomes a little hot on its base after a while; however, this was far from uncomfortable, but merely noticeable and a little surprising, considering the company's earlier assertion that the carbon fibre base would deter heat.
On the battery life side of things though, the XPS 13's six cell battery offered close to seven hours (approximately 6 hrs 50 minutes), certainly enough for almost a full day of work, or a flight to Cape Town and back and then some.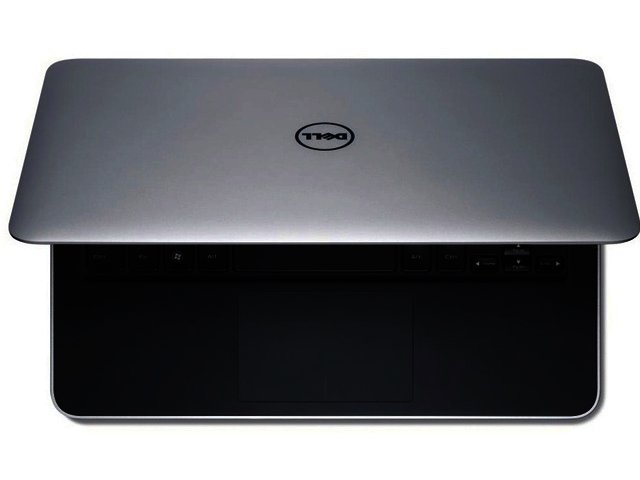 From the top down, it's quite apparent how curvaceous the ultrabook's design actually is.
Im(port)ant omissions
In a similar vein to the striking visuals, the onboard sound offered by the XPS 13 was most impressive. At its loudest, music and video retained fidelity, while the sound reproduced was clear without ever sounding tinny or suffering from distortion.
Port wise, the XPS 13 offers one USB 2.0 and one USB 3.0 port, evenly spread across the left and right hand sides of the machine. Of course, as has become the norm for ultrabooks, an optical drive has been excluded, as has an Ethernet port and unfortunately also an SD card slot.
To the point
At the beginning of the year, we 'predicted' that we would be seeing a number of ultrabooks in 2012, and to date, that certainly has been the case. What we didn't quite foresee is how well manufacturers would implement their own offerings.
Sleek designs, responsive performance, very good battery life and user friendly keyboards have become the order of the day.
The XPS 13 is certainly no exception to this, checking almost all the required boxes that we hoped to experience in an ultrabook, in a sleek, portable package that looked every bit as appealing, and just may well give many tablets a run for their money. It retails for an above average R14000.
Pros
Excellent build quality
Attractive design
Comfortable keyboard and responsive trackpad
Lightweight and portable
Cons
Average screen
No Ethernet port
Does become a bit warm after extended use

Excellent build quality, Attractive design, Comfortable keyboard and responsive trackpad, Lightweight and portable

Average screen, No Ethernet port, Does become a bit warm after extended use