Lenovo lists its ThinkPad Helix as a tablet, but that might just be a bit misleading. Docked in its keyboard it is actually a full strength, fully capable notebook.
As with most ThinkPads, you can take the Helix ultrabook to a bar fight. It is built like a brick and the click it makes when you dock the tablet is comparable to closing the door on a fine German saloon.
For business users connectivity is a big deal, and on the 11.6" tablet you will find a SIM card slot for 3G connectivity on the go. There's also a USB 2.0 port and a MiniDisplayPort, but no SD card slot to expand on our review unit's 256 GB SSD (large for an SSD). All the ports are unfortunately located at the bottom of the tablet; a bit of a pain when you have a USB stick inserted.
Once docked, users will find 2x USB 3.0 ports and a MiniDisplayPort at their disposal. But these, along with the power port, are very inconveniently placed at the back of the dock – making for a stretch when you want to plug these in, and also for some uncomfortableness when working on your lap. While Lenovo Stateside notes a USB dongle for Ethernet is included, we could not find one in our box. Luckily, Lenovo also offers a digitiser stylus to work with on-screen.
One of the problems with the latest tablet/notebook hybrids, is that once docked, the screen can only tilt backwards up to a certain extent. The same is true for the Helix, and although the viewing angle is not bad, we would have loved a few degrees more to play with. It's unfortunately a sacrifice one has to make, since the weight of the tablet (810 g) would have tilted the keyboard dock (910 g) backwards if Lenovo did not limit the backwards angle.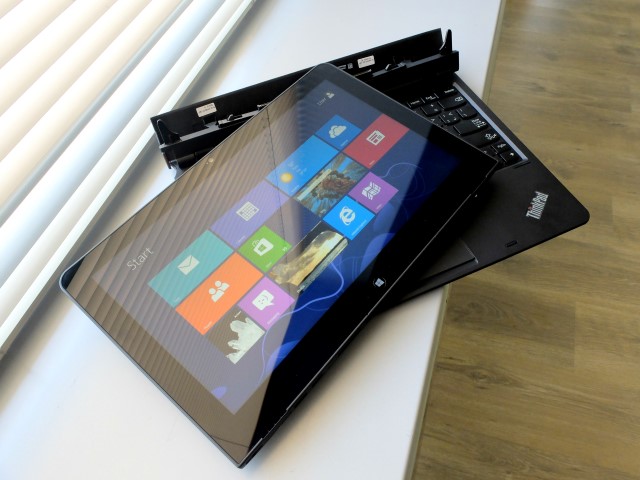 The Lenovo Helix works well as a tablet and as an ultrabook.
And docked
As far as the keyboard dock goes, it is by far the best we've used. The ThinkPad range is renowned for its excellent and type-friendly keyboards, and the Helix is no exception. It provides a very large touchpad, the ubiquitous ThinkPad TrackPoint button, while you also have spacious keys with a keypress that makes for a comfortable typing experience (but unfortunately not backlit).
It is partly for this reason that the Helix feels like a proper notebook that you can simply whip off the screen to use it as a tablet. The other reason is the processing power at its disposal. Inside you'll find the Intel Core i7 3667U dual core processor that runs at 2 GHz per core, backed-up by a massive 8 GB of RAM. If you favour multitasking, or have a number of processor intensive applications, this is your machine. Just note, this is Intel's third-gen Ivy Bridge processor, not the new Haswell range.
When it comes to the 11.6" screen, there are no complaints from our side. This full HD (1920 x 1080) screen is great for watching movies, while viewing angles are sufficient.
As far as battery life is concerned, we received 4½ hours on the tablet, and a further two hours once docked (movie running on repeat, display brightness set to half strength, connected to the internet). It's not quite a full working day, but as far as ultrabooks go, quite sufficient.

There's not a lot of bulk on the Helix's slender frame.
To the point
It's not to say the ThinkPad Helix is without it faults. Located at the back of the keyboard dock is a flimsy piece of plastic that detracts from the overall design. The tablet gets very hot, even when only playing a movie or simply using the net, while we also found the volume rockers very difficult to press.
But, Lenovo has gotten the ultrabook/hybrid right with the Helix, much more so than its designs with the Yoga (review) and the Twist that worked well, but lacked the ability to detach the screen. It seems like Lenovo didn't spare any expense in producing a device that does not compromise. The main deal breaker is its price – a very expensive R25 000.

Fully capable as a tablet or as an ultrabook, very good keyboard dock, powerful processor and lots of RAM

Tablet gets very hot, ports inconvenient at the back, expensive solution