The past few months we've received a number of new Windows-based tablets for review. Many come with a separate keyboard dock, turning them into a notebook-like device to help with creating documents, spreadsheets and emails. In order to assist with battery life, they offer the less powerful, but more battery friendly, Intel Atom processors onboard.
At 11.6" (1366 x 768) the Samsung Ativ 500T is slightly larger than your average tablet. The few inches extra on the screen make it easier to work on, but at 740 grams it certainly isn't the lightest unit available. The tablet is also quite smooth; slightly worrying if you have sweaty hands. Once docked with its keyboard, the Ativ comes very close to a full sized notebook.
If you're going to use the Ativ as a notebook, certainly the best feature is its battery life. Connected to a Wi-Fi network and running a movie we received 11 hours of power, so a full working day on the battery alone is easily accomplished.
That said, the Intel Atom Z2760 processor (1.8 GHz per core), combined with 2 GB of RAM, is definitely not suitable for heavy lifting. It showed during benchmarking – the Atom simply cannot hold a candle to the more powerful Intel Core processors. If your aim is photo and video editing, or intensive multitasking, it's best to look elsewhere.
But, having said that, Samsung's handling of the Atom is much better than we've seen on the Acer W510 (which carries the same model) and loaded things such as Microsoft's Travel app's 3D photos much quicker.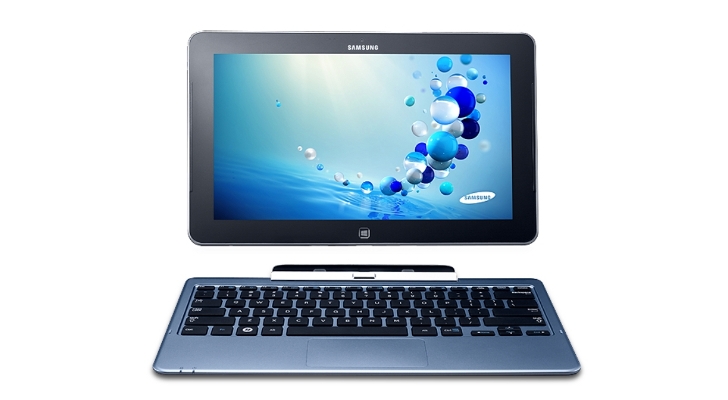 Docked in the bay
On the tablet itself is a microSD card expansion slot, with which you can add to the 64 GB onboard storage already available. You'll also find a slot for a SIM card, allowing for 3G connectivity on the go – a boon for road warriors or those who don't want to be tied to a Wi-Fi network. The keyboard dock adds two very important USB 2.0 ports to the equation, bringing the total to a very comfortable three.
We found the chiclet keyboard comfortable enough to type on, although it has a very plasticy feel to it and it's definitely not as nice as the dock found on HP's Envy X2 (review). As a final bit of critique, we would have loved to have heard a solid click when slotting the tablet into the keyboard dock. Instead you're sometimes left wondering if the keyboard is fully connected.
Unlike the Acer W510 and the Lenovo Helix (review), the dock does not provide extra battery life, and just like the Helix, we would have liked to have had just a few more degrees of backwards tilt on the screen.
Despite Microsoft's best efforts, using Windows 8 in desktop mode on a tablet is still a painfully frustrating experience (well, actually so is Metro). Luckily Samsung includes a stylus, and although not as nice as the S-Pen found on the Galaxy Note 10.1 (review), it improves the user experience quite a bit.
To the point
As far as Windows 8 tablet solutions go, the Samsung Ativ 500T1C is a very solid offering. Used in conjunction with its keyboard dock it offers pretty close to full notebook experience, as long as you don't expect too much with regards to performance. The added stylus and 3G connectivity raises its profile even more. It retails for R10 500.

Very good battery life, 3G connectivity, nice port options, stylus

Keyboard dock a bit plasticy and does not offer solid click, tilt angle not very good