When the Galaxy Tab S 10.5 landed on the TechSmart review table, its dimpled plastic back cover brought back not so fond memories of the South Korean manufacturer's S5 (review) flagship. The S5's plastic heavy design felt a little cheap and did not evoke any real sense of quality or premium feel that one would expect from its R9 000 price tag. The same, however, cannot be said of this 10" tablet, which thoroughly impressed and could well prove to be one of the best Android-powered tablets this year.
The Galaxy Tab S 10.5 marks the first that time any Samsung device, apart from its smartphone lineup, has been given the "S" moniker. The reason for that is plainly clear to see, with both the 10.5" and smaller 8.4" tablets incorporating Samsung's now infamous dimpled plastic back cover we first saw in the S5, as well as being the first tablets to sport Super Amoled displays since 2012.
Dimples are back
On the smartphone the plastic cover certainly seemed to polarise opinion, with camps clearly divided into love it or hate it categories. The back cover did offer a pleasant looking change in appearance over previous S-iterations, but did not add any increased level of tactileness, nor did feel any sturdier than back covers of the past.
Strangely enough, the dimpled plastic effect integrated onto the Tab S 10.5 works quite well. Granted, tactileness has not been improved, but the device feels better tailored to such a design flourish. It also does not suffer from the sponge-like texture that the S5 had, and adds a distinct luxurious feel to the device.
Crystal Clear
Samsung has favoured a fairly simple and clean aesthetic regarding design, and, more importantly, has produced a device that evokes a certain level of premium quality, in spite of the company's penchant for plastic. The frame of the tablet (plastic again) retains its shape well and does not give any indication of flimsy construction when handled a bit more rigorously.
Once a pleasing inspection of the exterior is completed, powering up the device will showcase one of the best displays we've found on a 10" tablet. For the Tab S 10.5, Samsung has fitted a 10.5" (2560x1600) Super Amoled display that registers a rich and crisp 288 ppi pixel density.
This is above the ppi's listed on both the Sony Xperia Z2 Tablet's 224 ppi (review) and iPad Air's 264 ppi (review). When looking for a 10" tablet that produces all the sharpness and brightness that a user would desire, you'd be hard pressed to do better than the Tab S 10.5.
We had to scour every square inch of its 10.5" display to find any indication of blurring and dullness, and thankfully came up empty handed. When it comes to display quality, its an area that the South Korean manufacturer does not scrimp on, with its S labelled devices always retaining a high level of crispness. For browsing the web or viewing movies then, the Tab S 10.5 is the perfect foil for any user who places viewing capacity atop their list of tablet needs.
Processing eight ways
Internally, the Tab S does not hold back either, with Samsung incorporating its own Exynos 5 Octa 5420 chipset, which pairs two quad-core processors clocked at 1.9 GHz and 1.3 GHz respectively. This octa-core setup is supported by 3 GB of RAM, as well as 16 GB or 32 GB internal memory options. Should that not be up to snuff, the Tab S 10.5 features a microSD slot for up to 128 GB worth of total memory.
We had high hopes for the Tab S 10.5 prior to putting it through our benchmarking ringer, and as hoped, it did not disappoint. The results indicated a tablet that was both fast and responsive from a processing perspective, proving to be well suited to the multitasking rigours of work and play alike while running Android 4.4.2 (KitKat). On AnTuTu X 2014, it recorded a total score of 39 002, eclipsing the 34 125 mark set by the Xperia Z2 Tablet. An impressive score was also registered on Vellamo 3, with the Tab S 10.5 racking up a total of 2285 on the Browser benchmark test.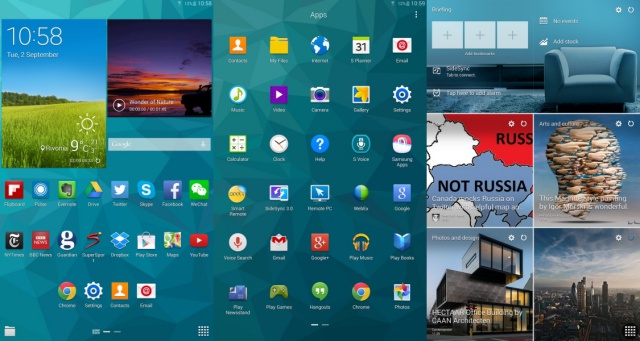 Added extras
In order to match its strong showing under testing, Samsung has fitted a non-removable 7900 mAh battery that lasts a full nine hours under heavy use, making it perfect at pulling double duty on the home and work fronts. Should your use be a little lighter, it will see you through two days at the minimum, and three at a push.
Switching things back to the rear, Samsung has opted for a 8 MP primary camera that captures 3264x2448 content and records up 1080p at 30 fps video. The quality of the camera is solid, and will render decent enough photos for those wishing to hold to use their tablets aloft. Should filling one's Instagram account with selfies be the order of the day, the Tab S 10.5 features an adequate 2.1 MP front facing camera.
Other notable features include Galaxy S5-esque fingerprint reader, as well as Wi-Fi and Bluetooth 4.0 to take care of any lingering connectivity issues. On the GSM front, there is a Wi-Fi + 3G/4G model available with a micro-SIM slot, but our review unit was Wi-Fi only.
Premium pricing
Being a premium device and hailing from Samsung, the Tab S 10.5 naturally carries with it a premium price tag of R10 000 for the 16 GB variant. Placed on a relative par with both the Sony Xperia Z2 tablet and Apple iPad Air, from a specs and pricing perspective, it certainly gives local tablet fiends a solid performing addition to splash some cash on. If you're a devoted Samsung fan, or looking for a great tablet that does not bear the Apple logo, the Galaxy Tab S 10.5 is a welcome addition to the 10" tablet market.

Brilliant Display; Great battery life; Fantastic for web browsing and media viewing

Bezel can make handling difficult; Power and volume buttons oddly placed