The first half of 2012 bought numerous ultrabooks to our desks for review, from the likes of Asus' Zenbook and HP's Folio 13 to Dell's XPS 13.
Conspicuous by its absence though, was an offering from Samsung. Happily, with the Series 5, that is no longer the case.
Admittedly, we expected, and even predicted, that 2012 would bring an abundance of ultrabooks to our desks, and we certainly haven't been disappointed in this regard so far.
What we didn't quite foresee is how strong the overall quality of the devices that would cross our path would be. Happily, Samsung's Series 5 is no exception.
The 13" ultrabook is light (1.43kg) and thin (17.6 mm at its thickest point), but feels solidly built, while being coated in an attractive aluminium finish that lends it a stylish and modern appearance.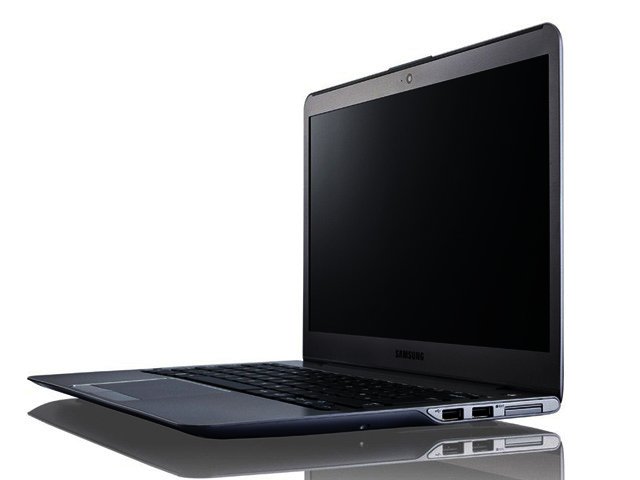 At 17.6 mm at its thickest point, and weighing in at 1.43 kg, the 13" Series 5 is certainly portable.
On display
Despite offering what has become a standard resolution on 13.3" displays, of 1366 x 768, we were nonetheless impressed by the vividness and saturation of the colours on offer, and the brightness of the screen. Overall contrast was also very good; as text in general rendered crisply and cleanly.
At 300 nits, we had little problem working in direct sunlight. Admittedly, while the occasions in which we would willingly seek out direct sunlight in which to work are rare, we nonetheless appreciated how well the screen coped in general with the less hospitable lighting conditions.
Two other factors that impressed included the matte finish, which meant reflections weren't an issue either, and viewing angles were also rather good.
We were particularly glad to see that on the former, the matte display didn't suffer from that overall dullness that the finish sometimes brings, nor did it necessitate us having to crank up the screen's saturation and contrast to compensate.
Thanks to the screen's clarity and vividness, movies played on the Series 5 were a treat for the eyes. We further found it entirely feasible to share our screen with someone else, a scenario which could come into play when travelling on a plane with a partner for example, and watching the same movie together.
This is accompanied by some very strong speakers that delivered a clear, and particularly loud, aural experience.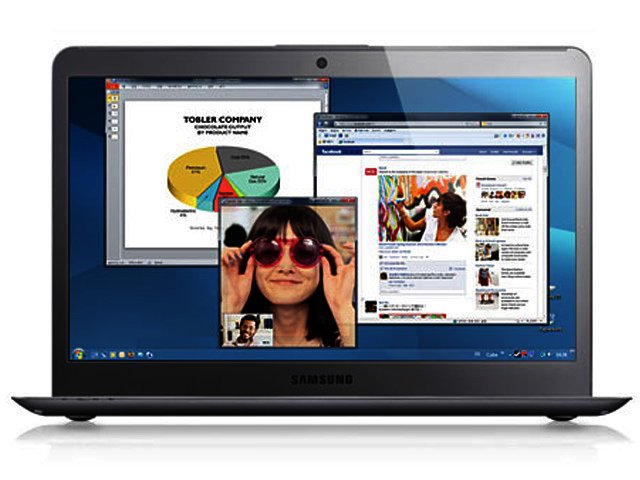 One of the stand out features of the ultrabook is its display.
A real performer
Under the hood is the very capable second generation Core i5 (2467M), clocked at 1.6 GHz, along with 4 GB of memory and Intel HD Graphics 3000.
From this we received the usual excellent performance of general tasks, from opening and running programmes to browsing the web and playing movies. Yet again, the Series 5 highlighted the strength of the processor and how good an all rounder it actually is.
Unless you are really intending to crunch heavy graphics or encode videos, or perform other processor intensive tasks on a daily basis, the i5 retains the high esteem we have for it, and the general performance we have encountered from most notebooks and ultrabooks that opt for it at their core.
However, while the recently superseded Intel HD Graphics 3000 graphics should be up to some light (read: casual) gaming, if you are looking for a gaming ultrabook specifically, keep looking.
Consider yourself benched
In our benchmark tests, the Series 5 delivered 3131 Marks in 3D Mark. When compared to
Dell's XPS 13
though, which sported similar base specifications; it came off second best, as the XPS 13 delivered 3503 marks.
Not surprisingly, the Series 5 was also beaten by the Core i7
Asus Zenbook's
score of 3681 and the Core i7 packed Lenovo U300s' score of 3392.
Interestingly enough, while bested by the
Lenovo U300s
, it was not by the widest of margins, which is quite a feat considering Lenovo's offering sports the faster (and more expensive) i7 processor.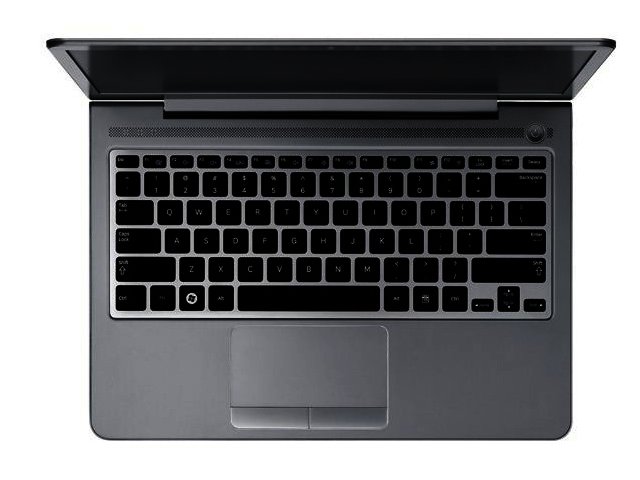 Our sole complaint on the otherwise comfortable keyboard was the exclusion of backlighting.
Key issue
The chiclet keyboard was very good with a side dish of disappointment. The very good assessment came from the keys themselves, which offered just enough of a balance between depth and springiness to make typing a pleasure, while the decent sized trackpad was responsive from one corner to the next.
The disappointing part came not from what the keyboard provides, but simply from what it lacked, namely, backlighting. Why is this such a big deal, you may ask? Simply because the weight, size, portability and battery life on ultrabooks in particular all present the ideal opportunity to use them in a variety of circumstances, and under different lighting conditions, including darkened lecture rooms, airplanes and the like.
The lack of backlighting on keyboards is in our opinion a missed opportunity and an oversight; which we could more readily forgive on larger, heavier notebooks but becomes much more apparent on their thin and light ultrabook counterparts.
But wait, there's more...
Port wise, Samsung have been rather generous, as the ultrabook offers one USB 3.0 port and two USB 2.0 ports, along with an HDMI port, Ethernet port and a 4 in 1 card reader that caters to SD, SDHC, SDXC, MMC storage cards.
Booting up time took 21 seconds from being fully powered off to being ready for work, and a mere three seconds to be ready for action from a sleep state, while the battery life is a decent six hours.
To the point
Granted, the Series 5 has its fair share of competition, not least of which is coming from its Samsung's own
newly announced
thin and light Series 9 notebooks. That being said, for the most part the Series 5 holds its own and proved to be a very good all rounder, with one of the better 13.3 screens we have seen to date. It has a RRP of
R10 000
. Correction, the Samsung Series 5's RRP is R10 200.
Pros
Excellent screen
Comfortable keyboard
Reasonable price
Cons
No keyboard backlighting

Excellent screen, Comfortable keyboard, Reasonable price

No keyboard backlighting