Over the past few months, we've been putting a host of Sony's latest Xperia smartphones through their paces, and been very impressed with the combination of quality and performance that they deliver. Now the Xperia Z2 Tablet has come our way, aiming to offer the same enticing mix, in an effort to heighten its status as the preferred tablet touted by Android users. On face value it certainly seems a worthy pretender to the throne, perhaps even good enough to mount a challenge on Apple's iPad lineup, we find out just how good it is.
Setting The Scene
The Xperia Z2 Tablet first made its debut in February earlier this year at the Mobile World Congress in Barcelona. It was unveiled alongside the Xperia Z2 (review) smartphone, which was part of the reason that it was not necessarily greeted with as much fanfare as it probably deserved. In spite of this the Xperia Z2 Tablet still carried the moniker of slimmest (6.4 mm) and lightest (439 g) waterproof tablet, according to Sony. The latter places it on par with rest of Sony's top-tier Xperia devices, boasting IP55 and IP58 level waterproofness, as well as an IP55 dust resistance rating.
Apart from the level of durability, the similarities between the design of the Xperia Z2 smartphone and Xperia Z2 tablet extend far further, as the tablet features the same aluminium frame which has become synonymous with Xperia devices. The only key difference is the hardened plastic cover fitted to the Z2 Tablet in favour of the mirrored glass version found on the smartphone. This may be a significant visual change to that of the Z2 smartphone, but it does not detract from the overall look and feel of the Z2 Tablet and still aids in ensuring that it retains a premium quality.
In fact, we were rather pleased to see this new integration, given the fact that tactileness has been a slight concern with previous Xperia devices, which often suffered from being a little difficult to handle as a result of their mirrored glass backing.
Xperia Z2, But Bigger
As far as the front display goes, Sony has fitted the Xperia Z2 with a 10.1" Triluminos screen (1920x1200) which is bright and crisp, lending itself expertly to the Xperia UI that we've become accustomed to over time. The one area that immediately noticed when powering up the device, was the amount of 'black space' between the display and bezel. In this regard, it feels as if the Z2 Tablet has not taken full advantage on the 172 mm (wide) real estate it has to play with. With that being said, the 10.1" afforded to users is still more than enough space to enjoy one's Android-flavoured tablet experience.
Although only registering a pixel density of 224 ppi, the display of the Z2 Tablet still retains a high level of visual clarity, specifically in high level light conditions, which is often an area where many tablets seem to struggle. This still places the Z2 Tablet well above the Samsung Galaxy Tab 4 10.1, from a pixel density perspective, which registers at 149 ppi. Although lower than the 264 ppi pixel density of the Apple iPad Air's display. Regardless of this, content viewing on the Z2 Tablet an absolute pleasure, with movies and videos retaining a strong level of vibrancy to ensure users experience is completely uninhibited.
Wasted Space
The Xperia UI itself is another area that draws upon many elements found on the Z2 smartphone, with a similar design and app orientation. Side-scrolling through the various menus makes navigation quick and easy, and as expected, users are able to customise their app layout as well as scale the sizing of specific widgets such as the weather notification and media gallery.
As strong as this aspect is, it is not without fault, we would have enjoyed the ability to position apps a bit more freely, as users are restricted to specific areas they are allowed to place their apps. One other issue centres around how the Xperia UI has been scaled for the 10.1" display, with plenty of empty space and unused real estate creating a bit of an eyesore. In this respect it feels as if Sony has simply up-scaled the design of its Xperia UI, with very little thought given to taking advantage of the 10.1" screen. This factor ultimately detracts from the Z2 Tablet's user experience and is an area that could use definite improvement for future iterations.
Having said all that, the Z2 tablet is still a pleasure to use, with a fluid and responsive system that is far superior than the clunkier looking offerings from the likes of the Samsung Galaxy Tab 4 10.1 and Google Nexus 10 devices.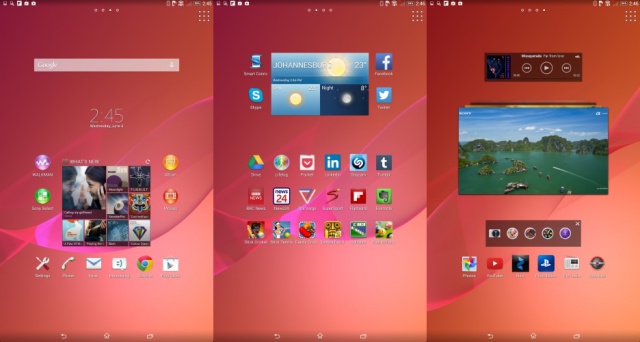 No Compromises
As with the exterior, Sony has not scrimped on the Z2 Tablet's internal elements, with this particular tablet incorporating a Qualcomm Snapdragon 801 processor, which is clocked at a solid 2.3 GHz. The new chipset is further supported by 3 GB of RAM and 16 GB of internal memory, all under the guise of Android's 4.4.2 (Kit-Kat) OS.
This translates to a powerful performance and makes the Z2 Tablet well suited for use in both office and home spheres. This was echoed by the range of benchmark testing we put the Z2 Tablet through, scoring an impressive 34125 on the AnTuTu X 2014, placing it on a relative par with the Z2 smartphone that we reviewed a few weeks ago. A similar trend occurred with 3D Mark's Ice Storm Unlimited test, recording a score of 18972, which means that the Z2 Tablet can easily any mobile game you can throw its way.
One area that the Z2 Tablet truly impressed us, was its battery life, lasting a solid four days worth of use during our time with it, before needing a visit to a power outlet. This is thanks to the 6000 mAh Li-Polymer battery cell which is listed at producing 1200 hours worth of standby time (3G) and 13 hours worth of multimedia use respectively.
Should users wish to hoist the Z2 Tablet aloft to capture images, Sony has opted to fit a 8.1 megapixel camera capable of taking up 3264x2448 pixel content, as well as recording 1080p video at 30 fps. The camera delivers a solid standard of imaging and is more than double the quality produced by the 3.1 megapixel camera found on the Samsung Galaxy Tab 4 10.1, again adding to its feel as a premium crafted product.
Final Say
On the whole, the Xperia Z2 Tablet is beautifully designed and built device that any Android fan would be proud to carry. Added to this, is the fact that the Z2 Tablet feels well made with absolutely no compromises in quality seen throughout. Set to retail for R6 800, the 16 GB and 3G/LTE-touting Xperia Z2 Tablet certainly tips the higher end of the pricing scales, but with that being said, the moment one picks it up, they become immediately aware that it is a premium device and where that extra money goes to.
If there are any criticisms to be levelled against the Z2 Tablet, it's that Sony has not taken full advantage of its dimensions, from a display size and UI layout perspective. This is ultimately a small price to pay and in the greater scheme of things falls a bit to the wayside when one starts using the the Z2 Tablet on a daily basis. Should the Apple iPad range of offerings not quite catch your fancy, the Z2 Tablet is certainly a worthwhile Android alternative.

Premium quality design and feel; Strong processing capability; Clear display in variety of light conditions; Light and easy to handle

Fails to make most of display size from UI perspective