If you own a multitude of devices, the chances are high that you use them consistently, which means regular visits to the power point, and dealing with a variety of charging cables. Additionally, if you want to charge your iPad, ereader, smartphone(s), smartwatch and other USB charging devices at the same time, you can expect to go hunting from room to room for available power points. This, as many a user no doubt knows, can be a pain. The solution is to rather resort to a docking station, such as the Alldock.
On the surface, the Alldock Bamboo looks like a smartly crafted bamboo box. It could, from afar, be a treasure chest minus a lid, and its overall aesthetic appears to be designed to be unobtrusive and stylish.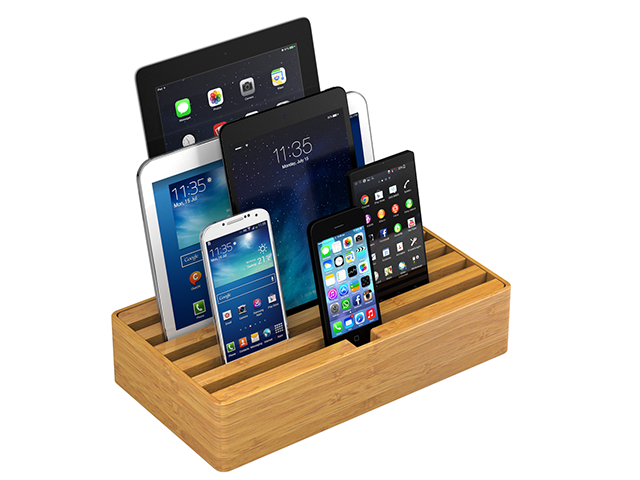 Think outside the box
However, the Alldock is not an ordinary box but rather a fairly straightforward and ingenious way of dealing with cable clutter and keeping devices grouped together when charging.
Its topmost tray contains five rows and it is here that smartphones and tablets can be slotted (13-18mm), either vertically or horizontally. The device caters for six devices to be charged at the same time, and I was glad to note that the slots are just wide enough to accommodate smartphones and tablets with thin covers on, which means you don't necessarily have to keep on removing devices from their protective sheaths.
The critical part of the solution is that their ever-pesky power cords are kept neatly out of view in the covered bottom half of the dock, where one finds what looks like a small power brick, with six USB ports. These are for plugging the cables that lead to the device themselves, provided of course that the device in question supports USB charging. Happily, most do nowadays, with only older electronics requiring their own dedicated power brick in order to recharge.
Supported connections include generic Lightning Connectors, as well as microUSB, miniUSB and 30-pin connections. This is not to say that the Alldock offers the same slow charging speed as plugging your device into a computer; it's considerably faster and more on par with plugging into a normal socket.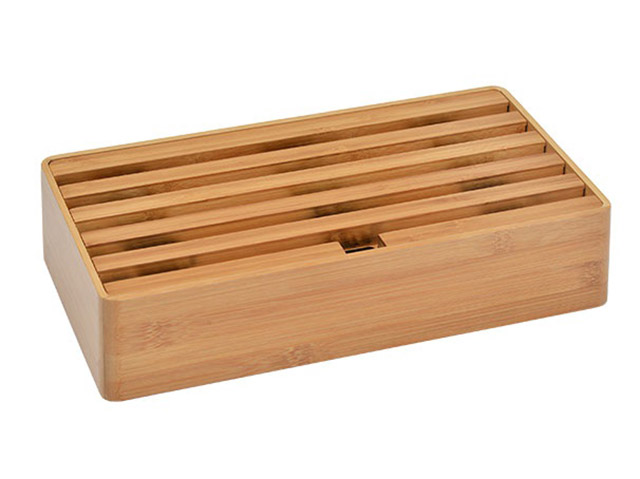 Now you see me, now you don't
The only cables that end up being visible are the sole dedicated power cord which plugs into the base of the dock, and the connectors for each device, peaking through the slits on the tray. Thoughtfully, these can be secured so that they don't fall through the slits into the bottom half of the Alldock.
Should you have a household of smart devices, the Alldock Bamboo is certainly large enough to accommodate most if not all of them, or two or three tablets in conjunction with four or three smartphones respectively. Of course, you aren't limited to smart devices – the likes of small digital cameras, or console controllers could have a resting place of their own as well.
Suffice to say, the solution works like a charm. Not only does it keep commonly used devices altogether in one place, it also means that one only has to surrender one power point to successfully charge six devices simultaneously.
Meet the entourage
In practice, this solution is a far cry from relying on multiple chargers. Admittedly, the large Alldock Bamboo may be the star of the show, but like all good stars, it has a little entourage, in the form of the smaller, white, pink and black coloured hardened plastic D-Dock and Alldock Medium, which works on the same principle and supports up to four devices.
The advantage the Alldock Medium and D-Dock offer is that they take up less space on one's desk. Additionally, pairing two together means you can charge up to eight devices simultaneously while sacrificing just two power points. Smaller size aside, in these I could easily fit a 9.7" iPad, three large (5.7"- 6") phablets and still have room for an 8" Samsung Galaxy S. Naturally only four of these would be able to be powered at the same time. Nonetheless, it still makes it a viable and compact solution for a small family, or for a real tech enthusiast who has a multitude of their own smart devices.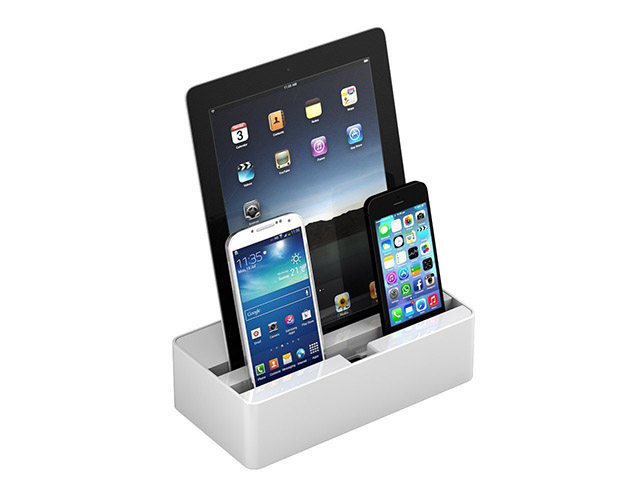 Bye bye, cable spaghetti
In essence, the Alldock range, whether you opt for the Bamboo version or its smaller compatriots pose a simple solution to a frequent problem, and that is its genius. There's not enough complication to invite criticism; it just closes the lid on cable clutter and makes powering up devices a smoother and more elegant experience. For that reason alone, it's a winner. The range aren't cheap though - the Alldock Bamboo Large will set you back R3 000 and the D-Dock R1900. It is available to purchase here.

Smart looking, Offers convenient solution to simultaneous charging, Easy to use

Expensive