Normally, we don't get too excited about mice (the computer accessory, not the rodent) anymore, but Genius offers a wholly different form factor that should appeal to those who have grown up with a pen in their hand.
Genius' Pen Mouse seeks to blend the best of two worlds, offering a pen-shaped mouse that sits comfortably in the hand, while enabling one to navigate a PC, notebook or cursor friendly tablet using the familiar cursor.
The device is both relatively compact and light, with a black and silver finish that leaves it looking smart. While holding it is comfortable enough, you wouldn't mistake it for an actual ink pen, as it is rather thick down the length of its body, becoming a little more so as it reaches the tip.
Get a grip!
Nonetheless, to its credit, it doesn't look nor feel like a plastic toothpick that some comparative styli are guilty of, and we were happy to see that it was substantial enough to comfortably hold for long periods.However, worth noting is that this device is a mouse, not a stylus, and does not double as one.
Additionally, the slight heaviness on the front end of the device could actually be used advantageously, as found one of the most comfortable ways to use the mouse pen was to pinch it between our thumb and index finger (similarly to using chopsticks) while supporting the front end with the knuckle of our middle finger.
In execution, its use could not be more straightforward. You simply plug the included receiver (thankfully small) into an available USB port, slot a single AAA battery into the pen itself, and you are ready for action.
With a 2.4 GHz wireless technology, the pen has a very decent working distance of up to ten metres, although in our use, this was far more than was necessary.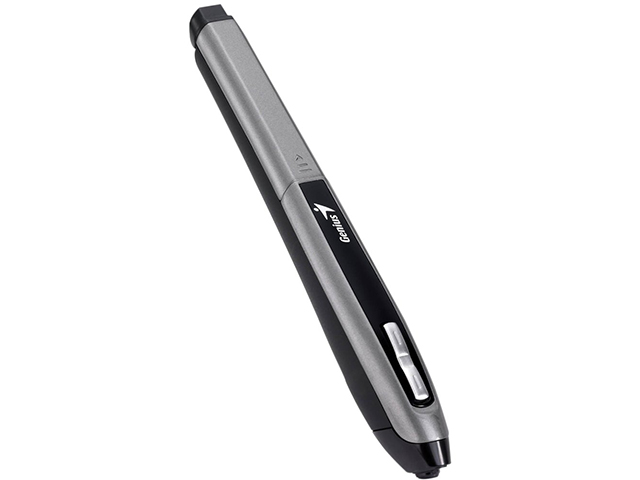 Genius' pen mouse feels mostly like a pen, but works like a mouse.
Cheesy, but true
Clicking on objects is accomplished by pressing down on the nib, while the mouse has another set of buttons that enable one to right click and scroll through documents at a press.
Much like a mouse (the rodent, not the computer accessory) sniffing out a tasty morsel of cheese, Genius' Pen Mouse boasts optical tracking of 1200 dpi, and it can be taught two tricks – to do so at 400 dpi or 800 dpi as well.
Now admittedly, as we are used to using a normal mouse, and stabbing at our tablet with a finger, and thus the general feel of using a pen mouse took us a little while to become accustomed to it.
Much like using a Wacom tablet, and getting accustomed to navigating Photoshop or Painter's interface with essentially a pen-like stylus, the Genius Mouse Pen does also take a little playing around with before it too feels like second nature.
To the point
In short, the Genius Pen Mouse is rather nifty, particularly ergonomic, and very suitable for Windows 8 tablets. It has a RRP of R400.

Easy to set up and use, Comfortable to hold, Very good sensitivity

Takes a little getting used to