Microsoft has certainly flirted with the concept of ergonomic desktops and split keyboards for quite some time, and the latest result of this dalliance is the Sculpt ergonomic keyboard and mouse.
First off, the keyboard is certainly well built and stylish to look at, sporting an all black finish and nicely textured, broad palmrest. The chiclet keys themselves are decently sized with a good amount of travel, if not the deepest I have come across. Also worth mentioning is that these are all full size.
Alas, media controls are relegated to function keys, although this is mitigated by the fact that there Is an independent switch which allows you to designate whether you want to use these shared keys for their Function or alternate designation without having to press the function key each time.
The numpad, meanwhile, is not part of the keyboard itself, but rather a small separate piece that can be placed where you choose, and that works wirelessly. This perhaps highlights the one feature of the Sculpt desktop I really like – one small dongle, secreted in the underside of the mouse, caters to the keyboard, numpad and mouse in one fell swoop. One dongle to rule them all if you will.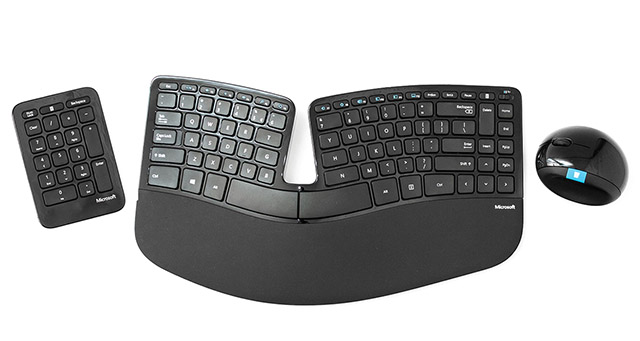 The heart of the matter
Beyond the aesthetics and build, it nonetheless begs the question – are the ergonomic split keyboard, and the very different mouse that accompanies it, peripherals you can tie the knot with for the long haul, or are they more akin to an avoidable summer romance?
Well, that is going to depend whether your taste run towards the traditional or the unconventional, as the typical keyboard layout and this Sculpt ergonomic keyboard's couldn't be more different. While your traditional keyboard lies flat on the desk, or can be adjusted to raise up to meet one's fingers, the Sculpt has a more distinctive curve. Instead of laying your hands straight when typing, it forces you to curve them inwards towards each other.

Worlds apart
The second big difference is the fact that it is a split keyboard. Thirty six of its keys reside on the left hand side, while the rest are relegated to the right hand side of the divide. Between the two, sits a small gulf, and I couldn't help but wonder whether under the dead of night, when no one is watching, one of the WASD keys doesn't try sneak across for a secret rendezvous with the K key in a forbidden love affair.
Such whimsy aside, does this configuration actually make for a more comfortable typing experience or a better one at that than the conventional layout? To a large extent that is going to come down to personal preference. To the first issue, comfort, I didn't find it unduly uncomfortable, even as it took a little getting used to.
With regards to the second concern, whether it offers a better typing experience, I would have to say no, at least not on the surface. I found my keypresses missing the mark more often than not, and although I consider myself a fast typist most times I also found myself hunting for keys which normally I can locate without having to glance at the keyboard. Not only did this make for a much slower typing experience, it also made for a more frustrating one, slowing down my workflow. I ended up placing it on my lap so I could glance down at the keyboard and locate the keys with a bit of a bird's eye view, which addressed the problem a bit but didn't eliminate it completely.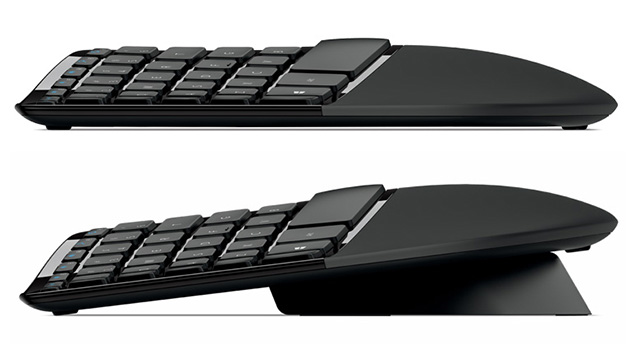 Matrimony and acrimony
The other part of the desktop setup is the included mouse, which, oddly enough, resembles a cricket ball with a third of it cut away to create a flat surface. Apart from fighting the urge to go find a bat and have a good game, I didn't find the mouse more comfortable than its flatter, elongated counterparts.
While it was certainly usable, I did not find it more ergonomic or comfortable to use; in fact, just the opposite. To me, a mouse should invite resting one's hand on its surface, which a spherical ball shape isn't exactly conducive to doing.
In terms of its functionality there are no complaints, as I found it responsive, while a prominent and handy Windows key is in easy reach on its side. Like the accompanying keyboard, it certainly looks attractive and is well built, but it wasn't a peripheral I found comfortable to use for long periods.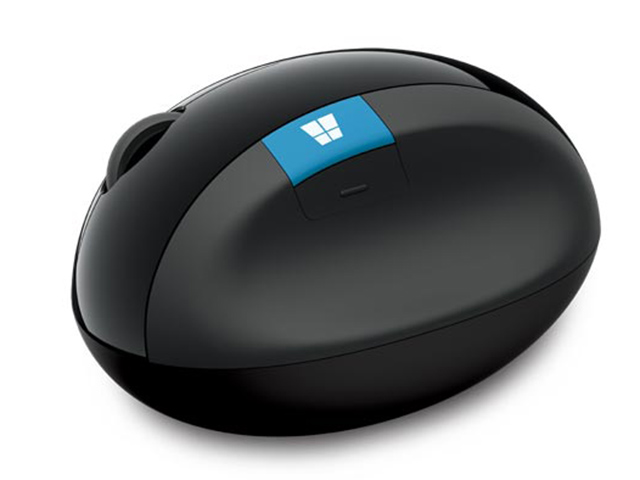 A partnership, or just a parting?
In the final analysis, the Microsoft Sculpt ergonomic desktop is certainly not a bad offering at all, being well built, slick and modern, but it is a distinctive one. Much like the keyboard is divided itself into two, it will likely elicit disparate opinions, either really appealing to you or it really not. If you aren't used to the split keyboard configuration, already do a lot of typing and are used to the traditional layout, then I suggest passing this one over.
However, if you do like split keyboards and are used to that configuration, then it merits a look. If you do decide to entertain the prospect of settling down with it, then you can expect to pay R1 300 for the privilege.

Well built, Spacious, comfortable palmrest, Keys have a nice press

Split keyboard can take a while to get used to, Mouse is chunky