In today's tech dependent world, you might own a plethora of tech gadgets for every technology requirement. This may include devices such as a smartphone for communication, Nintendo 3DS for mobile gaming, and a TomTom VIA 110 GPS unit to guide you to where you need to go. Unfortunately all this devices can lead to either a jostling for the charger, or a sprawling multi-plug.

The Universal Charger IDAPT i4 (promo video posted below) provides an answer to this predicament, since it can be employed to charge up to four devices simultaneously. It can charge various types of devices including smartphones, MP3 players, GPS devices as well as digital cameras.

Design

Housed in a glossy, all black plastic panelling, the compact (169 x 135 x 32 mm, 285 g) IDAPT i4 charging dock looks really elegant.

It features three charging points as well as an additional USB charging port and also boasts a 'quick release' tip system and an LED charging status light. The latter indicates when a charging point is available (green) and when it is in use (red). It also shows when a device is fully charged, by switching back to green. Additionally there is a power switch to turn the IDAPT 4 off when you're done charging all your gadgets, to save on power.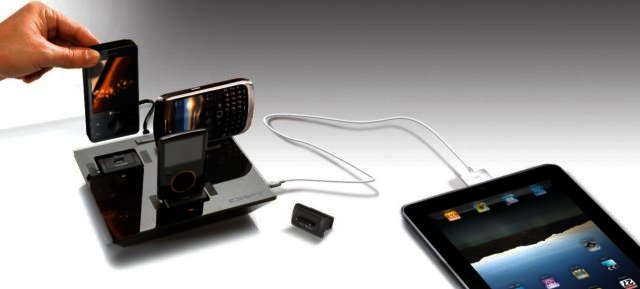 Six charging tips are better than one

In the package you receive six different tips that you can easily plug into the dock to connect to your gadgets. Covering most, if not all of your charging needs, the tips include mini-USB, micro-USB, a Nokia charging point, an iPod/ iPhone connector, a Samsung charging point, as well as a Sony Ericsson connector. These interchangeable tips easily clip into the dock and can also be unclipped, by simply pushing the two release buttons besides the connection point on the dock.

This device is compatible with north of 4000 electronic devices, including the latest models of all major brands the likes of Apple, Nokia, Samsung, Sony Ericsson, Garmin, LG, BlackBerry, HTC, Nintendo, TomTom as well as Sony's PlayStation Portable (PSP).

We would have liked to see a few additional micro-USB tips, since this kind of connection has become the de facto standard for smartphones (except for the iPhone ofcourse), meaning there might be more users that will want to make use of that tip than any of the others.

Final word

The IDAPT i4 by Gammatek enables you to avoid the cable entanglement that goes along with having numerous chargers connected to your multi-plug, as well as the battle over the last free two-point power plug spot that goes along with it. A few additional micro-USB tips would not have hurt though.

It is available at all major consumer, electronic and music retail stores nationwide and retails for approximately R499. Sounds a bit steep, but not so much when you consider that an authentic charger alone (not counting the no-name-brand ones you can buy at flea markets), can set you back around R200. For more info visit www.gammatek.co.za.
Pro

Value for money, LED charging status indicator, easy to use solution, elegant design and doesn't consume to much space.

Con

More micro-USB tips would have been nice.


Value for money, LED charging status indicator, easy to use solution, elegant design and doesn't consume to much space.

More micro-USB tips would have been nice.