The Verbatim Rapier USB Gaming Headset is the latest product in the long line of Rapier gaming peripherals. And while it features very decentsound quality, it fell short on one important aspect.

Sound and volume quality

The headset features crystal clear sound quality and with the help of the in-line volume controller you won't have any trouble keeping audio levels in check. It must be mentioned that this headset is quite loud, so loud in fact that to listen to average audio the in-line volume has to be at the lowest setting, the Windows volume control at less than 20% and the game/music player volume also sitting at well below 10%. While this does leave strides of volume to reclaim if need be, you'll have to have a sudden urge to destroy your eardrums to utilise all of it.

We found the microphone to work very well, and it also features noise cancellation technology. The system works great with both in-game and Skype voice chatting and a microphone mute button on the in-line volume controller makes for a surprisingly useful addition.

Comfort

Comfort-wise the headset doesn't fare too badly, it's not the most comfortable headset on the market but its adjustable tightness settings ensures a comfortable fit for any size. The closed leatherette ear cushions do a great job of noise cancellation, helping to immerse gamers in their preferred virtual world.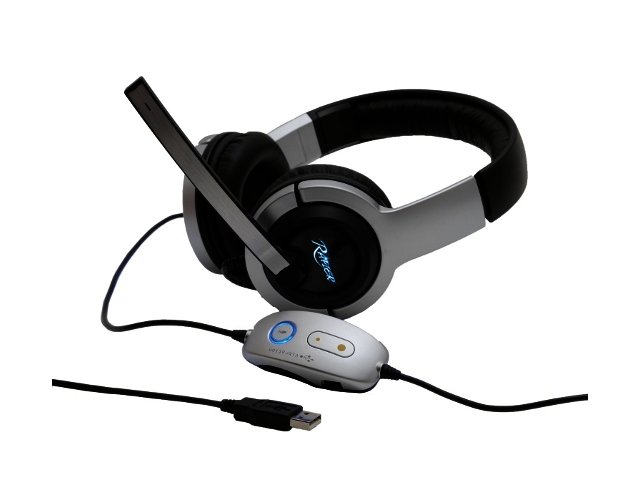 Vibration support

But the device's most heavily touted feature is its 'vibration support'. The premise behind this feature is that the headset will vibrate to the rhythm of music and to certain aspects in games (such as gunshots). This is a very novel idea but to get right to the point, during our testing of the product we didn't get the feature to work.

A switch situated on the in-line volume controller has settings to control the vibration (max, mid and off), but no matter what setting we tried or however we adjusted Winamp's amplifier we just didn't feel any significant vibration from the headset. It was the same thing during gaming, the headset works fine in all the traditional ways, but the much lauded vibration settings failed to impress.

USB plug and play

The headset features a USB connector instead of the usual 3.5mm audio jack and its plug-and-play capabilities worked like a charm. Unfortunately the USB connector does mean that you can't use the headset to listen to your MP3 player for example.

While the Rapier USB Gaming Headset may not be the most comfortable headset for a multimedia experience it does make itself useful in gaming use (as it was intended), helping gamers with quick volume control, total audio immersion and a useful microphone.
It retails for R499.


Great gaming utility featuring easy access to volume and microphone controls as well as impressive noise cancellation.

An iffy vibration feature and earcracking volume settings dulls the offering somewhat.