We often give notebook and ultrabook manufacturers a hard time for failing to include backlighting as a standard feature on their keyboards; happily, the Logitech K810 Bluetooth illuminated keyboard deftly avoids this trap and delivers what it promises.
The keyboard, which is actually aimed at complementing tablets, can do the same for rogue notebook keyboards as well, as it connects via Bluetooth, to notebooks and tablets alike without a hitch.
To start with, the keyboard itself is well made, presenting itself as a solid hard plastic slab with a brushed aluminium finish, and exhibits no creaking or flex.
Design wise, it is somewhat conservatively styled. Indeed, being robed almost completely in black, with only a grey sink surrounding the keys, it reminded us a bit of the keyboard we would expect to find on a business notebook.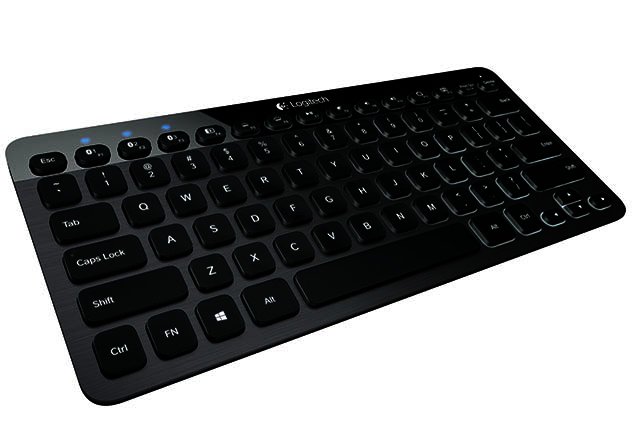 The keyboard's styling is actually quite conservative, although we could hardly
rate this as a negative giving the fantastic key depth and springiness.
Beyond form, function
However, bearing out the realisation that often accompanies maturity, looks aren't everything, which is almost as true for devices as it is for people. For the former, functionality reigns supreme, especially if you have ever handled a device that looked great, but just didn't work well.
No such fate befalls the K810. Setting up the two way communication is straightforward, and involves simply involves firstly activating Bluetooth on your tablet or notebook and on the keyboard, by pressing the small connect button on the keyboard's back. Then, you may need to search for Bluetooth compatible devices on your tablet or notebook and type the passcode into the Logitech keyboard itself.
This whole process took us a mere three minutes before we were up, running and typing gibberish into the keyboard to test it was working. The first thing we noticed was a lack of annoying lag; with text appearing on our paired device instantly.
No product left behind
Additionally, we had no problems across a range of devices, including an iPad, Galaxy Note 8, Nexus 7 and our Acer TravelMate notebook. Indeed, this is one of the particular advantages of opting for a third party accessory, as it is largely brand agnostic and will work irrespective of where your product loyalty lies.
However, it should be noted that while multiple devices can be paired simultaneously with the K810, only one screen can be used at a time. That being said, the keyboard does allow you to store up to three connections, and switch between them at the press of a single key.
The second thing we noticed was how comfortable the chiclet keys were to type on, boasting some very nice springiness and depth. Logitech has taken the wise, in our opinion, decision to allow the keyboard to be a little thicker on its base. While it's not chunky, this decision enables the keyboard to accommodate deeper key presses than one might have expected from an external keyboard, and in short, we liked it a great deal.
Additionally, we were pleasantly surprised to see that the spacing of keys themselves was actually very close to that found on our 15.6" notebook. Granted, there is no numpad, in the interest of keeping the K810 compact, but nor is there any keyboard cramping either.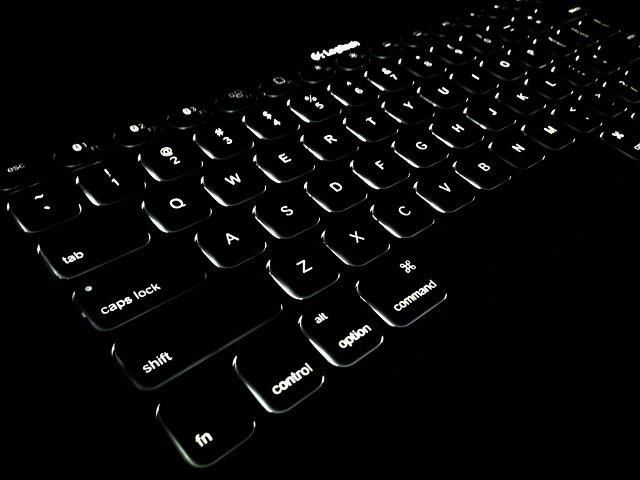 In a dark lecture hall, auditorium, or airplane travelling at night, this is what a good backlit
keyboard should look like.
Light it up!
As we indicated earlier, the star of the keyboard show is its backlighting; this illuminates each key in a soft, white glow, and made typing on it in a darkened room at night a pleasure. Additionally, the keyboard allows you to adjust the brightness of the backlighting to your liking, or switch it off altogether if you prefer. This is accomplished using the Function keys.
Another nifty feature is that the backlighting will automatically switch off if you stop typing on it for a while, and reactivate at the press of any single key, which conserves the built-in rechargeable battery.
With regards to the latter, the keyboard itself is recharged by plugging it into a USB connection, using its microUSB port.
To the point
The K810 is certainly not the only external keyboard on the market, nor the only solution that brings a decent keyboard to one's tablets and mobile devices. It is, however, one of the most pleasant, and dare we say, amongst the best offerings that we have come across. It has a pricy RRP of R1 200.
Pros
Great key depth and springiness
Clear, well defined backlighting
Portable
Works well across a range of devices
Cons
Expensive

Great key depth and springiness Clear, well defined backlighting Portable Works well across a range of devices

Expensive