Apple's sixth generation iPod nano gets back to its musical roots by ditching the video camera of its predecessor and assuming a much more pocket-friendly form.
Design
As the name states the new nano is really compact, measuring in at a mere 37.5 x 40.9 x 8.78 mm and weighing just over 21 g. Most of its miniature frame is taken up by its 1.54" colour TFT display with a 240 x 240 pixel resolution, which displays photos surprisingly well, especially given the very limited screen real estate. At the back of the device is a handy clip that enables you to easily (and securely) attach it to your jean pocket or jacket's sleeve.
Although most of the device's functionality rely on its touch-screen interface, there are three buttons on the top of the new nano, two of which control the volume whilst the sleep/ wake-up button puts the device into standby mode.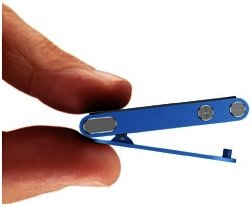 Interface
Cupertino has endowed the new iPod nano with multi-touch capabilities allowing for some spiffy gesture-based functionality. You aren't just able to swipe your way through the menu system but can also perform a host of other gestures such as rotating the screen using two fingers and customising the icons on the home-screen by tapping and holding onto an icon (there are four icons on each screen) until it starts to jiggle. Then you simply move it to where you want to place it and press the Sleep button. Mostly though you'll be making use of the traditional swipe motion to scroll to the next menu and the tap function to select an item or song.
As mentioned above, the quality of the photos look excellent regardless of the device's diminutive display size, and so does all the graphical elements within the UI. The text although on the small side is clearly legible, whilst the album covers also display crisp and clear in the background whilst the music is playing. All this is probably down to the fact that the screen packs in good 220 pixels per inch. This isn't as good as the 326 pixels per inch as used on the Retina display of the
iPhone 4
, but it's still impressive none-the-less.
Unlike with the newest iPhone you don't use pinch-to-zoom, to zoom in and out of pics but rather utilise a double tap to do this, which is odd considering the multi-touch integration. Still, it worked just as well.
Functions
As was the case with the fifth generation iPod nano, an FM radio tuner has been included with the new model. It enables you to pause live radio, which we only really found of use when we received a call while one of our favourite tracks was playing over the radio. You can pause the song, take the call on your phone, and then being listening again where you left off. This system enables you to record (and relisten to) up to 15 minutes of a radio broadcast.
There is also a pedometer that tells you how many steps you've taken while on your power walk, how long you walked for and the estimated amount of calories that you burned. You can then review your daily walk workouts in a calendar view, which is very useful to the fitness inclined.
What is noticeable though, is that when you make use of the pedometer functionality while on a walk and you listen to music as well, the battery life starts to drain significantly quicker than Apple's claimed 24 hours of music playback from a single charge. We got just over half a days of use out of the battery after rigorous usage involving all its functionality, but if your only interested in it as a music player, you should be able to see that improve.
Finally there is also a clock display function, which not only displays the time and date but also sports a stopwatch, enabling you to time different laps as well and a timer with an alarm.
Final word
The move by Apple to drop its video recording and playback functionality on the new iPod nano range hasn't really detracted from the experience of using the device. It has resulted in a music player that does what is needed, using an intuitive user interface all in a very compact package.
The iPod nano is available in 8 GB and 16 GB versions for a recommended retail price of R1559 and R1999 respectively, which is almost R500 cheaper than its predecessor was on both counts. It will make for a great Xmas gift and should also assist you in shaking off the holiday fat in the new year, as the perfect running or walking companion.
Pro
A lot more compact, price cut, easy to use UI.
Con
Battery life not the best, no more video functionality.

A lot more compact, price cut, easy to use UI.

Battery life not the best, no more video functionality.