There are flashlights that do a decent job of illuminating your path, and then there are flashlights that dazzle with their brilliance. The LD60 flashlight from Fenix is most definitely the latter.
If you think I am speaking in superlatives, think again. The LD60 is without a doubt the brightest flashlight I have come across to date. At its maximum, called Turbo mode it pushes out a significant 2800 lumens.
Even at one step down from maximum, or high, you get 1500 lumens, I could illuminate the entirety of my rather long and broad driveway right down to my gate about 25 metres away, easily picking up small details. It also outdid my dedicated outdoor lighting in this regard. I half wished for an intruder, if only to convince the hapless individual that a Close Encounter of the Third Kind was imminent and that bright beam bathing him in light was going to suck him into the mothership.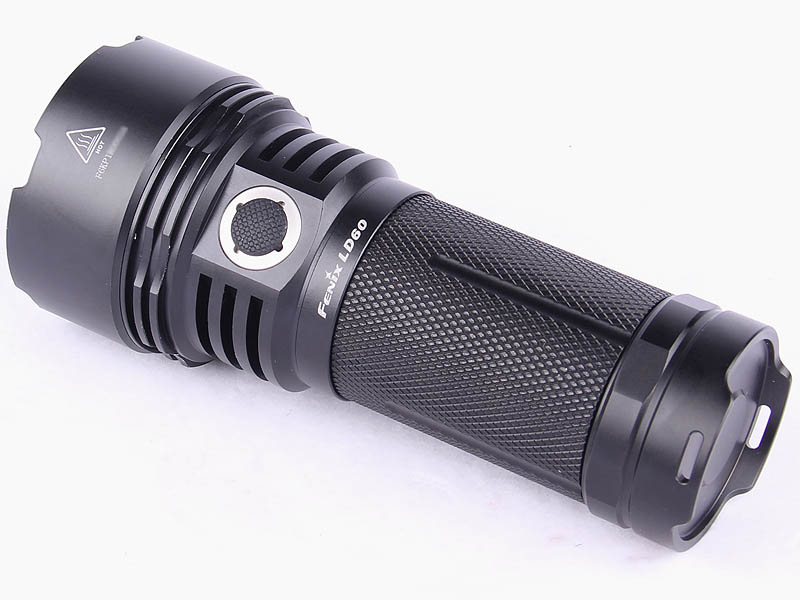 Watch where you point it
Seriously though, you do need to take care not to shine it directly it at your or others' eyes, because the likelihood of it blinding one temporarily if not permanently is all but certain. In pitch black, such as outdoors at night, the LD60 cleaves through darkness like a hot knife through butter, making it an ideal camping companion.
What makes it more remarkable is that the flashlight is pretty compact, and at 155 mm long, comes in at the same length as a Galaxy Note 4. Admittedly, it's diameter of 46 mm is not exactly pocketable, but for its output, this size is pretty remarkable, even as it weighs a solid 364 g.
In case you are wondering how the flashlight achieves its luminance and coverage field, I suspect it owes this largely due to its design of three LEDs grouped in a triangulation. Powering these are three 18650 rechargeable Li-ion batteries or six 3V CR123A Lithium batteries, which are a bit on the pricey side, and which are discretely housed in the LD60's barrel.
Here's the kicker though. In most flashlights, if you don't have all three batteries on hand, you are out of luck. On the LD60, it's ok if one or even two of the batteries run down and you don't have spares, you can still run it nonetheless.
Just short of brilliance
In case you don't need maximum output all the time, there are five levels of brightness, which can be adjusted by tapping the power button. On the lower end of the spectrum, besides from high and turbo, you can also set the flashlight to deliver 30 lumens at Eco, 160 lumens at low and then 500 lumens at its middle setting. As well, there is a sudden strobe light that you can access as well.
Worth bearing in mind though is that the lower your operating mode, the more battery life you can squeeze out. Indeed, Turbo mode may be brilliant, but it will chew through your battery life in 90 minutes, so is probably best reserved for shorter spurts of use. High and mid modes will give you three and nine hours respectively before you need to change or recharge batteries, and both modes are very capable at sending darkness fleeing from your step.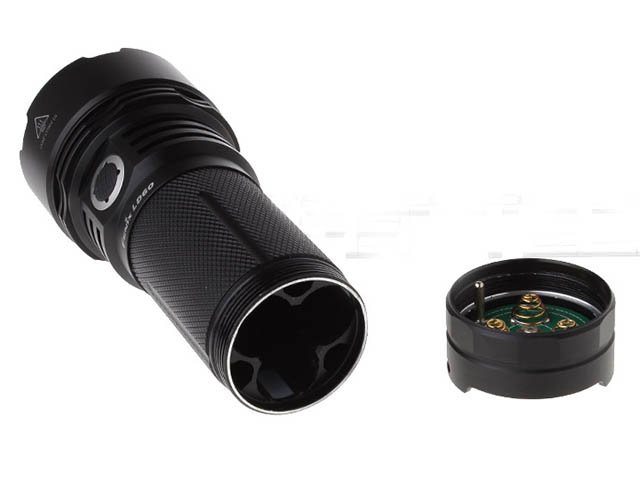 Push the button
Incidentally, on this model, you switch the flashlight on and off by pressing and holding the nicely sized power button brifly. Thankfully, this is neatly located right where your thumb would fall, and can be operated when you have gloves on.
Also worth mentioning is the texture of the barrel and the build of the Fenix flashlight itself. The former is nicely ribbed, making for a solid grip, particularly when your palms are sweaty or wet. A slight step up design, with three vents running around the power button, also lend the flashlight bit of a lightsaber appearance, and may well be the closest Star Wars loving fans may get to having a brilliant beam of light emerging from the palm of their hand.
Beyond the aesthetic value, this has a practical application. If you reach for it in the dark and struggle to find the power switch (you shouldn't since it has its own texture) you can just run your fingers around these grooves and they will lead your thumb right to the sweet spot.
As to the latter, the aluminium build is very encouraging, and certainly appears up to the rough and tumble that outdoor gear like this is invariably subjected to. Judging by the occasional scuff marks on the review model, the flashlight has endured a few spills and lived to tell the tale.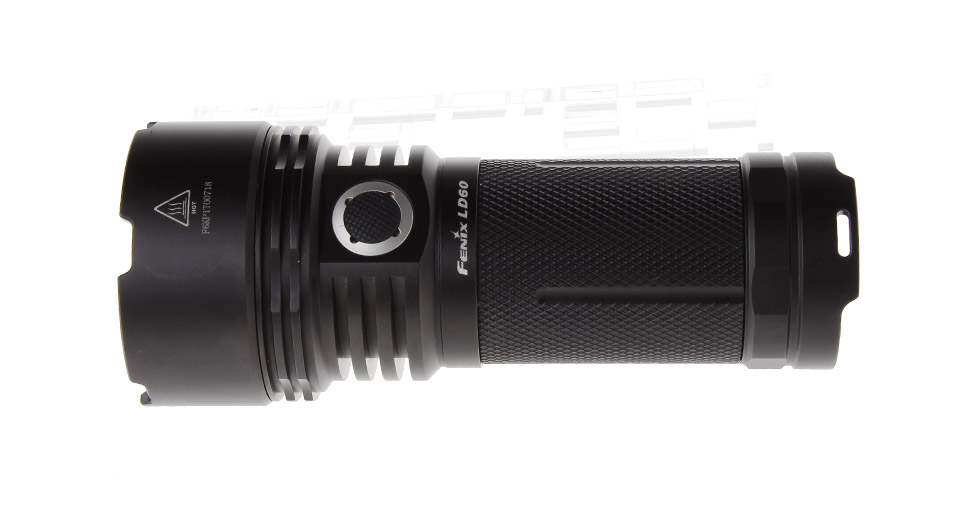 Into the dark
What's not to like in this flashlight? Well, that is considerably more difficult to discern. However, everything can be improved upon, and there are a couple of things I would have enhanced the LD60. The first of these is it would have been a nice touch if the power button was in a stand out colour, say bright yellow or white rather than, as the rest of the flashlight body, black.
Additionally, while there are two slits through which you can attach a strap, I would have appreciated a pants clip or decent carry case enabling you to keep the flashlight riding on your hip.
This only highlights though how much I would have liked to have the flashlight within easy reach. If anything, it's testament to the appeal of the device, rather than its flaws. In a nutshell, as a compact flashlight, it's superb. It's not cheap though, coming in at R1 680, and then those three batteries, which are not your ordinary penlights, will set you back a further R470. Still though, when venturing into darkness, whether manmade or the way of the great outdoors, I can't think of a better companion to carry at your side.

Compact, Brilliantly bright, Easy to adjust, Well built

No easy way to carry with you, Moderately expensive