There are many components that comprise a great backpack – the latest to tick many of these boxes and earn itself a place on our lumbar region, is the Asila 35L from Hi-tec.Considering the company has to date impressed us with its shoes and boots, we were keen to see whether this would follow through into the rest of its gear. Long story made short - it does, in spades.
To start with, this technical 35 litre daypack has plenty of space, thanks to two easily accessible zippered compartments; the main one is mostly top loading, although on the Asila, one's gear is more readily accessible as compared with other top loading backpacks that are secured with a drawstring.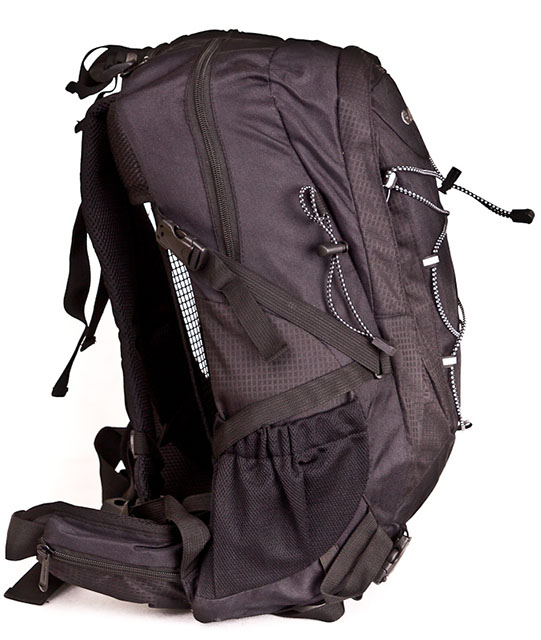 It quickly becomes apparent that the Asila has been thoughtfully designed - one of our favourite small touches was the pouch on the waistband, which is perfect for a compact camera.
Is there space in here?
Additionally, the pack's design favours being long (tall) and narrow, as opposed to wide and broad. This narrowness makes it rest that much more inconspicuously on one's back, without any bulging pockets on the side that could hamper the full range of movement of one's arms. An advantage of this design is that it keeps items more snugly contained, minimising the chance of odds and ends rattling around inside the pack when you are engaged in more vigorous movement. Also helping on this front are a couple of compression straps on either side of the pack.
The secondary compartment, which is only slightly smaller than the main one, has a few dividers in it, which we found ideal for containing our 9.7" tablet (with a suitable cover already on it, of course), although it could just as easily host larger tablets, important papers, plane tickets or the like for quicker access.
Additionally, the main compartment is kept slightly off one's body, as only a well ventilated, fairly thin rubber-like lining (called airmesh) actually presses against your back. This is not only much more comfortable than having one's weekend's possessions pressed against one's spine, it also keeps the resulting heat from building up and causing you to sweat across your back.
Strap yourself in
Another essential component of the backpack, the straps themselves, are wide, comfortable, flat (as opposed to being heavily padded) and thus rest easily on the shoulders, without cutting into one or slipping. Also onboard and aiding general stability are both sternum straps, and a wide, comfortable hip belt as well, which plays host to a small discrete pouch on the left hand side (ideal for a compact camera).
Equally as important in a pack of this nature is how quickly and securely one can adjust the straps themselves, and thus modify how the pack 'sits' on one's frame. On this front, we had no complaints. A quick yank on the front straps and the pack would 'climb' up our back – and stay put until we released it. If we found we wanted it to ride a little lower, we simply lifted the clasp holding it in place and it would oblige, and similarly, stay put in its new position.
Furthermore, the straps had at least two points we could easily clip a carabiner onto – a practice we have become accustomed to indulging on all our daypacks or hiking bags, as it invariably becomes imminently useful at some point, whether on the trail or in a plane.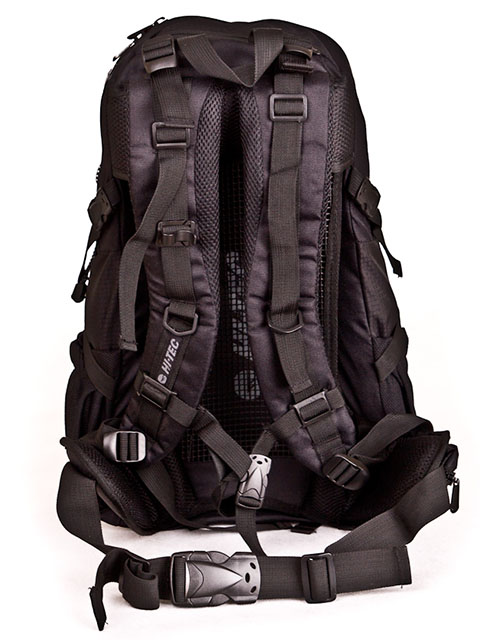 The bag's interior is only half the battle - no less important in a pack ishow comfortable its straps are and how much support they provide. On this front, the Asila nails it.
Details, detailed
The next aspect we looked out for was the inclusion of thoughtful extra details, and these were plentiful. The backpack boasts two side pockets, ideal for water bottles. Rather than being flimsy mesh which invariably tears and breaks, the Asila's were made of stronger material.
Additionally, a clever top, zippered pocket offers an ideal and easily accessed haven for your car keys or cellphone, while on the bottom of the back, another zippered pocket contains a waterproof covering for when clear skies give way to a rainy deluge. A nice, roomy top handle enables you to grab the pack from another point and start walking, without necessarily swinging it onto your back right away.
If there was one oversight it would be in the zippers – we would have liked these to accommodate a small lock as well; alas, there is no way to secure them shut. That however, is a small niggle. Somewhat offsetting this oversight is the presence of no fewer than three cords and loops on the back and sides of the pack, which cater to various extras you may want to lash to your pack, such as a monopod or hiking poles (or both).
While we must confess to being very fussy about our backpacks and daypacks to the point of being pedantic, altogether, the Asila greatly impressed, proving to be an exceedingly comfortable pack that we can recommend without hesitation. RRP: R600.

Tremendously comfortable, Airmesh works very well, Straps are comfortable and wide, A number of thoughtful details, Great price

Zips don't allow for locking