Acer is not the first name that pops up when you think about smartphones, since here at TechSmart we're more used to reviewing notebooks and tablets from the Taiwanese company. From last year however, more, and some very attractive, Acer smartphones have entered the market. Aimed at the midrange space, the Acer Liquid Jade is a sleek 5" smartphone, coming in at R4 200.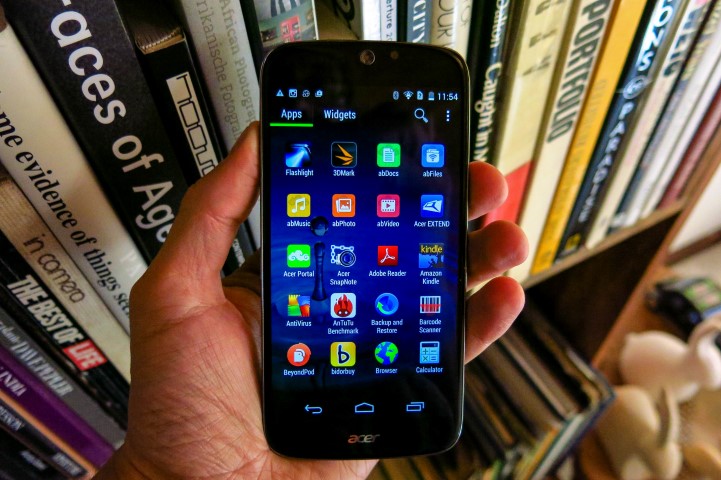 With a 5" screen and a smooth look, the Liquid Jade is quite appealing.
There can be only two
The Jade offers an interesting proposition not often seen in mid-range phones namely dual SIM cards. A slot on the left hand side offers a choice – either make use of two nano SIMs, or substitute one for more storage in the form of a microSD card (up to 32 GB). It's a bit of a difficult conundrum if you do actually want to make use of two SIMs, since the 8 GB (not all of it available) onboard storage is not a lot. I used the extra slot to expand the storage, which came in handy with the Jade's 13 MP photos. These occupy between 3-4 MB each and quickly munches up space.
The Jade's 13 MP camera is another feature quite uncommon in this, and even higher price ranges. Photos in normal conditions are good while video (Full HD) is impressive, making use of autofocussing during recording. It does come across as a perfect Instagram/Vine devise, but, as with most smartphone cameras, it suffers from noise in the darker lighting conditions. Selfie addicts will have to make do with a below average 2 MP camera on the front.

Either two SIMs or one SIM and a microSD card - your choice.
On the inside
For its R4 200 price point Acer could have done a bit more on its innards. A quad-core 1.3 GHz Cortex-A7 does duty, while you have 1 GB of RAM to your disposal. Not surprisingly it tests lower on benchmarking than the Samsung A5 and the S5 mini. While not overtly slow, I did pick up lag when for example viewing the recently opened apps.
Acer offers DTS-HD premium sound on the device and these sound adjustments works well if you're wearing earphones. If your plan however is to listen to music, podcasts or calls via the onboard speakers, you will find better and louder sound from other devices. While it could be a problem specific to my unit, the Jade also struggle with accuracy while driving with Google Maps.

The camera at the back protrudes a bit, so the Liquid Jade is not all smooth.
From a looks perspective, the Liquid Jade is a smooth, stylish unit; in fact swiping the screen feels like you're swiping a well-polished stone (maybe something like, well, Jade perhaps?). The 5" screen is bordered by a faux-metal rim, which adds a bit of class to the unit, but you'll still have to content with a plastic cover and a bit of a protrusion from the camera. Its 720 x 1280 resolution (294 ppi) is par for the mid-range course, but that's maybe not giving enough credit where credit is due, since the display is sharp and crisp and certainly up for most multimedia activity. Be frugal with screen time however, since its 2100 mAh battery doesn't like intensive workouts.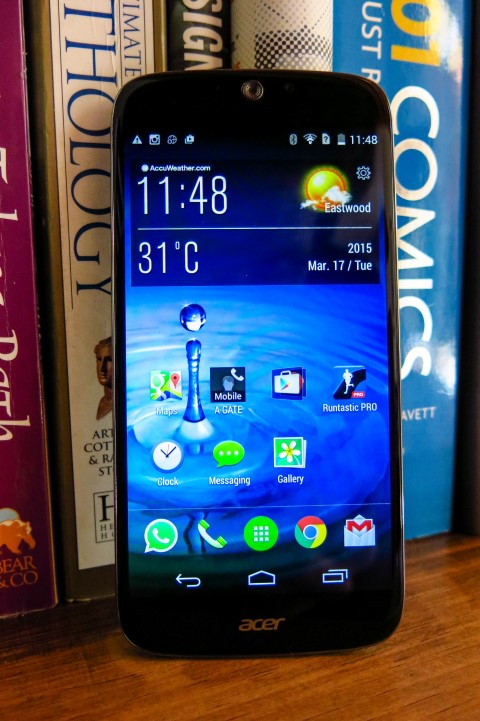 At R4 200 the Jade is a bit on the expensive side.
A tad much?
Acer's Liquid Jade, with its dual SIM capabilities and 13 MP camera, plays into an interesting segment of the mid-range market. But I wonder if its R4 200 asking price isn't a bit steep, since its other specs are average for the midrange market. It left us content, but not blown away.
WATCH THIS SPACE FOR AN UPCOMING COMPETITION TO WIN THE ACER LIQUID JADE.

Nice looks, 13 MP camera, dual SIM

A bit pricey, battery life could have been better, accuracy of GPS not the best, front camera lack lustre