With the growth of social networks, it came as little surprise that we would start seeing more phones revolving around the phenomena, and HTC's ChaCha is one of those.

The HTC ChaCha is not a typical Android device. It's being dubbed the 'Facebook phone', due in no small part to the singular Facebook button on the bottom right of the ChaCha's white and chrome front. It is not a phone created by Facebook, but rather pays particular homage to the popularity of that social network and users' predilection to constantly check their feeds and update their status.

Dashing design

As is expected from HTC, the phone is solid and has a pleasant weight (124 g), measuring 65 mm wide and 114 mm long. Nonetheless, it seems more compact than its measurements suggest. This may be due to the fact that the phone gently but noticeably curves upward, raising the screen slightly above the keyboard's level. While other Android phones tend towards making their screens as large as possible, the ChaCha shares its front face equally between a small 2.6" touch-screen and a QWERTY keyboard.

What impressed us, however, was not just the stylish appearance, but the noticeable build quality of the device. The back cover (very reminiscent of the HTC Flyer's look), for example, was sturdy and we did not feel as though we could inadvertently snap it when gaining access to our battery, as is the case on some other entry-level and even mid-range offerings.

The SIM card and MicroSD card slots are not hot-swappable and we did need to remove the battery first. This could only be a drawback for those who have the need to constantly insert other microSD cards into their device, for us, it was of little consequence.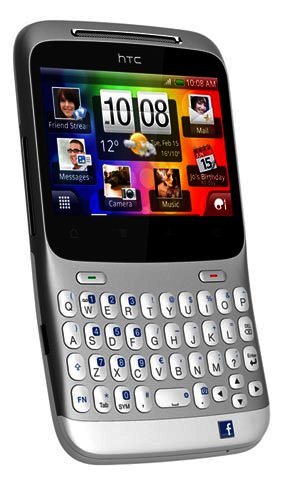 Portable performer

The ChaCha packs a 800 MHz processor and 512 MB of memory, which manages to run Android 2.3 (Gingerbread) and HTC's updated Sense interface smoothly, with no notable problems in terms of navigating the familiar Android interface. The screen, despite having a 480 x 320 resolution, was nonetheless sharp and bright enough, even if it wasn't exceptional. However, we were pleasantly surprised by how readable the screen remained in the face of direct, and bright sunlight. As is to be expected, the touch-screen recorded our fingerprint smudges after a while, although not as readily or as noticeably as glossy screens tend to, but enough to warrant regular cleaning.

Facebook button

The predominant feature of the phone is meant to be its Facebook integration, and this stood out as a feature in its own right. In several instances, the ChaCha accomplishes this admirably, but it was not without hassle. Somewhat counter-intuitively, pressing the Facebook button does not take you to your news feed, but rather defaults to a status update field. Here you can either update your statues or post a photo taken with the phone (or stored on it). There's no way to access one's feeds from this default screen, instead you're required to go to the home-screen and access the Facebook widget or the app icon. Hopefully a software update from HTC can rectify this since, like most people, we check our feeds more than we actually post updates.

However, beyond this complaint, we did find some nifty uses for that dedicated button as well. For example, pressing and holding the Facebook button took us to a screen where we could search for and add places, either that were nearby our current location, or by searching for a particular place we wanted to access. This would then show us the details of the newly added place, including its GPS co-ordinates, how many visitors its Facebook page had received, and its wall. Additionally, we could 'check in' to the place and add a comment and it would update our status accordingly. In order to publish our location, we first had to authorise the ChaCha and grant it 'publishing rights' to add the information to our Facebook page, and these could similarly be revoked if we so chose.

We gradually built up a rhythm of using the dedicated Facebook button to update our status and check in to various locations, while relying on the Facebook widget to access our feeds. This only reinforced our feeling that the ChaCha is targeted at a particular kind of user, namely, one whose life revolves around staying connected and in constant communication in general and through Facebook in particular.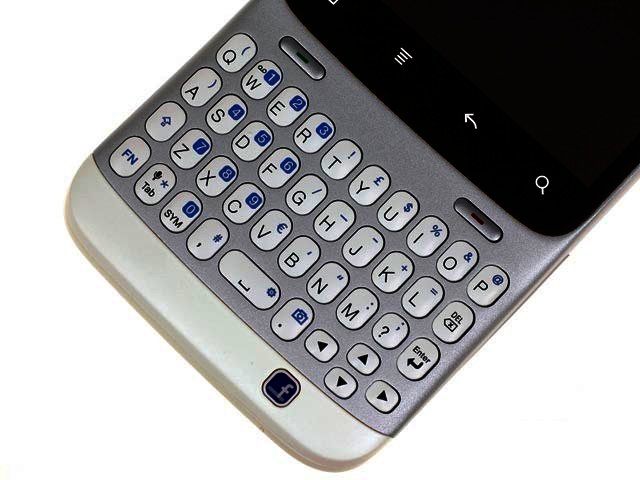 Features

On QWERTY keyboard smartphones, the ease of use of the keypad keys are always of prime importance. We were pleased to see that, although the keys were small, they were pleasingly elongated and slightly raised, which provided a smooth and accurate typing experience – much better than any BlackBerry device we've tested. While the keys were spaced closely together, we found it easy to type quite quickly with no errors from touching the wrong key. Additionally, almost every key had a dual function, which was accessed using the function key.

Equally worthy of a mention is the ChaCha's thoughtful interface. A tabbed approach throughout further lent the interface an elegant manageability. For example, our apps were organised either by Frequently Used, Downloaded Apps and All Apps. For app junkies like ourselves, having to scroll through myriads of pages of apps can become time consuming after your 50th download, so this was a nice, thoughtful touch that we appreciated.

The ChaCha has both a VGA front facing camera for video calling and a five megapixel rear facing camera, which boasted responsive, quiet autofocus and was accompanied by an LED flash. The ChaCha also gave us the option of automatically uploading and backing up our photos to Facebook, while each image taken could be shared individually via Bluetooth, Facebook, Flickr and Picasa as well as shared via imbedding them into messages and email. Our connectivity was taken care of via Bluetooth 3 and Wi-Fi IEEE 802.11 b/g/n, while a standard 3.5 mm audio jack could be found on the top of the phone.

While we couldn't call it a feature, the power adapter was almost as attractive and stylish as the phone itself, and made us question why more manufacturers couldn't pay as much attention to producing a distinctive adapter as well. This becomes increasingly appealing as we acquire more mobile devices, each with their own power adapter that is indistinguishable from every other one in our possession.

To the point

For its price, the ChaCha is packed full of features and accessed through a well thought out interface. Beyond its obvious Facebook centric approach, the ChaCha stands alone as an exceptionally attractive, well built and feature rich phone in its own right, which is what we have come to expect from HTC. The HTC ChaCha offers an excellent typing experience, better specs than similarly priced offers from BlackBerry and quick access to update your Facebook status. If only the Facebook button gave instant access to your news feed too. It retails for a low R2350.

Pros

Beautiful, solid design
Excellent keyboard
Screen that holds its own in direct sunlight

Cons

Facebook button counter intuitive

Beautiful, solid design, Excellent keyboard, Screen that holds its own in direct sunlight

Facebook button counter intuitive