Dimension Data, the global IT organisation processing and analysing the data coming from trackers on the saddles of riders in the Tour de France, has released a summary of statistics on the first 11 stages of this year's race.
Some key highlights of the big data analytics include:
The highest speed in the first 11 stages was 109.08 km/h by Lars Boom (AST) during stage 3 at the 144 km mark. This was followed by 93.38 km/h by Alejando Valverde (MOV) at the 149 km mark yesterday (stage 11); 78.48 km/h by André Greipel (LTS) on stage 5 at 89.4 km; and John Degenkolb (TGA) in stage 5 at 89 km; with Nicolas Roche (SKY) at 78.37 km/h during stage 9 on Monday at 16 km.

The highest average speed achieved by a stage winner was 55.45km/h (Rohan Dennis on stage 1), while the average speed across all riders for the first 11 stages was 42.46 km/h.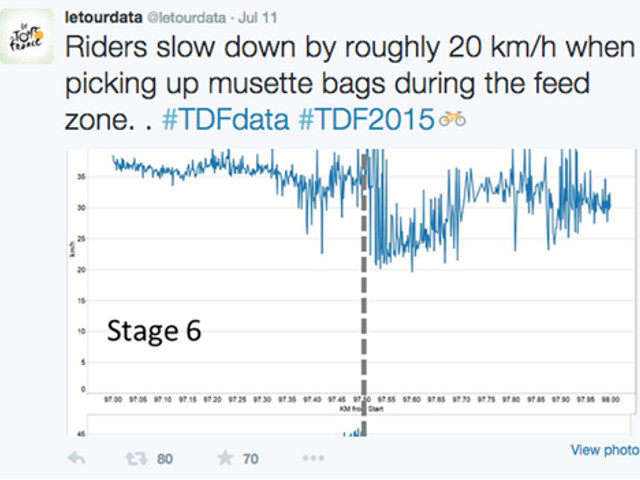 Jeremy Ord, Dimension Data Executive Chairman, and executive sponsor to ASO said, "The complicated analytical information and processing on the beta live tracking site for the first half of the race has run smoothly. It's very exciting to see the high speeds that riders are achieving. However, we think these speeds could be even higher. That's because there have been areas along the route - especially in the mountains - that we did not receive transmission of signal from the trackers. Overall, the response from the public has been fantastic."
Ord says Dimension Data's analytics team on the ground is currently processing between 1.5 million and 2.5 million records per stage. "What's a particularly interesting statistic is that one of the most re-tweeted images to date is how the rider's speed drops at the start of each Feed Zone while they pick up their food bags."
Click here to read more