In the eyes of Microsoft, productivity today is centred on conversations - sometimes a quick instant message or call, and sometimes a meeting planned in advance that incorporates voice, video and content sharing.
With many different avenues of communication, Microsoft believes that people need tools that allow them flexibility in how they connect. For years, consumers have embraced new ways of communicating, but corporate telephony including PBX systems and audio and video conferencing systems, has lagged behind—until now.
Organisations can now replace their legacy meeting and phone systems with innovative services built on the familiar Skype for Business experience, all naturally integrated within Office 365—the world's most-used collaboration and productivity platform. Several new Skype for Business communications services are designed to modernise voice, video, and meeting experiences, while saving companies substantial costs in their communication infrastructure.
"Skype for Business is an end-to-end solution that provides seamless communication across multiple platforms and devices, allowing organisations to unify all communications with their business applications and processes, and to streamline how people connect and communicate by leveraging the investments made by enterprises in a single identity and directory service," says Chantal De Menezes, Skype for Business product marketing manager at Microsoft South Africa.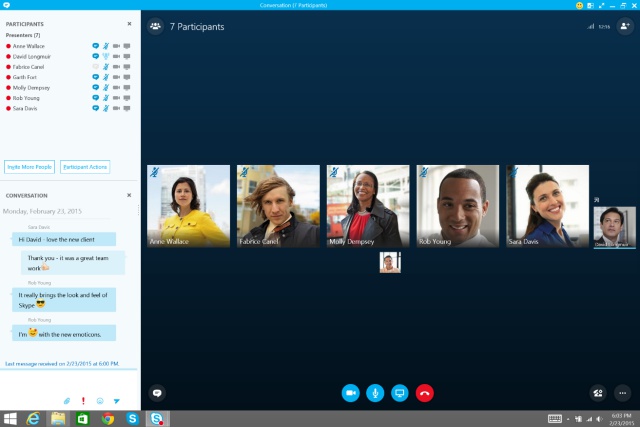 Simplify infrastructure, lower costs and empower people
Microsoft says it is the only company that has built this combination of capabilities—a cloud business phone system including dial tone, and a complete meetings solution including audio, video, content sharing and messaging service—as a core part of a complete productivity and collaboration suite, available across mobile platforms and at a global scale.
Today, over half of their business customers are currently paying for multiple conferencing solutions, and many are still using legacy PBX phone systems. Now they can simplify their infrastructure with one cloud platform for meetings and voice, ultimately reducing the cost, complexity and effort of maintaining legacy phone and conferencing systems.
But it's about more than saving money, according to Microsoft. People spend nearly a third of their time at work in meetings, yet only 18% of information workers actively use conferencing tools that enable rich experiences like video and content sharing. When you consider that nonverbal signals account for nearly 90% of the messages we receive during interpersonal communication, it's clear that moving to modern communication tools can have a dramatic impact on productivity and collaboration.
A case for Skype for Business
To illustrate the power of its newly improved platform, Microsoft gave this example. German food company Dr. Oetker was utilising a plethora of communication and collaboration tools and wanted to standardise these by using Skype for Business Server 2015.
"We really like Skype for Business because of its full integration with the Skype consumer product and the ability to search for contacts in that product," says Kathrin Worner, IT specialist, Infrastructure and Shop Floor Solutions at Dr. Oetker. "Our employees and outside partners immediately knew how to use it, and this was not the case with other tools that required a big investment in user change management."
"Skype for Business is interoperable with existing communications infrastructure such as PBX phones and the most commonly used video conferencing systems. As a part of Office 365, Skype for Business makes it easy to connect, call, and collaborate in the context of the real work. People can connect and focus on the things they're doing together — sharing an app, co-creating, or presenting content instead of wasting time navigating disparate tools," De Menezes added.
By utilising Skype for Business, Dr Oetker employees could develop products, interview job candidates, and provide tech support more efficiently and often without time-consuming travel.
As we continue into 2016, Microsoft has clear designs to make Skype for Business the go-to collaboration tool for companies.