As social distancing has become our "new normal", there's a silver lining for people getting comfortable within the confines of their houses: the home cinema. Increased spending on home entertainment has become an emerging global trend, led by Gen Z and millennials, likely fuelled by the desire for better at-home experiences. It therefore comes as no surprise that in 2020, 72% of home viewers in the US spent more money o‌n entertainment content.
And with LG having announced their impressive 2021 TV line-up, featuring a comprehensive collection of new OLED, QNED, Mini LED and NanoCell TVs, the company has certainly raised the bar for home entertainment and is making movies come to life in the living room. Expected to launch in South Africa in the second quarter of 2021, here's some of what movie-lovers have to look forward to this year.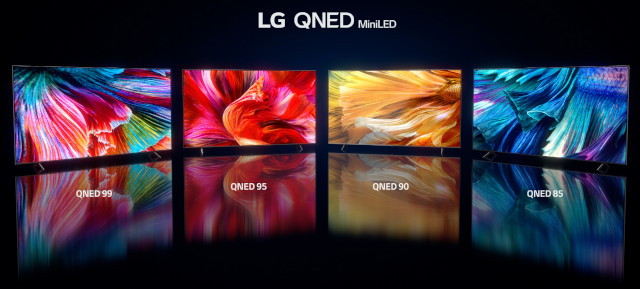 Quality and contrast
LG's 2021 range of OLED TVs (series Z1, G1, C1, B1, A1) are a marvel to look at with strikingly slim designs that complement any décor. They use state-of-the-art technology to light up or turn off every pixel at an individual level, creating deeper contrasts and stunning clarity. Considering that very few cinemas even offer the improved brightness and contrast ratios of high dynamic range (HDR), OLED's infinite contrast truly outshines.
The ultra-sharp and ultra-realistic picture quality of OLED delivers smooth and natural motion, with all models in the G1 series featuring the new OLED evo technology for better luminosity, higher brightness and punchy images with amazing clarity, detail and realism. The C1 series also ranges from the space-friendly 48-inch all the way up to an immersive 83-inch television. 'Movies on the big screen', it would seem, doesn't only refer to cinema anymore.
In the LCD TV category, LG's first ever QNED Mini LED TVs have also taken picture quality to a new level. The range of 4K (models QNED90, QNED85) and 8K models (models QNED99, QNED95) combine LG's cutting-edge Quantum Dot NanoCell technology and 30,000 mini-LEDs in the backlight to give home viewers the image quality of HDR, more accurate colours and a far more immersive movie experience.
But the range doesn't stop there. The new NanoCell 8K and 4K TV offerings provide the greatest number of options, with a large selection of 8K (models NANO99, NANO 95) and 4K range (models NANO90, NANO85, NANO80, NANO77, NANO75) units to choose from. All models feature LG NanoCell display technology, which uses nanoparticles to filter out colour impurities, resulting in lifelike images that draw the viewer deeper into their favourite movies and shows. We thought nanotechnology was the stuff of the future, but now it's in our televisions.
Innovations in sound
Of course, a great movie experience should also include surround sound, but there's surround sound, and then there's 3D surround sound. The difference is certainly worth knowing, as the advent of Dolby Atmos has revolutionised the cinematic sound experience, making movies more immersive and placing the audience right in the middle of a scene. With traditional surround sound, sounds move from left to right and front to back, whereas Dolby Atmos provides true 3D audio by also moving above and below and placing every sound in the room more precisely, making voices or instruments more distinct. When it comes to movie immersion, there's nothing the brain finds more convincing than true psychoacoustics.
Great sound adds texture and emotion to a scene and without it, a movie wouldn't move us like it does in the cinema. Fortunately for movie-lovers, LG's range of soundbars has made surround sound more accessible – and without the need to set up five to seven speakers around your living room. LG's QP5 Éclair, launched at CES this year, offers a high-quality sound experience in a small package. You can even have full surround sound by linking LG's XBOOMGO Bluetooth speakers together. LG's SN11 soundbar, on the other hand, provides every possible sound channel you could want in a 3D surround sound setup (7.1.4 or twelve channels in total), and if you're planning to watch a war movie on maximum volume, you might want to consider notifying your neighbours in advance.
More to love in 2021 with LG
Television hardware is not only getting better, but the software inside the TVs is also getting smarter. LG's Dolby Vision IQ can intelligently adjust contrast ratios based on the genre of the movie or show and the brightness of your room, plus the award-winning Filmmaker Mode allows audiences to watch films the way their creators intended, rather than having to change a variety of settings themselves. If you want to watch classic films with 2021 quality, LG's latest intelligent processor, α (Alpha) 9 Gen 4 AI, makes old movies look great again by upscaling picture quality using LG AI Picture Pro's deep learning algorithms. Similarly, AI Sound Pro can up-mix a movie that's in stereo to virtual 5.1.2 surround sound.
Thanks to the continued innovations in home entertainment, there's a lot more to love in the world of home entertainment this year. With cinemas moving to the living room, perhaps social distancing isn't so bad after all?