Business cafeterias are always a welcome sight. They usually offer a variety of food, beverage choices and a chance to get away from your desk. The word was coined at the dawn of the 1900s by US entrepreneur John Kruger, who used the Spanish phrase for 'coffee house' and inspired by Swedish 'smörgåsbord' buffet meals.
Eventually, the cafeteria would evolve into a variety of different formats, including modern coffee shops – also referred to as the "coffice" - the mecca that today's office workforces flock to when they want to get away from the corporate grind. So it's fitting that the concept should come full circle.
The collaboration age
"Collaboration is definitely a big part of emerging workforces," said Chris Buchanan, Client Solutions Director at Dell EMC South Africa. "According to a Queens University survey, nearly half of millennials support the use of social tools for workplace collaboration, compared to 40% of GenX workers and 31% of baby boomers.
"Dell's own research shows that Gen Z workers are even more bullish on collaboration. 57% want to work in teams instead of on their own. There are great technologies to help with this, screen sharing with 2-in-1 notebooks are one of the most common and easiest collaboration tools for easy presentations. But we should also look at how the workplace itself can be changed, which is what Dell Technologies has been pursuing."
That same Queens University survey also found that 75% of workers rate collaboration as very important, yet nearly half say there isn't enough collaboration at their workplaces.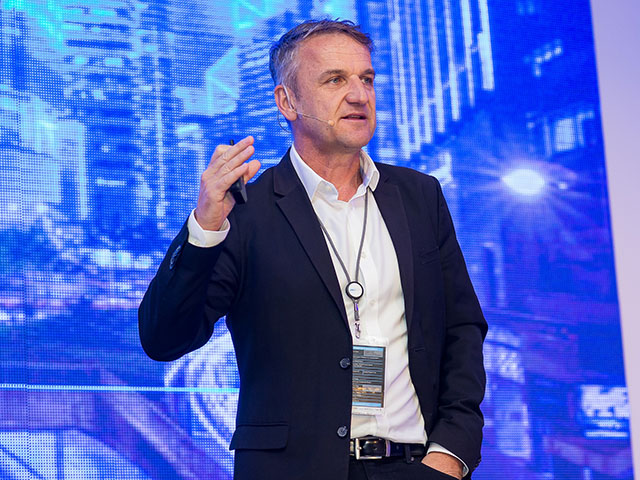 Chris Buchanan, Client Solutions Director at Dell EMC South Africa
Where people meet
"People come to the office for specific purposes – to collaborate, to be more productive, to garner inspiration and innovation from their teammates," Dawn Longacre, Dell Technologies' global workplace strategist, said. "That's why we're creating spaces where people want to work."
The space in this event is the cafeteria. Already a nexus for human interactions, Longacre and her team saw even more potential hidden there. So they set about changing aspects of cafeterias in Dell Technologies buildings that will encourage more organic interactions.
This philosophy starts with a simple question: if you can work anywhere, why would you come to the office? For the people, of course. But even stoic office workers rarely spend all their time at their desks. Meanwhile, modern devices such as notebooks and smartphones have untethered them, allowing them to roam where the action is. This makes the potential of cafeterias particularly enticing.
The goal is to make employees comfortable anywhere in the building. Said Longacre: "Work is much more collaborative today, so we need to break down the walls."
It's common sight these days to find two people at one end of a twenty-seater boardroom having a quick meeting – modern workspaces need to consider how to accommodate these new type of informal chats.
A series of improvements started being introduced. These included:
More meeting spaces were created, including benches for groups and two seater booths for more privacy.

Picnic tables and coffee benches offered comfortable meeting spaces for diverse groups.

Power outlets were installed everywhere for easy access to charge devices.

The decor was improved to include stone and wood surfaces, as well as pleasing colour tones.

In case employees wanted some sunshine, outside areas such as balconies were also outfitted with seating and covered with Wifi.
The new workspace
There have been many attempts at reinventing workspaces for collaboration and higher productivity. Some have gone down in notoriety, such as cubicles, while others like open offices remain contentious. The takeaway is that creating spaces where employees want to work and collaborate doesn't have a single fix.
"This is a journey," said Tom Menke, Dell Technologies' VP of Global Facilities. So far, people seem to appreciate the changes we're making. But if our spaces are more collaborative, people will talk more and good things will come of that – they'll solve problems and create new products. That's the goal."
Responses to the changes have been overwhelmingly positive, reflecting how much the nature of work has changed. Or rather, the nature of work - to be productive, innovative and engaging - has not shifted. But it's now possible to bring the mountain to the people:
"I think the real revolution here is that we're getting a better understanding on what people expect from their workplaces. No business mandated that everyone should use smartphones. The opposite happened: employees liked the freedom smart devices created for them and started using that. Businesses followed the trend," noted Buchanan.
Dell's focus on finding more such opportunities in the workplace is a continuation of that. Shoehorning people into an office and expecting results is fading away. Today's best workplaces make it easier for people to do what they do best," he concluded.