The Pool Stages of the @rugbyworldcup are over and during the tournament Twitter has been alive with Tweets about the teams, players and best moments.
Twitter has been monitoring all the players taking part in #RWC2015 and have shared some of the most-Tweeted moments, most-Tweeted matches and the stats on the most-Tweeted players and coaches.
Pool standings according to Twitter
The quarter-finals begin this Saturday with matches being contested between the world's top sides. Besides @EnglandRugby's early departure from the tournament there are no surprises. However, if the quarter-final places were based on Twitter data things may have been quite different.
Twitter has ranked the group stage pools based on Twitter data. Teams registered points when they beat their opponent in terms of Twitter conversation during each match. If it were up to Twitter data, the pool stages standings would be: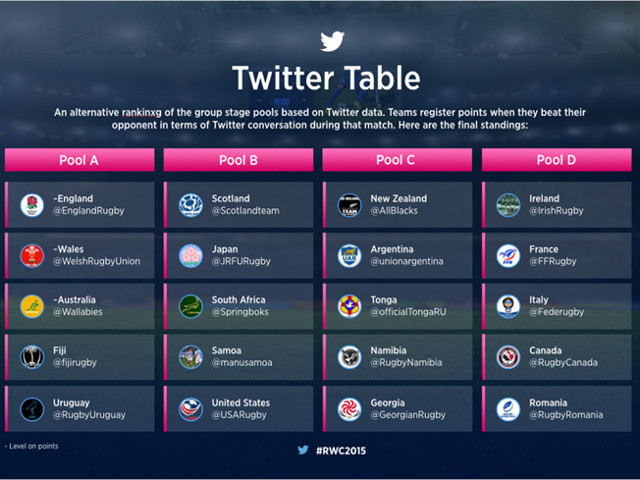 Pool A was hotly contested with the @EnglandRugby, @WelshRugbyUnion and the @Wallabies ending on equal points and Pool B would have seen @Springboks go home with the surprise team of the tournament, @JRFURugby, taking second spot.
The most-Tweeted about moments
1. The moment Japan seal a shock 34-32 victory against South Africa
2. Full time whistle blows as England lose 25-28 to Wales in Pool A
3. Japan score their final try to take a 34-32 lead over South Africa
4. England become the first host nation to exit in group stages as they lose 13-33 to Australia
5. The full time whistle sees Ireland run out 50-7 victors over Canada
6. Scotland's Tommy Seymour tackled by Japan's Ayumu Goromaru just short of try line:
7. Japan's Akihito Yamada goes over the try line on 40+1 to make it Samoa 0-18 Japan
8. Owen Farrell converts on full-time to seal England's 35-11 victory in the tournament opener
9. Dan Biggar gives Wales a 28-25 lead over England with a 75th minute penalty
10. England v Fiji kicks off to commence #RWC2015 at Twickenham
Most-Tweeted about matches
1. England 13-33 Australia
2. England 35-11 Fiji
3. England 25-28 Wales
4. France 9-24 Ireland
5. South Africa 32-34 Japan
6. New Zealand 26-16 Argentina
7. Scotland 45-10 Japan
8. Australia 15-6 Wales
9 Ireland 50-7 Canada
10. Samoa 5-26 Japan
Most-Tweeted about Players/Coaches
1. Bryan Habana (@BryanHabana) - #RSA
2. Ayumu Goromaru - #JAP
3. Stuart Lancaster - #ENG
4. Dan Biggar - #WAL
5. Sam Burgess (@SamBurgess8) - #ENG
6. Mike Brown (@mikebrown_15) - #ENG
7. Jean de Villiers - #RSA
8. Owen Farrell (@owen_faz) -#ENG
9. Richie McCaw - #NZL
10. Sonny Bill Williams (@SonnyBWilliams) - #NZL
Most Retweeted group-stage Tweets
https://twitter.com/IrishRugby/status/645183952236474368
https://twitter.com/rugbyworldcup/status/645292665936977920
https://twitter.com/Goro_15/status/650457249354264576/
https://twitter.com/O2sports/status/649947712297668608
https://twitter.com/rugbyworldcup/status/645294984678232064
https://twitter.com/jk_rowling/status/645291107178446848
https://twitter.com/Jamiehuwroberts/status/647878941181616128
https://twitter.com/GaryLineker/status/645292905213612032
https://twitter.com/EnglandRugby/status/644767037240279040
https://twitter.com/JRFUMedia/status/645296137709219841