Awind wePresent 9 wireless presentation interface
Cutting the cables for wireless presenting
PowerPoint presentations are a mainstay of the corporate world, but so is the cable hassles associated with getting notebooks and presentation equipment connected. The wePresent 9 Wireless Presentation Interface from Awind will end this cable headaches.
The wePresent 9 WP920 basically functions as a wireless router, and with this device plugged into the back of a HDTV or projector, participants to meetings or presentations can wirelessly share content in real time from multiple devices.
And it's not just notebooks that can connect, thanks to the downloadable apps, tablet and smartphone users (Android and iOS) can also have their content displayed.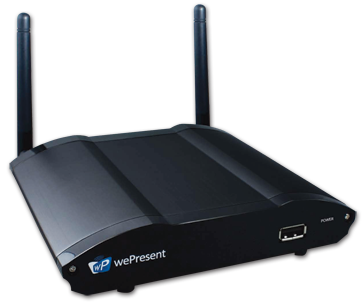 Hassle-free setup
To get started, you simply connect the wePresent 9 to the projector, HDTV or plasma monitor, using the standard VGA input connector. All the participants then connect to the device in the same manner as they would connect to a Wi-Fi network.
Up to 32 users can connect to the device at the same time and once connected, they simply download the wePresent software (done only once via the wePresent 9 or a provided dongle for PC users) for their respective devices.
Participants can then use this software to display their presentation, either one screen at a time, or up to four users being able to show their info on screen simultaneously using the 4-to-1 split screen projection feature.
Conference control functionality
To ensure an ordered flow of information, a designated conference facilitator can use the wePresent 9's conference control mode. This web-based administrator mode allows the moderator to select whose content is presented and in what order.
HD video streaming
Besides presentations with images and audio, the wePresent 9 boasts the ability to stream high quality video in popular formats. This video is scaled to XGA (1024 x 768, 720p) resolution so it looks great, whilst remaining lag-free.
Remote desktop
In addition, Awind's wireless presentation Interface sports a USB 2.0 port, enabling users to connect a USB keyboard or mouse to control a PC remotely - handy if you want to access a difficult to move PC tower that is still in the wePresent 9's range.
The wePresent 9 goes for an RRP of R4570. Call Forefront Presentation Media on 011-259-7000 for more info.
Logitech Professional Presenter R800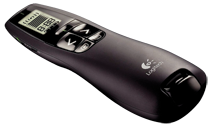 Logitech's Professional Presenter R800 is ideal for presentations, as it offers numerous features that can make presenting considerably easier. Its integrated bright green laser is visible on both plasma and LCD displays, and can be seen in brightly lit rooms as well. Additionally, it offers a long range wireless reception of up to 30 metres, which enables presenters to freely move around a room. A built-in LCD display also helps one keep track of the time, wireless strength and all important battery levels, while the device sports large slideshow control buttons that can be identified by touch in a darkened room. RRP: R910
SlideShare.com

Creating and giving presentations is one thing, sharing them with others is quite another. This is where SlideShare.com comes in. The site, which offers both free and paid-for options, enables users to upload their presentations and share them with a vast audience online. Presentations are organised by categories, ranging from business, design, entertainment, health and technology to travel, finance, education and career.
The site ensures that rather than an insightful presentation being buried and forgotten after its use, presenters can instead give their efforts long term longevity, long after the audience have left the auditorium.
SlideShark app

Along with correctly displaying PowerPoint presentations on the iPad, SlideShark further offers a Presenter mode, which shows slide notes and presentation timers, enabling presenters to use the app on the iPad as their guide while giving a presentation.
Additionally, PowerPoint presentations can be uploaded to one's free SlideShark account from a PC or from the iPad itself. The app then downloads whatever presentations are stored in the cloud, to the iPad for offline use, essentially offering slideshow synchronisation and remote access to one's presentations to boot.