We recently had Pentax's new flagship, the 24 megapixel K-3, to shoot with. Here are five features we liked best (and a few we didn't).
1. Great weatherproof body
Pick up the K-3 and you know you're dealing with a well-made machine, since it comes complete with a stainless steel chassis and a magnesium alloy body, weather-sealed to deal with the odd Highveld shower. We like the lock on the battery slot, while the latch on the dual SD-card slot feels solid. Importantly the contoured grip of the K-3 made its 800 g body feel solid in hand, especially with the supportive ridge above the middle finger.
2. Good layout
In general we had no qualms about the layout of the buttons on the K-3. This is mainly due to the usefulness of the INFO button, which allows you with one press to access items that are usually buried away in the menu system (much like Fujifilm's Q-button). These include highlight and shadow correction, digital filters, different HDR shooting modes, anti-aliasing filter simulator (see point 3) and file format.
On the top mode dial there are three handy custom settings via which to store your shooting preference for, as example, portraits, action and children. And while you also have three buttons which can be re-programmed, only one offered a proper range of options to choose from.
3. Anti-aliasing filter no moiré
A number of higher-end cameras have been released that forsake the anti-aliasing filter. This was traditionally used to counter the moiré pattern effect, but at a cost to image quality. The K-3 does the same, but offers an anti-aliasing simulator that actually uses microscopic vibrations to the 24 MP APS-C sensor to counter moiré. We were pretty comfortable with shooting without the anti-aliasing simulator, but it's good to know that you do have options.
4. Quality as standard
From such a high-end camera one expects decent image quality, and the K-3 delivers. Images were crisp, with solid low-light performance thanks to in-body shake reduction and ISO that stretches all the way up to an in-case-of-emergency 51 200. Add to this fast 8.3 frames per shooting and a 27 point AF-system (although not class leading, 25 of these are the more sensitive cross type). Teamed up with the 55 mm f1.4 SDM lens, the K-3 can take on any of its competitors.
5. As fast as Bolt
8.3 frames per second is fast in anyone's language and will be welcomed by anyone shooting sport (or kids). Pentax believes it can take as much as 22 phots in RAW format consecutively, or a very solid 60 in JPEG.
But what's lacking?
Pentax does not equip the K-3 with either Wi-Fi or GPS. Having said that, neither did Nikon with the D7100, although Canon's 70D includes Wi-Fi. Although by no means essential, both these are useful functions, while we would also have liked better performance from the battery. It could have also been priced a little more competitively
The K-3 retails for R18 000 (body only) or R19 000 with the 18-55WR lens.
Pentax K-3 sample images
Images courtesy of Vark1. Click for original.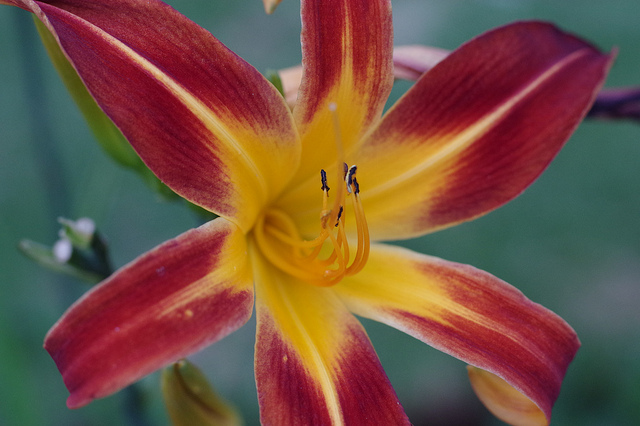 Pentax K-3 test photo, Anti-Aliasing off (55mm, f1.4 SDM)
Quick Specs
Sensor: 24 MP CMOS APS-C sized
Monitor: 3.2" TFT LCD, 1037 dots
Weight: 799 g with battery and memory card
ISO: 100-51200
Shutterspeed: 1/8000 sec

Great weatherproof body; Good layout of buttons; Anti-aliasing filters simulator onboard, 8.3 Fps shooting

No Wi-Fi nor GPS; Battery performance so-so; Could have been cheaper