With a few substantial gameplay tweaks in FIFA 14, EA Sports continues the annual evolution of one of gaming's biggest money spinners. Are these good enough to dribble past PES 2014 for the best soccer title?
Graphically speaking, the differences between FIFA 13 (review) and FIFA 14 do make for a good spot-the-difference puzzle. Players do look a bit better up close during goal celebrations, which by the way you can now control via buttons combos to do, for example, a fist pump celebration.
The biggest change to the look of the game can be found in the menu system. EA has adopted a Metro UI-inspired interface complete with live tile-esque submenus that look and function similar to the Xbox 360 or Windows 8 interfaces.
These take a bit of getting used to, but after a short while navigating this heavily revised interface became a breeze. Thanks to its visually appealing nature, we could not imagine going back to the old school menu system. The only negative part of this new UI structure is that is can get noticeably laggy (at least on the PS3 version).
If you want to do a day and night difference in terms of graphics though, it's best to wait for the next generation console versions due later this year. This, as the PlayStation 4 and Xbox One versions of FIFA 14 will make use of EA Sports' new Ignite gaming engine, which brings greater graphical fidelity to everything from the look of the players, stadiums and even the grass on the pitch.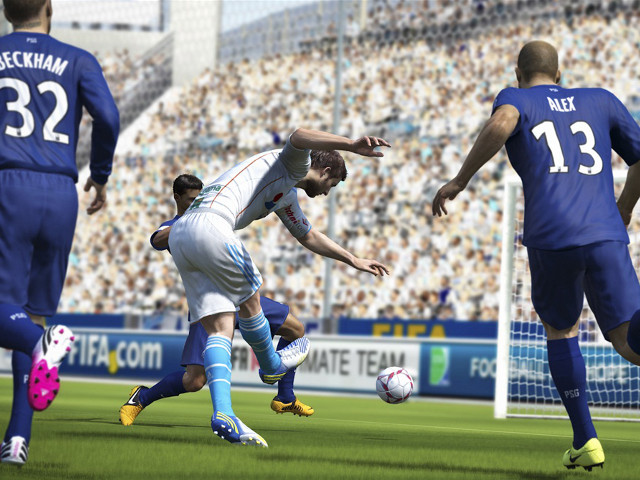 If you are waiting for in-game graphics like this...you'll have to hang on for the arrival of the next-gen iterations later this year.
Gameplay enhancements
So where did the FIFA 14 developers spend most of their time? Definitely under the bonnet improving gameplay, which now packs a few improvements over its predecessor.
Most of these are enhancements made to existing features introduced within FIFA 13. Take as example Teammate Intelligence, which in theory is supposed to make both the AI-controlled opposition and your AI-controlled teammates play smarter.
In practice we unfortunately could not really tell the difference when it came to teammates. However, we definitely marked an improvement in the opposition which now close down space and angles more quickly, making the job of stringing together a myriad of successful passes harder.
EA also revised the game's ball physics system with Real Ball Physics now determining the ball's trajectory to make it move more realistically. You will most easily notice this feature coming in to play within long range shots that now vary in types. These include high shots on goal that dip low enough at the last second to squeeze under the top bar of the goal, or dangerously swerving shots that curl away from the goalie's grasp.
Also adding to the sense of authentic football action, at least in the attempts on goal department, is Pure Shot. This adds various new shot types to the virtual repertoire including pure strikes, off-balance- as well as rushed shots on goal.
Last but not least, there is a new defensive feature dubbed Protect the Ball (PTB). PTB enables you to fend off and block opponents from the ball in order to maintain possession and it does work well. However, it also plays a big part in slowing down the passing and dribbling action in the midfield compared to FIFA 13, which will not sit well with arcade game fans.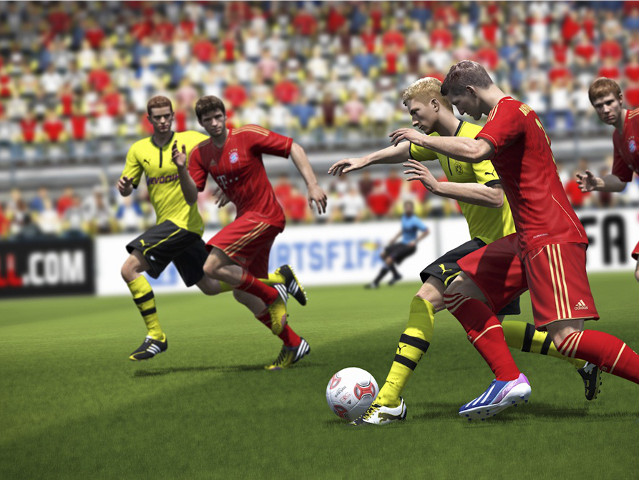 In FIFA 14, the battle to gain dominate possession in the midfield has become even tougher thanks to new features like Protect the Ball.
To the point
FIFA 14 looks virtually the same as FIFA 13 (apart from the menu system), but plays like a totally different game thanks to the flurry of gameplay enhancements. These changes will definately not cater to everyone's tastes.
With features like Real Ball Physics and PTB, EA has now positioned FIFA as a full blown simulation title to rival the arcade experience on offer by Konami's PES 2014. This targets FIFA 14 more at players who want to bring virtual life to their soccer fantasies rather than casual gamers that just want to pick up and play a football game.
The cost of elevating your virtual likeness or favourite team comes to R700 for the PS3 version, with the game also being available for Xbox 360, PSP, Windows PC, PS Vita, and Nintendo 3DS.
EA really wants everyone to play this game, judging by its availability on virtually every single platform including over the hill ones in the Wii and even the PlayStation 2. The game will also make its way onto next generation platforms such as the Xbox One and PlayStation 4 later this year, but has been given the red card by EA for the Wii U.

Best presentation within a football game; improved and more realistic gameplay over predecessor; and enhanced AI.

Heavily redesigned menu system can be laggy at times; commentary quickly becomes repetitive, especially for FIFA veterans; and only slightly better graphics than in FIFA 13.