Along with death and taxes, an annual FIFA release is pretty much a sure bet, with the latest iteration bringing some minor improvements over FIFA 12. Are these good enough to land FIFA 13 the top spot on your soccer game acquisition list?

Graphically, FIFA 13 has not improved much over its already awesome predecessor, and you'll need the detective skills of Sherlock Holmes to point the enhancements out. Stadiums the likes of Real Madrid's Santiago Bernabéu Stadium or The Theatre of Dreams still look great, and so do the true-to-life player models.

Unfortunately, the crowd models are very pixelated up close and there is still a lack of variety between individuals that make up the masses of fans. The same does however, also ring true for all other sports simulation games as well.

EA's redesigned menu system is well laid out and a lot more visually enticing compared to the stock standard static fair. It features a virtual Lionel Messi being displayed in the background in between the game's startup and main menus. However, the slight drawback to that elaborate menu system is that there can be a bit of noticeable lag on occasion, as the next animation loads. This can be somewhat annoying when you are just looking to get back to the action as quickly as possible.

Gameplay

Unlike the graphics, EA Sport's tinkerings to the gameplay is slightly more significant. The company have managed to up their game thanks to advancements in the Player Impact Engine (PIE) introduced in FIFA 12.

PIE is a physics engine built to deliver real-world physicality in every interaction on the pitch. Within FIFA 13, this system allows players to jostle for the ball more realistically. The engine works well and can give rise to more than a few penalties and free-kicks over the duration of a season. This, as over-eager defenders tend to pull a striker's shirt or get too physical in their attempts in knocking you off the ball when they can't keep up with your Messi-inspired ball handling skills or Rooney-like pace.

FIFA 13 also introduces its own new feature called First Touch Control (FTC). This means you now have to employ chest control for balls that are passed too high and take the heat off of balls that have been passed far too hard, before setting off goalward bound. This in comparison to previous iterations, where it almost felt like the players had a layer of glue on their boots, since they managed to control the ball with their first touch no matter how poorly it bounced, or how hard it was kicked in their direction.

FTC not only makes FIFA 13 more realistic, it also allows the AI-controlled defenders to breath a sigh of relief as they are better able to win back possession in certain one-on-one situations, where the ball service has been less than stellar.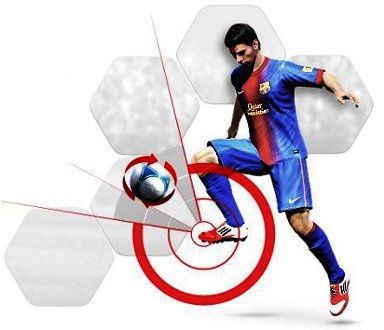 His name might be Messi, but his ball handling skills are emaculate.

Other changes

Beyond the minor graphics and more significant gameplay enhancements, FIFA 13 also offers some improvements within Career Mode. When playing as a manager within career mode, you start off managing your elected team, but as time progresses and you prove your managerial skills, you agent will notify you of international job offers for national teams as well. This means that for the first time players are able to head up a club and national squad at the same time.

EA managed to successfully add onto what was an already involved transfer system within the latest FIFA title, as you have the ability to make enquiries to teams about players you want to purchase or loan. If you do not have enough funds to honour this offer, you are able to request additional funds from your club's board of directors or adjust the transfer funds-player salary fund ratio. The board will also provide you with their opinions of players you are interested in adding to the squad. These changes help make pushing that transfers through feel that much more rewarding.

In addition, the excellent commentating from Martin Tyler and Alan Smith reflects your decisions as manager. For instance, if you put a player on the transfer list, or your star delays renewing his contract deal, this will be a topic of conversation between the commentators which provides the title with an authentic TV like feel.

You can also still opt to give all of these gray-hair-causing managerial stress a miss and tackle the career mode as a player, which allows you to mould the career of a football great from the soccer cradle (joining a first class team) to retirement and beyond, since you can become a manager after you have retired your footy star.

In this mode, gamers only play with their own created virtual player, unless of course he is substituted, in which case you can once again assume the controller reins of the whole team. This style of play makes for a welcoming change of pace from the rest of the game and adds some variety as well. It is also every bit as compelling the manager mode, as you guide your virtual pro on his journey from a no name, bench warming nobody to starting superstar and beyond.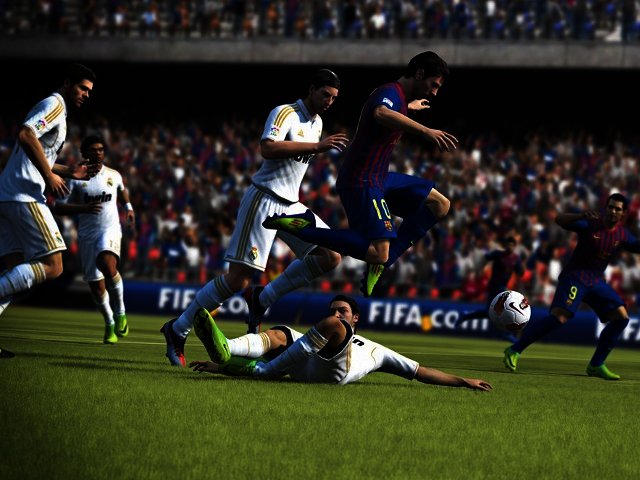 All opposition falls before this footballing great.

To the point

All of the changes within FIFA 13 are minor, but as a collective whole they do enough to keep EA Sport's franchise as the benchmark for football simulation titles and even sports games in general. The gameplay enhancements are slightly more extensive than the graphics improvements, helping to make an already sensational virtual footy experience even better.

However, it is its large list of authentically licensed clubs, stadiums, and leagues that along with engrossing Career Modes, and on-the-ball commentating, should ensure FIFA remains the top choice. It goes for an RRP of R600.

Pros:

Great graphics and gameplay; captivating career modes; excellent presentation and commentary.

Cons:

Graphics intensive menu system can be a bit laggy sometimes.

Great graphics and gameplay; captivating career modes; excellent presentation and commentary.

Graphics intensive menu system can be a bit laggy sometimes.