I have a confession to make – I am not a GTA veteran. Quite the opposite in fact. When GTA was causing controversy, I was instead courting FPS's and action-adventure titles, with both open world and role playing games seeming to beggar an investment of time I wasn't willing to make. It's all well and good that GTA V managed to garner rabid support from franchise fans, but can it do the more difficult and entice newbies to its side?
Here, therefore, are this newbie's top reasons why you should approach this open world title with an open mind.
1 Extremely well realised world
The metropolis in which GTA V is set is extremely well realised and exquisitely detailed. So much so, that it would be easy to imagine Los Santos as being a confused love child, born out of wedlock as a result of torrid relations between Los Angeles, Joburg and the seamy underbelly of Las Vegas. What this means is that it is quite easy to lose oneself in exploring all Los Santos has to offer, and become immersed in its vast, beautiful and sordid embrace, which includes engaging in daring heists, risky recreational outlets and everything inbetween.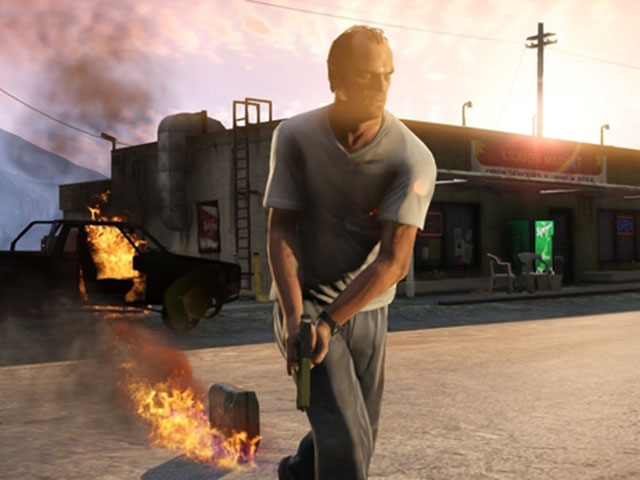 Sadly, no-one told Carl that if he had such bad memories of his car, he could have just sold it online instead of holding his own version of a fire sale.
2. So good, it's criminal
Common to all three cities of course, is the criminal element, and GTA V has that in spades. In fact, the game tells three different criminal's stories, common to each is that these aren't your cardboard cutout bad guy characters either. Michael, for example, is essentially an embittered, but somewhat self-aware criminal (deftly bringing back fond memories of Tony Soprano), who is dissatisfied with his life and his family. Indeed, some of the things he has to say about his offspring are priceless.
Franklin meanwhile, is no less believable, as a guy with talent but few opportunities (an all too real recipe for a life of crime). Finally there is Trevor - who is perhaps the most compelling of the three, and easily the most psychotic. We haven't come across a more memorable character since Prison Break's T-Bag (remember him?). Granted, you wouldn't want to emulate any of them in real life, but Franklin, Michael and Trevor are each a blast to play in their own way, particularly once they start engaging in heists together and you are able to switch between the three on the fly.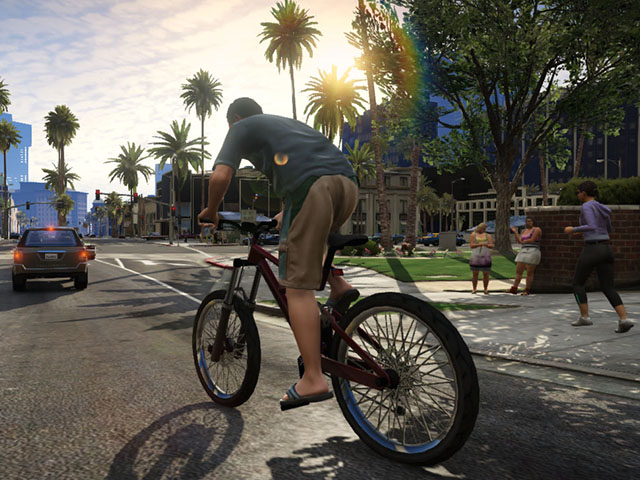 First tip for those new to a life of crime: you need a getaway car - a getaway bicycle just won't cut it.
3. Cutting satirical humour
We love satire, and the more biting, the better. GTA V lampoons modern society, celebrity culture and very relatable societal dysfunctions and obsessions masterfully; leaving one both laughing and shaking one's head in agreement. Apart from complimenting a very interesting narrative, these touches of irony (such as a criminal shouting career advice to a cop, or Michael berating his wayward son's choice of pasttimes - playing games) made the game sparkle and all the more memorable.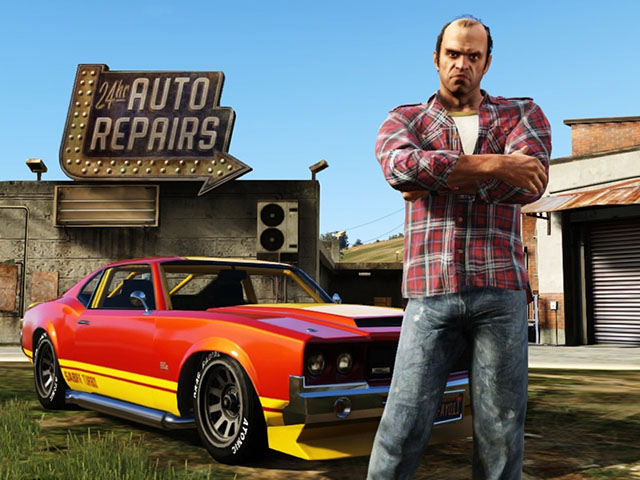 The sign used to say 'Welcome to Friendly Frank's 24 hr Auto Repair' until the Advertising Standards Authority stepped in.
To the point
We would not be at all surprised to see GTA V vying for and even walking away with Game of the Year, against admittedly fierce competition from The Last of Us (review). GTA V is packed with content, sharp, crude and ultimately immensely immersive; it is a game that no amount of reviewing can do justice – it's simply one title you must experience for yourself. RRP: R700

Huge world, Plenty to do, Compelling characters, Interesting narratives, Only legal way to experience the rush of a heist

Time sink of note, Crude and sexist, Plenty of sometimes needless profanity