When it comes to purchasing a suit, you have one of two options. The first is to buy off the rack, and while that suit will no doubt be good for many years, it is by no means perfect. The second is to have one custom made, which is far more expensive, but money is viewed as an investment in a garment that could potentially last you a lifetime.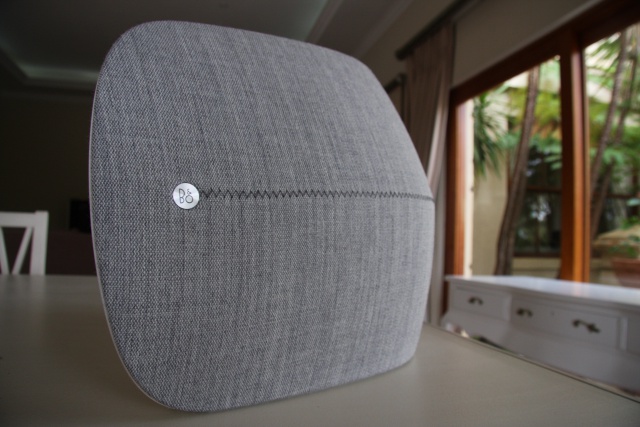 Finely tailored
That's how I view Bang & Olufsen. A luxury audio brand that you only ever consider when you want to make an investment. As far as large portable room speaker goes, their BeoPlay A6 offering is the standout option, both in terms of its design and price tag.
Before we delve into the pros and cons of the latter, let's take a look at this peculiar piece of audio engineering. The BeoPlay A6 is a product that has proved rather divisive - you either love or hate the design. I'm personally a big fan, as it doesn't really look like anything out there at the moment. The frame of the A6 is said to remind one of a Stingray, sans tail barb of course, and swathed in the specially manufactured grey wool speaker cover, it actually kinda does.
Fully specced
It sheaths six power amplifiers of varying wattage, but doing most of the heavy lifting for this speaker is two 5.5" woofers, a pair of ¾ tweeters and one full range 1.5" driver unit. The result of this is an exquisite frequency range that starts off at 35 Hz and tops out at 22 000 Hz. As such, if you either want to have the A6 close to your bedside for some easy listening or outside blaring tunes for an afternoon braai, this speaker is more than up to the task. The same can be said if you decide to place it in a dedicated space inside your house, with the added ability of being wall mount ready.
I've reviewed speakers of the A6's ilk in the past, and one of the major issues was always how the equaliser was set up. As such, at lower volumes the sound lacked the crispness needed, and went far too bass heavy when the volume was increased, drowning out nuances in the music. I can safely say, the A6 suffers from no such ailments, and whatever your musical tastes, this speaker will produce it beautifully. To that end, all the intricate elements you could only usually appreciated with headphones, can be done without the need to plug in a 3.5 mm headphone jack.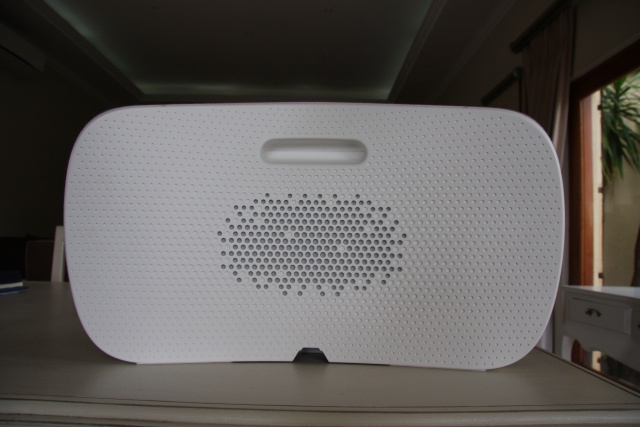 Losing control
In terms of controls, the A6 has a series of touch gestures running along the speaker's top edge. Running your finger on it, backwards or forwards will decrease and increase the volume respectively. Added to this is a circle in the middle which pauses and resumes play when pressed. Unlike the volume controls, this yielded a mixed performance, sometimes resulting in Bluetooth (4.0) connection being lost from the chosen smartphone.
The A6 can also be controlled from one's mobile device or computer, which is perhaps the safer option to ensure connection is not lost, as well as providing a far quicker change in volume when needed.
Base of operation
The A6 is not really portable though, requiring a power cord at all times to operate. Whether or not this is a real problem is down to user needs, but given its 53.6 cm width, the A6 is perhaps best left in one spot. Should you wish to move it around, there is an indent on the rear, where your hand can cradle the A6. Also on the rear are hundreds of golf-ball esque dimples, which provides a pleasing contrast to the front.
At the base of the speaker you'll find a slot with a series of ports within. This has room for the aforementioned power cord, and hides away quite smartly if you're a neat freak. There's also a ethernet connection, a single USB port and an in-line connection for analogue devices. While having a couple options in terms of inputs is nice, on the A6 they are quite difficult to reach, especially if you don't have nimble fingers (like I do).
This is perhaps one of two areas that A6 has proved sub-par. The other cropped up every now and then when I was switching between songs, with a split second of sound from the previous song interrupting the start of the newly selected song. There was also a slight delay for sound to come from the A6 whenever I've just synced up my smartphone (iPhone 6) to the speaker, and played the first song.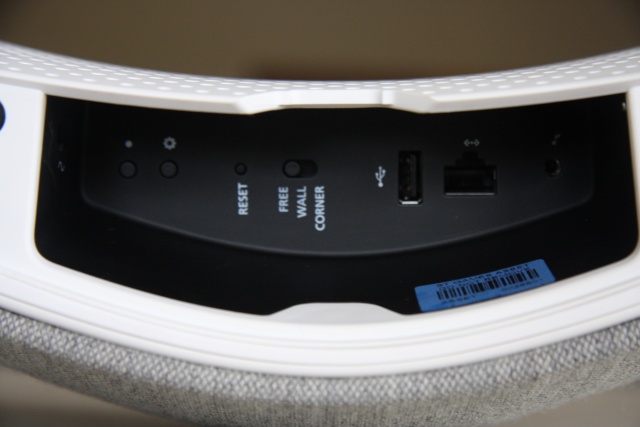 Final verdict
If you're looking for an amazing all-round speaker to place in a small to medium sized room, it's hard to do any better than the BeoPlay A6. Not only is it a stylish piece to study, the quality of sound it produces will make you want to ditch your headphones. Added to this, it is expertly constructed, and feels sturdy and hard wearing. Which is a good thing, as you'll have to pay around R23 000 to get your hands on one.
Much like the BeoPlay H8 (review) headphones, the A6 speaker is the type of audio device for users that want to invest in a high quality system, as well as having the spending power to purchase it. While its price incurs a few double takes, as does its design (in a good way), the A6 will be a fixture in your home for quite some time. As such, it can prove to be a worthwhile investment for audiophiles.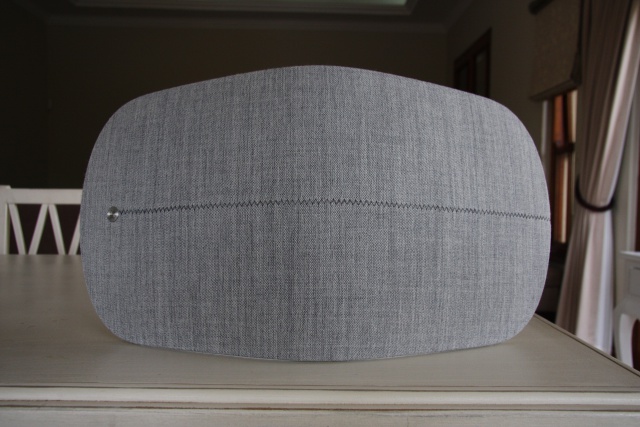 Intriguing design; Well constructed; Excellent range of sound quality

Priced for select consumers; Connection ports hard to access; Onboard controls a little finicky