One of the biggest problems with mobile devices, such as notebooks and tablets, is that invariably the integrated speakers aren't that big, and often, not that loud. Addressing this issue is Logitech's Z200 speakers.
The Z200 speakers consist of two desktop speakers that add a nice combined 10 W boost of sound. To start with, the speakers are very modern looking and attractive, robed all in white with the exception of speaker mounts themselves, which are a deep grey. The one speaker also plays host to a volume and tone control as well as a headphone jack. Otherwise, a single, standard 3.5mm connection enables users to plug the speakers into any standout audio out port, as found on most notebooks, tablets, smartphones and the like.
The speakers themselves are on the large and thick side, standing almost as tall as a 15" screen, and require their own power source, both of which should dissuade most from trying to travel with them. Setting them up is an out of the box affair, and they are exceedingly straight forward to use. In the speakers' favour, they came with ample cable (2 m), more than enough to reach from our coffee table to our couch without straining.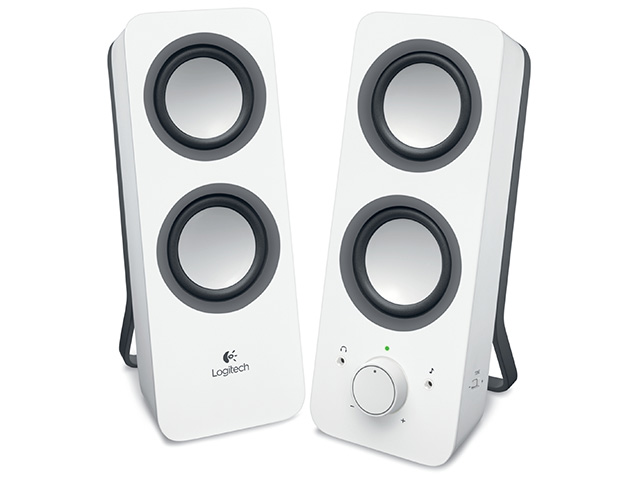 Listen up
As to the sound on offer, we had varying results depending on what we were playing. Music through an iPod for example was not as loud as we expected, even with both the speakers' volume and our iPod's volume turned to maximum. It also seemed to us as though the speakers favoured a bass output rather than treble. Playing games such as Oceanhorn with the speakers connected to our iPad yielded a much more favourable result. Here the sound was richer and louder, a far cry from the comparatively weak speakers on the iPad. This made mobile gaming (on our couch, not on a train) considerably more immersive, and from an auditory perspective, much more enjoyable.
Playing media through the speakers from our notebook was a bit of a mixed bag – loud, but with ill defined treble and a little bit of distortion at the top end. Sound in movies, meanwhile was satisfactory and decent, but not brilliant.
Hear ye, hear ye
If we had to fault the speakers though it would be in their volume range – anything below a third into the volume dial's range is simply inaudible. Nonetheless, as desktop speakers and for their reasonable price, the Z200s still proved their worth, particularly when playing games and video on a tablet with them. RRP: R400

Good sound in certain circumstances, Plenty bass, Easy to set up and use

Distorts at the high end, Volume control only starts a third of the way in, Middling performance across the board