The Mini Jambox from Jawbone is an exquisitely beautiful portable speaker with a surprisingly crisp and sharp performance to match. Is that enough to set it apart in an already saturated market?
Portable speakers are a dime a dozen nowadays. The reason for their ubiquitous status among retailers are that they provide a solid value for money proposition for users. This has resulted in a plethora of options for users to consider, making the sound quality they produce as well as unique design more important factors when weighing multiple options against one another.
Striking design
It's for this reason, that the Mini Jambox from Jawbone, is such an interesting option. For one, its design is hands down the most unique and eye-catching we've come across to date. Which is something that we were not all that surprised with, considering the fact it comes from Jawbone, a manufacturer who, in our past experiences has a flair for creating distinct devices that hinge off basic designs. In the case of the Mini Jambox, the basic element takes the form of a rectangular shaped box (15.4 cm long). It sounds fairly innocuous, but the creatively distinct aspect lies in the on-device indentations incorporated into the Mini Jambox's casing.
Added to this are the bright colourways available to users to choose from, each with its own specific indentation design. Our review unit too featured an eye catching casing, which Jawbone has deemed to name Aqua Scales. In total there are nine different colour options to choose from, each with their own inventive name such as Graphite Facet, Purple Snowflake and Blue Diamond.
Too many steps
If the look and design of the Mini Jambox brings such immense pleasure, setting up the device is arguably its greatest bane, with Jawbone opting for an extremely convoluted and laborious set-up process. Furthermore, the Mini Jambox utilises Bluetooth 4.0 technology, which limits the amount of device models that can connect to it. In order to access the Bluetooth connectivity pairing function, users must first download the Jawbone app, available for iOS and Android users exclusively. This also requires the creation of a Jawbone account, if you don't have one already.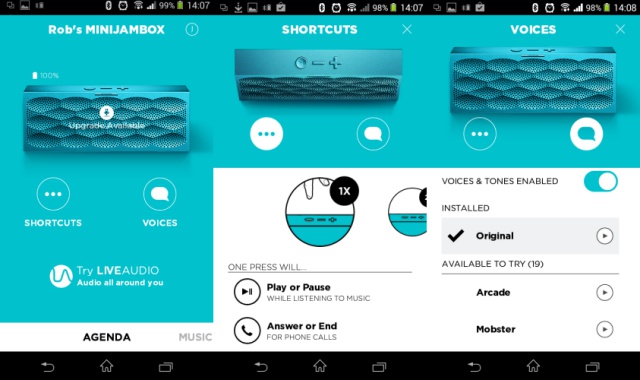 As frustrating as this whole process can be, the Jawbone app does have some helpful features, with the ability to add playlists from third party service applications like Spotify. Users can also choose from a variety of different customised voice prompts, as well as syncing up with your calendar events to hear what upcoming events you may have. In this regard, the Mini Jambox has a foot up on the competition, few of which feature such device information integrations.
Should one prefer to go analogue and utilise a wired setup, Jawbone has provided a 3.5 mm headphone cable for connecting to app incompatible devices, which is good news for Windows Phone 8, BlackBerry and older device users.
Soundscape
Now that we've grumbled like old men about what irked us during our time with the Mini Jambox, let's talk about what we truly enjoyed. Firstly the sound quality, which remains crisp and sharp regardless of whichever volume its played. This is a vitally important aspect, considering the fact that many portable speakers offer suffer from a slight tinnyness when playing music at high volume levels. In this regard, the Mini Jambox survives unscathed, and finds itself as one of the top portable speaker options currently available.
Another aspect that impressed us immensely, was the Mini Jambox's battery life, which lasted a solid ten hours before requiring another recharge. This again, places the Mini Jambox within the upper echelon of portable speaker specifications stakes.
As far as controls go, the Mini Jambox features buttons atop the speaker itself, as well as control from a paired device, For the former, Jawbone has integrated three buttons in total, the first is play or pause, with independent volume increase and decrease options. On the right hand side of the Mini Jambox is the power button, which when pressed, causes the portable speaker to sound and vibrate into life. Below the power button is the pairing one, offering users the ability to sync their devices to the Mini Jambox via Bluetooth. The last aspect to note is the micro USB port, used to connect to a power source to charge via USB.
Final verdict
Now we get down to brass tax, and the one area that the Mini Jambox may struggle against competitors namely its R2 000 price tag. At that price, the Mini Jambox is placed on the upper end of the cost spectrum, and as a result may see some would be customers opt for a different portable speaker. From what we can tell, the Mini Jambox is certainly deserving of its price, by virtue of its solid aluminium construction, innovative design and solid sound quality. Added to this, is the Jawbone app, which although provided some frustration, gives the Mini Jambox a foot up on the competition and further enhances this portable speaker's status as a premium device.
That's what makes the Mini Jambox such an enticing product. Even though there are plenty of more affordable portable speaker options out there, very few can deliver the same premium feel of the Mini Jambox coupled with its sharp sounds. Should the R2 000 price tag not frighten you, one will undoubtedly be getting a fantastically styled portable speaker that produces equally compelling sound.

Beautiful design; Solid construction and quality feel; Impressive sound quality given size

Setup and connection via Jawbone app a lengthly process; Price tag may ward off many